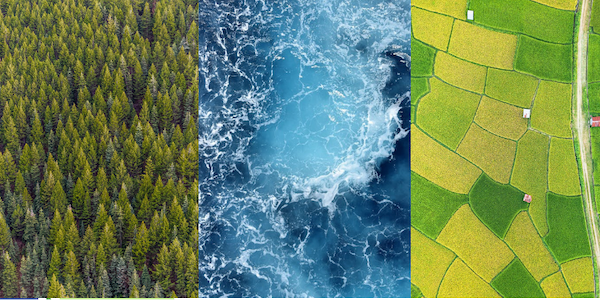 [4 MIN READ]
This article:
Providence recognizes that improving the environment is key to improving the health of our patients.

We've published our first Environmental Stewardship Report. It summarizes our progress towards becoming completely carbon-neutral by 2030.

Our Director of Environmental Stewardship talks more about the report and health care's responsibility to help combat climate change. 
According to the World Health Organization (WHO), climate change is the biggest threat to public health. Providence is committed to a world where health and well-being are the norm. To us, health care goes beyond the walls of our hospitals. We know that improving the environment is key to improving the health of our patients.
We announced our climate pledge to become completely carbon-negative by 2030 in April 2020. This means that we will reduce or offset more carbon dioxide (greenhouse gasses) from the atmosphere than what we emit. It's a large undertaking. But we're excited to lead the health care sector in sustainability efforts.
We've been hard at work, collecting data, understanding our current habits and making plans to achieve our goals. And to prove it, we've compiled our efforts into our first Environmental Stewardship Report.
What's in the report
Our Environmental Stewardship Report tells our sustainability story – one we've been working on for decades. It takes a deep dive into the work we've done since announcing our climate goal.
We gathered data from all 52 hospitals, more than 1,000 medical office buildings, as well as multiple businesses using our WE ACT Scorecard framework. WE ACTOur carbon emissions and optimization plan is centered around:
The report highlights some of the progress we have made since 2020, when we announced our ambitious goal. We discuss innovative work and areas for improvement. We also discuss topics such as:
How we plan to use data analytics in the future to prepare for extreme weather events
Climate change has had devastating effects on places like Guatemala.
Who we're partnering with to help address climate change.
The report shows us where we are at the moment, where we want it to be, and how we can succeed.
Check out the complete Environmental Stewardship Report
Why we're focused on the environment
To learn more about the background of the report and Providence's commitment to fighting climate change, we spoke with Beth Schenk, Ph.D., RN, FAANDirector of Environmental Stewardship, Providence
Q: Why should the environment be a concern for the health care sector?
A:Two reasons are key to health care: 
1.     First, the environmental crisis is threatening health. The climate crisis is causing events that can lead to illness, homes and livelihoods being threatened, and stress, anxiety, depression due to hardships.
2.     The second is that health care is a major polluter and we are inadvertently making it worse. In the U.S., health care is responsible for 8.5% of the nation's greenhouse gases each year. We produce millions of tons of waste and use a lot of materials. Some of our most energy-intensive buildings are located in the country. Millions of meals are served each year to patients and visitors. This results in waste and greenhouse gasses. We use harsh chemicals that can get into the air, soil, or water. We are also responsible for transport emissions, such as business travel, delivery and employee commuting.
Q: How is Providence responding to this challenge and setting a benchmark for other health care organizations in the future?
A:Providence works with many national health systems, as well as government agencies, professional groups, and other agencies. Many others are also working on similar problems. Providence has staked a bold goal – to be carbon negative by 2030, ahead of other health care systems. But, we also know that this is not possible on our own.
If we want to succeed, we need all the health care. We also need our governments to help us establish transportation infrastructure and fossil fuel-free electricity. We know we can't achieve such a bold goal alone, so we invite others to join us. We hope that this will help raise the bar for the health system's performance in caring for the environment.
Q: Why did Providence create Environmental Stewardship Report?
A: This is Providence's first Environmental Stewardship Report. Two years ago, we set our carbon negative goal and have been hard at work to understand carbon emissions and create plans and programs to address them. We now have a story to share after we have collected our first year of data.
Q: Why should people care for the environmental goals of Providence?
A:Globally, people are more concerned about the environment. They also seek to align their purchasing decisions and health care decisions with company values. We are proud of our bold statement on the need to address the environment crisis. We invite others to join our cause. We hope that patients, their families, and future Providence caregivers will be interested in our work and are supportive. We hope that the work we do in a complex healthcare system will be of benefit to those who are involved in environmental stewardship at home or in other organizations.
Think about the future
At Providence, we're called by our mission to protect and care for all, especially the most vulnerable – including those most affected by climate change. We're taking responsibility for our own negative contributions by responding to the impact of climate change across our communities. And we're pivoting away from how we've traditionally done things, so we can help protect our planet for future generations.
We are still working to engage all 120,000 caregivers in the seven states that we serve to find and implement meaningful solutions. We hope you find the 2021 Environmental Stewardship Report informative and inspirational. WE ACT to achieve better health.
—
Join us in our efforts
Are you ready to join us? Learn more about Providence's commitment to being good stewards of the environment and ways you can take small actions today to make a difference in the future. Consider donating so that we can continue our work.
Find a doctor
Through Providence Express Care VirtualAccess to a wide range health care services is possible through the. You can search our directory to find a doctor.
Similar resources
Get the most up-to-date information about coronavirus (COVID-19), right from Providence
If you need care, don't delay. Find out more about your options.
Providence pledges to reduce waste in the healthcare sector
Celebrate Earth Day early and often, April
Quality healthcare shouldn't damage the planet
This information should not be used as a substitute to professional medical care. Follow the instructions of your healthcare professional.