Foreword Environment Director
Sheko:lih and welcome to the winter edition of the Chiefs of Ontario's Environment Newsletter.
Our ceremonies follow the cycle of the seasons and are determined by careful observance of the land, moon, and seasons' cycle. Midwinter (Tshatek'chelha) is a time of renewing our responsibilities for the coming year and to give thanks to all things on earth. The Environment team will be providing quarterly updates on several files and highlighting successes. We will continue to update you on key areas like climate change, the great lake (largest ecosystem), safe drinking waters, and environmental protection activities. We hope that you enjoy the Good News Stories which continue to provide us with motivational projects for First Nation Communities, breaking down barriers for everyone.
We all know how the COVID-19 epidemic has affected us all. Now more than ever, we need to show kindness to one another. I look forward to meeting everyone in person again soon at one of the Chiefs of Ontario's meetings.
Once again, I want thank the front-line workers and their dedication to keeping us safe and healthy during this pandemic. I want to thank the Chiefs Committee on the Environment for their extraordinary demands on time during this pandemic and still find the time to support and guide the Environment team in these difficult times.
I hope you enjoy this winter edition of the newsletter. In closing, I want acknowledge the Environment team at Chiefs of Ontario. Their dedication and resilience during these unprecedented times brings a strong message of hope, strength, and hope.
The Environment Newsletter can now be viewed online from a desktop, tablet or smartphone. If you have any feedback, please contact Kathleen Padulo at Kathleen.Padulo@coo.org.
See Also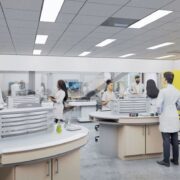 Kathleen Padulo
Chiefs of Ontario Director of Environment
Download the full newsletter here: Chiefs of Ontario – Environment Newsletter – Jan Feb Mar 2022 Final