According to a new report, there could be a global warming of 4C by 2025, despite the pledges made during the COP26 climate summit.
Researchers from the University of Exeter, together with the Met Office, analysed global policies and discovered that they were on the "current trajectory". Paris AgreementIt is difficult to achieve the goal of limiting global warming below 1.5C above preindustrial levels.
Professor Richard Betts, the researcher, said that the agreements reached at COP26Although the chances of warming to 4C have been reduced in Glasgow, it's still possible.
For a more accessible video player, please use Chrome browser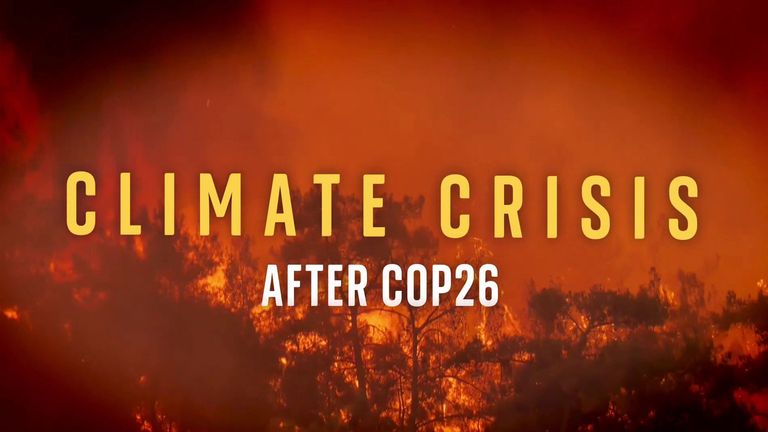 56:26

The report informed the government's Third UK Climate Change Risk Assessment. It concluded, among other things, that climate change is already posing substantial risks to Britain's natural environment, infrastructure, health, communities, businesses, and communities.
The UK is also facing concerns regarding security, migration, and supply chain issues.
These risks would increase if the temperature rises to 2C, and even higher if it reaches 4C.
The report states, "Projections consistent to policies currently in effect worldwide suggest warming of between approximately 2C- 5C by this century depending upon the rate of greenhouse gas emission and the response from the climate system.
"This will lead to more extreme weather patterns and shifts, increasing the risks to biodiversity and people, with higher temperatures leading to greater dangers.
"Limiting warming down to lower levels may still prove possible if global emission levels are rapidly reduced to net negative or net zero, but even if global temperature rises to 1.5C or 2C, weather patterns will still change from those of recent decades and sea levels will continue rising to some degree."
The report urges the UK to take greater action to prepare for these effects.
ClimateCast subscribers: Spotify, Apple PodcastsOr Spreaker.
Prof Betts stated that "COP26 failed to achieve its goals, and it is becoming less likely we will be able to limit global warming at low levels."
"The 1.5C goal of the Paris Agreement is falling out of reach.
"We need to be more prepared for climate changes that we have already created."
ANALYSIS BY HANNAH THOMASPETER, CLIMATE CHANGE PERSONENT
The stark warning contained in the third UK Climate Change Risk Assessment for Parliament will alarm the politicians it is meant to.
It shows that the UK needs be prepared for the potential consequences of climate change.
According to the report, there is more to be done to adapt to and protect people, infrastructure, and businesses from the rising waters, severe weather events, and increased heat that climate changes are already delivering.
This is going be very costly. This is going to be very expensive. It is not clear how government or anyone else could fully meet these costs.
The UK is currently struggling to figure out how to pay to reach net zero carbon emissions in 2050.
It is a fault-line in the Conservative party, particularly because of the potential cost to households when it comes down to decarbonisation home heating.
This report, more broadly, highlights a growing problem within the global north that has long been recognized by climate-vulnerable countries in the global south. It shows that adaptation spending must be made alongside efforts to reduce carbon emissions. This double whammy of eye-watering climate change costs must be met if we want to avoid the "terrible cost of doing nothing".