Over 10,500 people fled their homes in the southwestern region of Louisiana when Hurricane Laura struck August 2020. Downtown was established a central evacuation hub that provided basic necessities for evacuees, such as food, water, and clothing. 
Malaika Ludman, a doula and certified lactation consultant, along with others from the Birthmark Doula Collective, had been planning for a moment like this — they had weathered hurricane season with their clients for years.  The New Orleans Breastfeeding Center, an organization that runs the program, had previously prepared emergency infant feeding kits for nursing parents. These backpacks were yellow drawstrings and contained ice packs to keep the milk cold, nursing covers and water. Ludman and others were ready to distribute them.
But at the evacuation center, Ludman, who is also the program coordinator for the collective's emergency preparedness program, realized the situation would be more complex than handing out supplies: The large majority of families they spoke with were feeding their babies with formula, and cans of powdered formula donated to the center were being handed out without any other supplies, like a way to sterilize or clean baby bottles. Bottles can harbor bacteria if they aren't cleaned properly, so without dish soap or a bottle brush it can be dangerous. 
"For the baby, it can mean diarrhea – that's the biggest problem – and dehydration," Ludman said. "It can be especially scary for a baby that's born prematurely or who has a weak immune system." 
The climate crisis is getting worse, making it more dangerous. Hurricanes and longer wildfire seasons, more mothers and breastfeeding parents — who are already considered uniquely vulnerable to the climate crisis — will need assistance to feed their babies in shelter settings. States are beginning to recognize the problem and are turning to grassroots organizations like the Birthmark Doula Collective for help to avoid deadly consequences.
The doulas reacted to the lack of resources and guidance for parents after Hurricane Laura. They began conducting feeding assessments — a quick interview with parents to figure out how they fed their babies prior to the disaster — and within a few weeks had created a new set of kits to distribute. This time they were buckets instead of bags, which were filled with dish soap, bottle brushes and liquid 2-ounce bottles of ready-to-feed formula — the safest kind of formula in emergency situations since it does not require water or electricity. 
They also set up a 24-hour emergency hotline for parents-infant that was activated the night before the hurricane struck and that lasted for four weeks. It was staffed by doulas, lactation counselors, and a local organization that provided interpreters for Spanish-speaking people. Sixty people called the office seeking information about diapers and clothing, or advice on breastfeeding after a disaster. 
The doula group's grassroots response reveals a major gap in emergency management in the United States. In 2005, days following Hurricane Katrina. Many babies died due to dehydration.Poor emergency response caused water and food shortages. In 2016, the World Breastfeeding Trends InitiativeIn an analysis of 84 countries, the United States received the lowest score for emergency preparedness to safe infant and child feeding. 
The Federal Emergency Management Agency (FEMA) has a series of guidelines it follows to prepare and respond to disasters including one detailing "mass care," or the deployment of shelter and food in times of emergency or disaster. Sarah DeYoung is an assistant professor at University of Delaware and a disaster researcher. She notes that there are very few references to infant feeding requirements. She said that emergency planning documents contain more information about preparing for companion animals than infants and babies. 
"There's kind of vague statements about anticipating that families may be arriving in shelters, (but) nothing about saying, make sure there's a breastfeeding space with a sink for washing hands or a place to plug in a breast pump or all these other provisions. There's nothing specific to safe infant feedings. … So that's really lacking in guidance." 
DeYoung stated that there are many things the country can do to improve its ability to accommodate infants. She suggested that the first step is to encourage breastfeeding, which DeYoung believes is the best way to feed an infant.
Support can sometimes be needed for someone who is already breastfeeding to continue the practice in an event like a hurricane. 
"Breastfeeding parents are in a very stressful and traumatic situation. They believe that it affects their milk supply or quality. That's one of the big myths," Ludman said. "Stress doesn't actually lower your milk supply. It can, however, slow down the flow of milk.
There are still some obstacles, as New Orleans doulas demonstrated. Low-income mothers breastfeed at a lower rate historically. That's for a few reasons, including lack of support and care postpartum, and working in jobs that don't give paid parental leave. Formula feeding is more expensive and can be more difficult when the baby has to be evacuated to a shelter. 
"When a disaster hits, that divide becomes even greater," Ludman said. "Those families become dependent on the state or the city for food and for resources." If there is no formula available "then what do those families do?"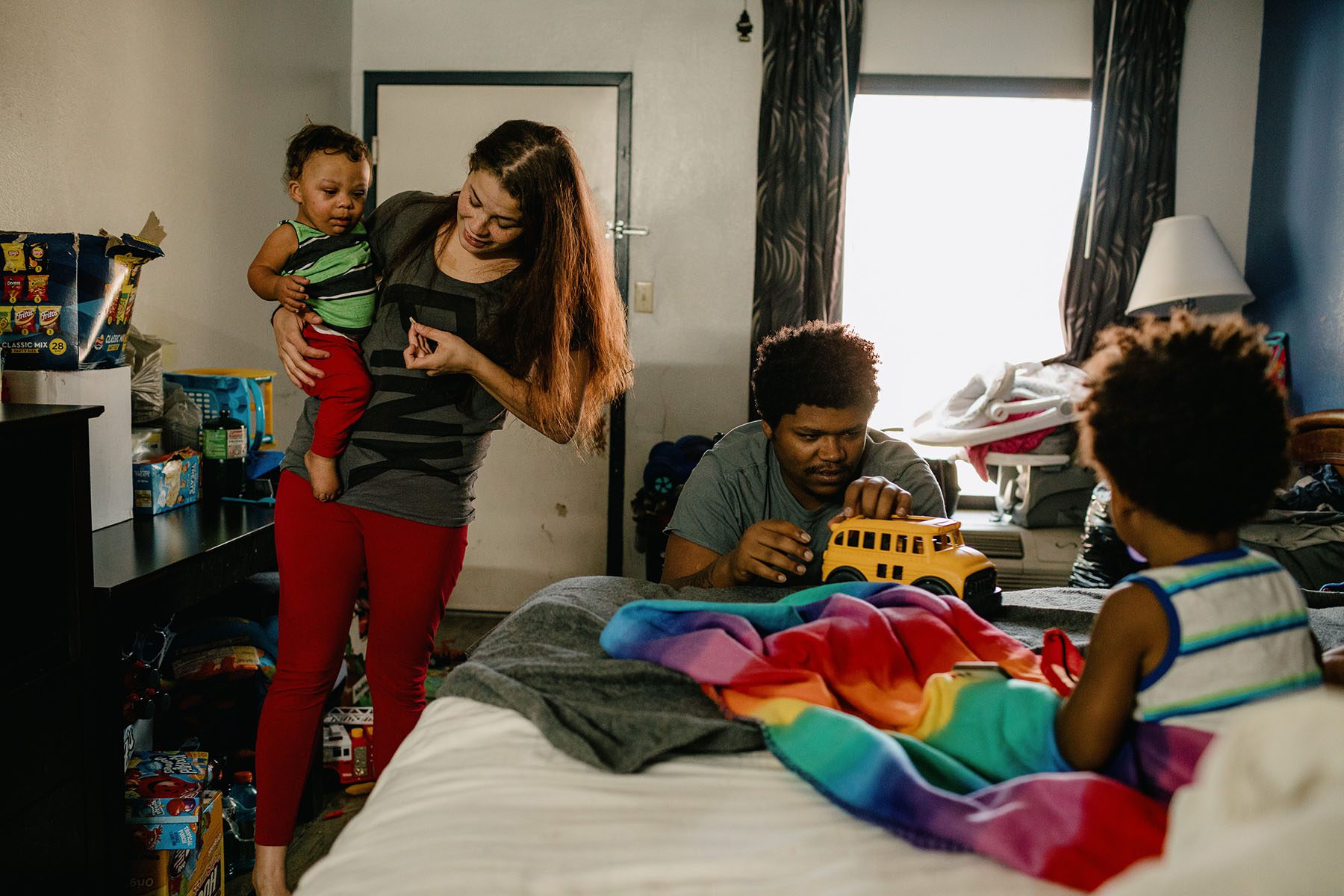 Numerous studies have shown that babies in disasters are more likely than others to be malnourished, to become sick, or even to die if they are formula-fed. 
"So thinking about it as a human rights issue is really critical," DeYoung said. "And in the United States, it's a racial justice issue as well, because minority populations are more likely to be exposed to disasters."
DeYoung said that the United States could adopt a set guidelines from the World Health Organization (WHO), aimed at regulating formula marketing. The code was originally created in the 1980s after formula companies like Nestlé had been aggressively targeting mothers in developing countries using a variety of misleading tactics, including having employees Wear nurse uniforms New parents are often reminded of the many benefits of their product. 
The WHO code is used to assist countries in developing plans to encourage breastfeeding. "It comes in handy in disasters if providers and organizations know about the WHO code, because then they can safely provide guidelines for infant feeding and disasters," DeYoung said. 
It would have provided guidance on how to give formula to mothers in the wake of Hurricane Laura. However, it would not have advertised it to anyone who might not be interested. DeYoung and most other professionals agree that formula distribution should be similar to emergency responders giving medicine. Instead, formula is donated by well-meaning community members and distributed ad hoc.
The United States is The only country There are 195 members of the World Health Assembly, which is the decision-making body for the WHO, who have not signed on to the code.  "That's probably the biggest barrier at the policy level," DeYoung said. 
---
After Hurricane Laura, the doulas participated in a stakeholder meeting with others involved in the city's disaster response to unpack what they had documented at the evacuation resource center. They spoke out about the shortage of safe formula distribution and the lack in support for nursing mothers. Soon after, they were able to see their first win. WIC's nutritionist, who provides assistance to low-income families with infants and their children, heard their concerns about liquid formula being safer during emergencies. 
"So she went to WIC and advocated to update their emergency preparedness policy, and made it so that WIC moving forward, we'll be able to issue liquid ready to feed formula to families in an emergency," Ludman said. This is vital, as only 14 percent of WIC recipients breastfeed. 
The collective partnered with the Bureau of Family Services after Hurricane Laura. They collaborated with them on a grant by the National Association of County and City Health Officials to train over 440 emergency responders in the state in safe infant feeding in an emergency. 
Those who've gone through the training include people who staff shelters, social workers, food bank workers, responders involved in evacuations, and representatives from the Bureau of Community Preparedness, among other groups. Ludman, Latona Giwa (cofounder of the collective), conduct the courses in a series pre-recorded webinars and live online training.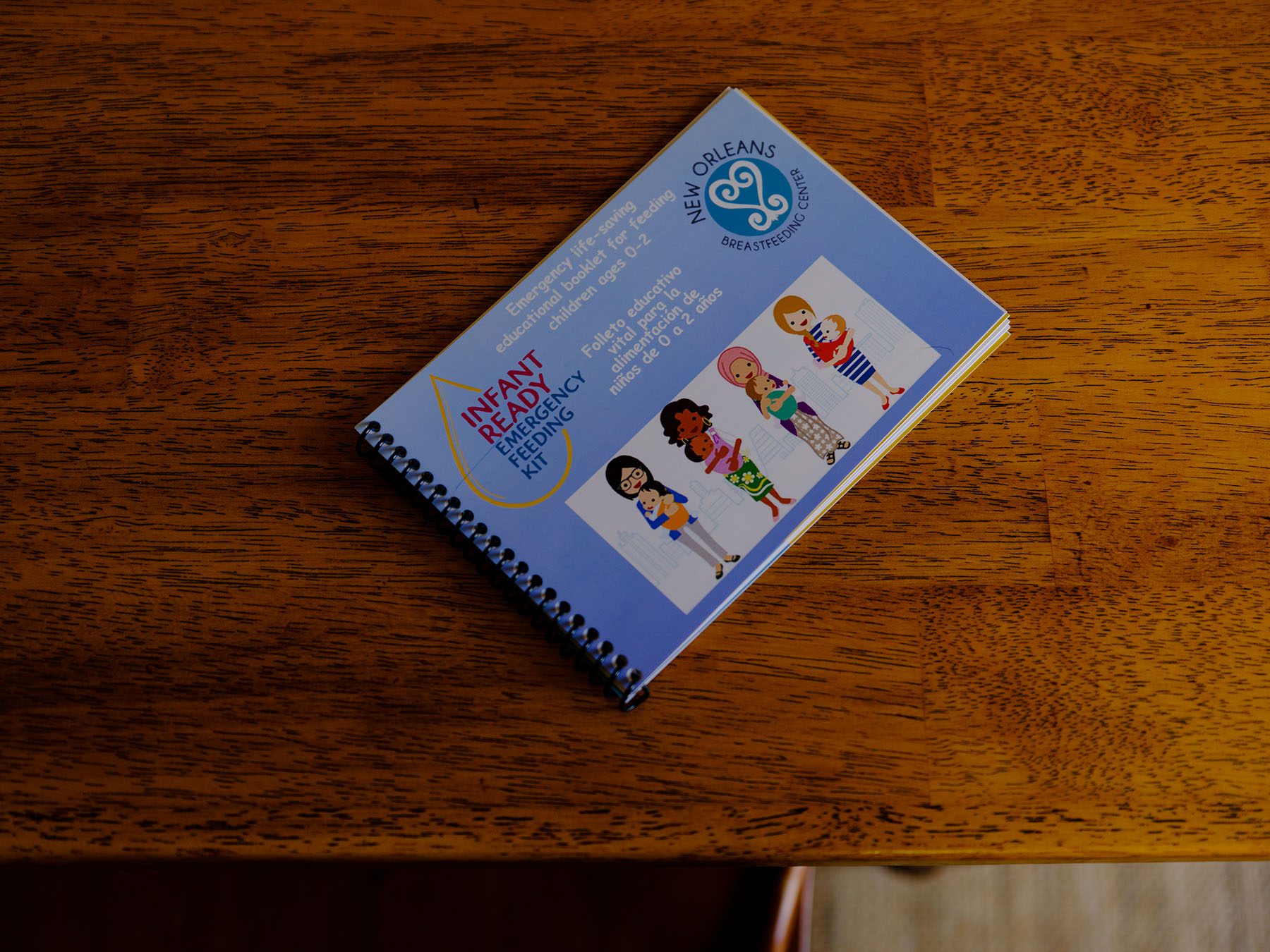 "I think the training is super helpful in helping leaders and staff understand why and how breastfeeding can be protected and supported, really as the safest feeding option," said Marci Brewer, the neonatal initiatives manager with the Bureau of Family Health. "And that everybody, including families, and emergency responders, and health professionals really also understand how to safely and appropriately use infant formula." 
Other states are beginning to adopt similar efforts to better serve infants as well as parents in emergency response. In Colorado, where wildfire season is becoming more destructive, Allison Wilson, a strategic initiatives coordinator for Jefferson County's public health department, developed a program to train 30 safe-infant feeding volunteers in disaster response. They can be deployed to shelters, or someone's house, or can assist someone virtually both in the Denver-metro area and statewide.
Wilson stated that the volunteers are already from the infant feeding industry, such as a lactation counselor, and their training allows them to apply those skills in a disaster setting. 
"It is a lot about understanding emergency preparedness and then understanding how you would be called on and deployed to support a family," Wilson said. "Things could have been going great at home but then you had to evacuate. You forgot your pump, now one side is engorged, and the baby is upset because it's a new setting. It's just all those things can happen so quickly. … How can we support the family because everything else has changed?"
Wilson, who has worked with Ludman to find strategies and solutions, also ordered 450 safe infant kits to be distributed during and before an emergency. Wilson's been working with the Medical Reserve Corps, a national volunteer program, as a partner who could distribute these kits to families when disaster hits. 
Brewer from the Bureau of Family Services said that Louisiana will be more prepared for the hurricane season. The doula group has trained more than 300 responders. Many agencies, such as the Red Cross and the Red Cross, are currently updating their intake forms in order to better identify families who might need safe infant feed support after an evacuation. They've also more widely distributed the information for the parent-infant hotline that the doula collective built.
Ludman would love to see these projects taken over by other agencies. Frankly, the doulas' resources are stretched thin. "It's figuring out how we can make our hotline a sustainable thing," she said.  "We staff it as Birthmark, but we're not that many people, we don't have that much money."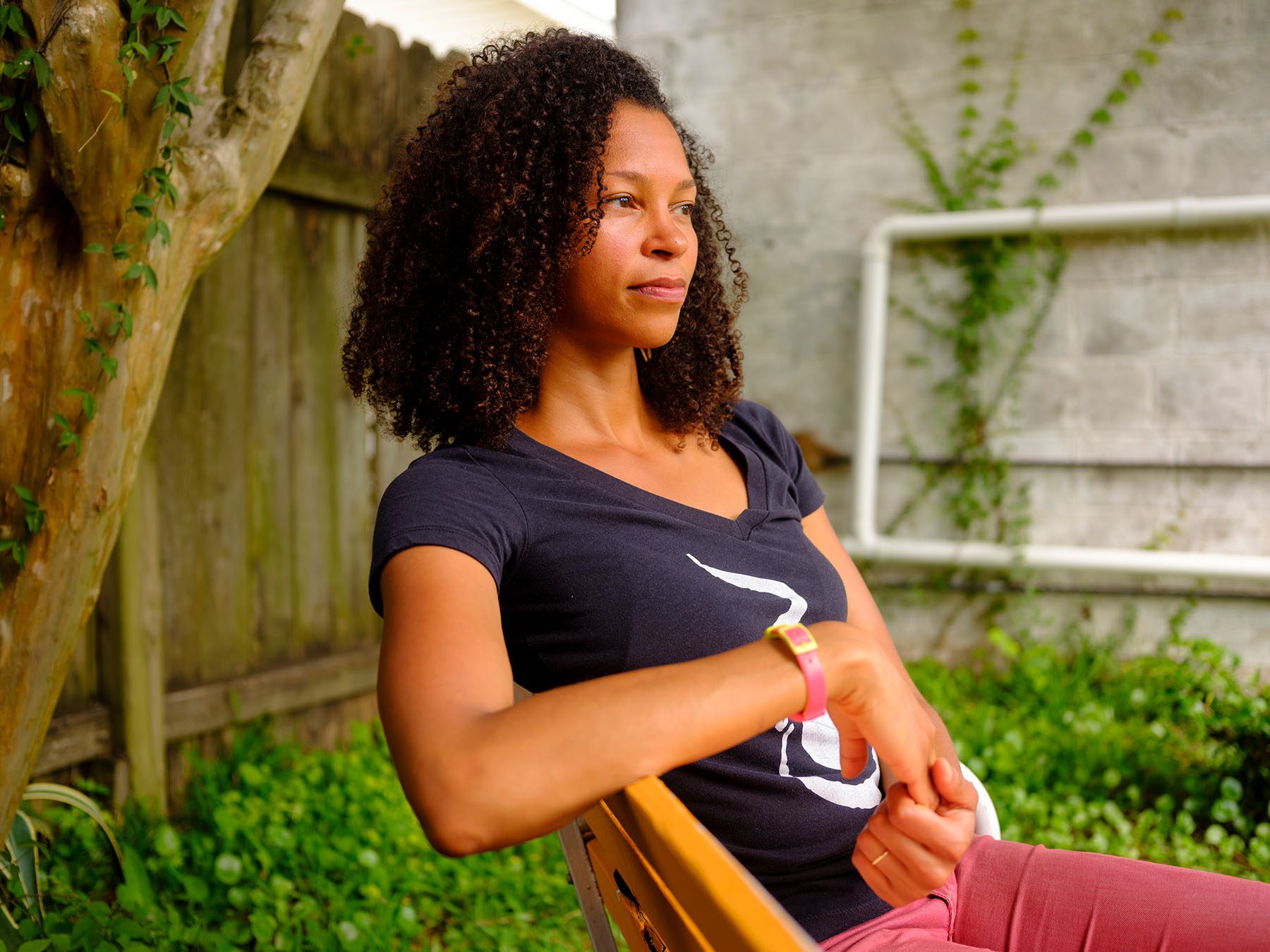 The New Orleans City Council awarded the collective a special award in September for their assistance during Hurricane Ida. Many of the doulas in the collective were forced to flee the city during the storm. In preparation for the possible evacuation, they had arranged a partnership with a group Florida-based lactation counselors to staff the hotline. 
The doulas' work has proved crucial, Brewer said. "They've really been an expert and the elite leader in this space. And really it's my goal to build on their expertise and knowledge and make sure that we're really using that to change and improve our system in Louisiana." She added: "They've served as a catalyst for this work. And I'm just really thankful to be a partner with them."