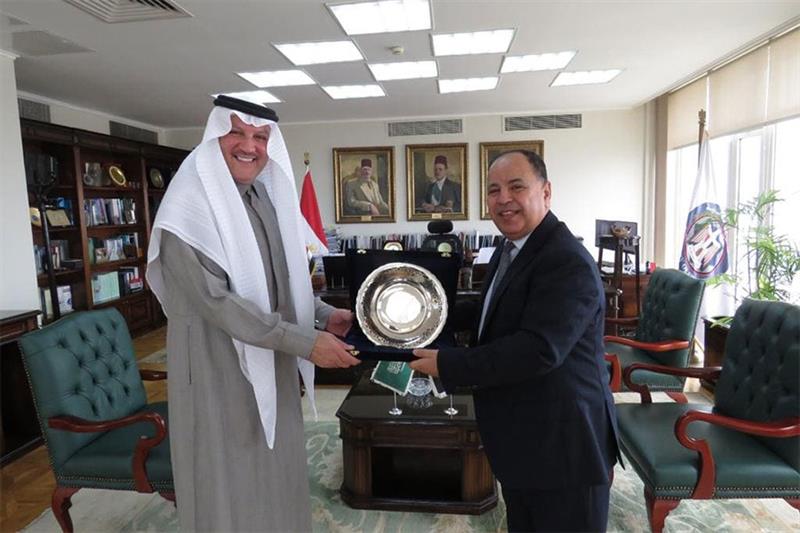 After meeting in Cairo (Egypt), on Monday 3 February 2022, Mohamed Maait, Minister of Finance, met Osamaal-Nugali, Saudi Ambassador, Egypt.
This will enhance the country's national economic structure, create more job opportunities, push the production cycle forward, uplift citizens' living standards, and improve the quality of services extended to them, according to Maait
This came during a meeting Maait held on Monday with Al-Nugali to discuss the investment opportunities Egypt has and showcase the government's efforts to boost partnership with the private sector.
During the meeting, Maait informed Al-Nugali about Egypt's structural and legislative improvements, including the new automation project for the customs and taxation systems for the sake of businesspersons and easing internal and external trade flow.
He also told Al-Nugali that there is ample room for Saudi investors to tap the investment opportunities Egypt provides, adding that Egypt is willing to benefit from the investments the Saudi Public Investment Fund (PIF) provides in order to enhance the country's inclusive and sustainable development.
The PIF, which has assets under management totaling $500 billion, is one of the largest sovereign wealth fund globally.
In 2021, the PIF was part of a consortium which purchased Newcastle United FC, a Premier League team.
The PIF's companies also have investment shares in the Middle East and North Africa region, including listed joint-stock companies or private companies.
Al-Nugali informed Maait that Saudi Arabia is open to increasing Saudi investments in Egypt, and to take advantage of promising investment opportunities offered by the Government of Egypt.
He also expressed the PIF's interest to launch new investment opportunities in Egypt and other sister nations.
The two countries also agreed to maintain close bilateral strategic relations. They also shared the hopes of their leaders for strengthening and deepening their ties for mutual benefit.
Saudi Arabia is Egypt's second largest investor, with investments exceeding $6 billion in more than 500 projects. Egypt is also the eighth largest recipient of Saudi exports, with a total trade exchange in petroleum and non-oil goods exceeding $7.5 billion, according to Egypt's Ministry of Trade and Industry.
Short link: