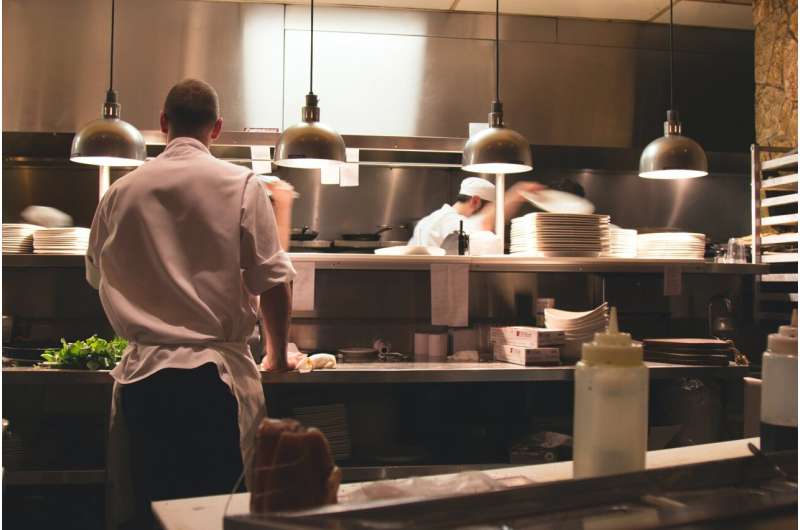 Cardiff University research shows that chefs working in fine dining restaurants are more likely to bully, retaliate, or act aggressively than others.
The study reveals how chefs feel isolated when working in closed and hidden kitchen environments. This makes them feel more capable of executing creative actions that they would not otherwise be able to.
Cardiff Business School interviewed 47 chefs from Michelin-starred restaurants around the globe.
Interviewees described their kitchens as'separate', 'detached and 'alienating'. They also discovered that isolation can lead to a feeling of being free from external scrutiny. One chef explained that isolation gave them the opportunity to "act in a different manner."
A different moral universe
Dr. Robin Burrow is the lead author. He said: "Misbehavior within chefs is something that we know a lot from TV and media coverage. Research has so far attributed this to male-dominated cultures as well as extreme pressure to get things done faster and more quickly.
According to the team, their research shows how geography can impact behavior.
Dr. Burrow, a Cardiff Business School Lecturer on Management and Organizational Behavior, said: "The COVID-19 Pandemic has shown that isolation can lead to people feeling depressed, lonely, and anxious.
"But, our research also uncovers some other, less well known effects. We discovered that isolation can be experienced as a feeling of freedom from scrutiny and trigger a sense of possibility.
"In the contextsof the hospitality sector our findings make it compelling to bring secretive, hidden-away workspaceskitchens out into the open." It is easier to see bullying and violence in the open and to hold those responsible accountable.
Interviewees from different levels of seniority, across the UK, Europe and Asia, as well as Australia, expressed strong camaraderie despite the occupational hazards identified.
Dr. Rebecca Scott is a Senior Lecturer of Marketing at Cardiff Business School. She said that while modern workplaces are often open, flexible, and accessible, chefs we spoke to felt a sense of belonging through their collective experience with physical, stressful, and fast-paced work.
"It was this sense of community that enabled our chefs to remain highly productive, committed, despite the sometimes harsh working conditions they face.
The paper "Where 'The Rules don't Apply': Organizational Separation and Misbehavior within Elite Kitchens" is published in the Journal of Management Studies.
---
Let's explore the science behind how fried rice is made
---
More information:
Robin Burrow and colleagues, Where "The Rules Don't apply": Organizational Isolation in Elite Kitchens.
Journal of Management Studies
(2021).
DOI: 10.1111/joms.12759
Citation:
Elite chefs can bully each other in isolated settings (2022, 17 January)
Retrieved 17 January 2022
from https://phys.org/news/2022-01-isolated-environments-enables-culture-bullying.html
This document is subject copyright. Except for fair dealings for private study or research purposes, there is no
Without permission, part may not be reproduced. This content is only for informational purposes.