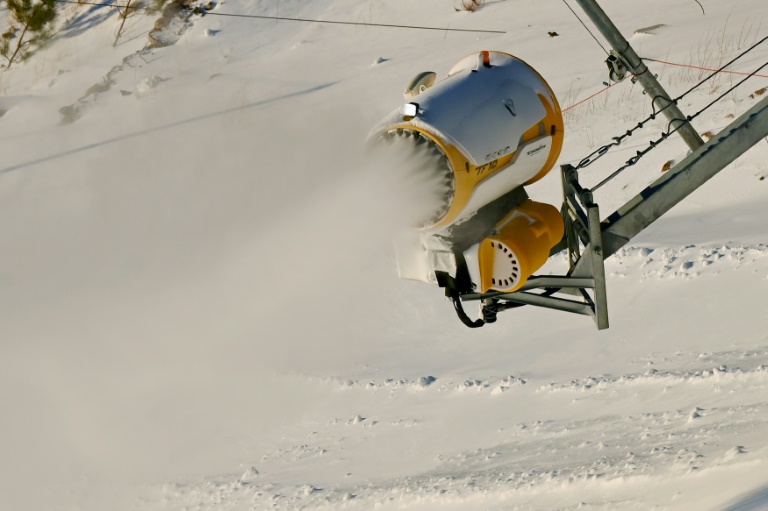 Beijing 2022 will depend on the "snow guns" to make its pistes.
YANQING (China): Bright yellow turbines line Beijing's slopes for the Beijing Winter Olympics spraying artificial snow to make it possible for the Games.
Man-made snow has been used in varying degrees since the 1980 Winter Olympics at Lake Placid, New York.
The February Beijing Games, which are being held in one the driest regions of China, will be almost entirely dependent on artificial snow.
Organisers are racing to cover the slopes in high-quality, snow with just five weeks before the Games begin. Critics say this is an environmentally unsustainable task.
To maximize production, the venues use automated snow-making systems that monitor temperature and humidity.
Local reservoirs feed about 300 turbines that mix water with compressed oxygen to form snow.
Workers use "snowcats", which are truck-like vehicles, to spread snow onto the pistes.
Venues must ensure that the snow meets exact standards of hardness, depth, and consistency.
"The greatest challenge for us is maintaining uniform ski quality," stated Li Xin (deputy chief of mountain operations at National Alpine Skiing Centre Yanqing), which is about 80 kilometres (50 mi) from Beijing.
Variations in the snow-making process can "cause snow quality to be too difficult in some places but too soft in other places, which could prove dangerous for the athletes", he stated at a press event at site.
– Water shortages –
The contrast between Yanqing's brown mountains and the stark white patches is striking.
A report from the International Olympic Committee said that Zhangjiakou, Yanqing — Games zones hosting alpine skiing/snowboarding, among other outdoor events – "would rely totally on artificial snow."
Nature published a 2020 study warning that groundwater depletion in northern China is a "critical problem" and one of the most severe worldwide. This was due to intensive agricultural irrigation, rapid urbanisation and a dry climate.
Researchers said that this has led to water shortages in Beijing for millions of residents. The situation is likely to get worse in the future.
Organisers of the Winter Olympics claim that the snow-makers are powered entirely by renewable energy and will not harm mountain ecosystems. In addition, the water they use will return local reservoirs when the snow melts in spring.
Florian Hajzeri from TechnoAlpin, the Italian company that supplies these machines, said that the equipment's automated system reduces human error and can prevent wastage.
According to AFP, resorts around the globe are turning to artificial snow to make it through the winter.
Experts say Beijing's reliance on man-made snow is a threat to its promise of holding "green" Games.
Carmen de Jong, a geography professor at the University of Strasbourg, said that it is "irresponsible" to use large amounts of power and resources in order to create snow in a water-scarce area.
She said, "We could just about hold the Olympics on Mars or on the Moon."