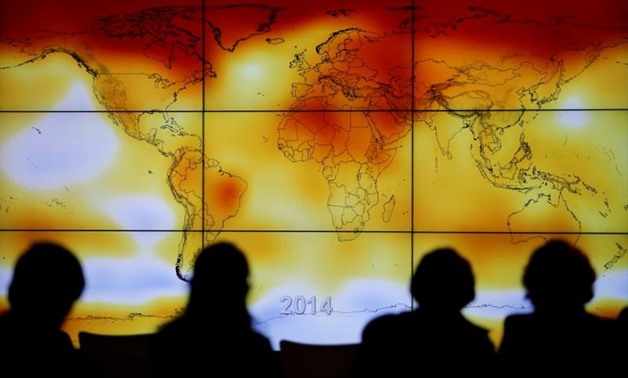 Participants are seen in silhouette while they look at a screen displaying a map of the world with climate anomalies at the World Climate Change Conference 2015 at Le Bourget (near Paris, France), December 8. REUTERS
CAIRO – 14 MAY 2022: Yasmine Fouad, Environment Minister, met with Mami Mizutori (United Nations Special Representative for Disaster Risk Reduction), Saturday to discuss preparations for the upcoming United Nations Climate Change Conference.
Elena Panova, United Nations Resident Coordinator in Egypt, was present at the meeting.
Fouad highlighted that COP27, which will be hosted by Egypt at Sharm El Sheikh, Red Sea resort, in November, will build upon the outcome of COP26. She also noted that she will participate next Wednesday in the first non-official ministerial talks regarding adaptation, which is one of Egypt's most important topics.
She stressed the importance to work on adaptation, as well as committing to the goal for earth's temperature to drop by 1.5 Celsius.
She noted that COP27 would see the launch a number of initiatives on adaptation, food security, and that Egypt's successes will be reviewed at COP27.
She tackled the efforts in Sharm El Sheikh towards becoming a greener city. She declared many hotels green, switched from fossil energy to power vehicles, and awarded green stars to diving centres.
A UN official spoke out for Egypt, stating that there will be cooperation in the fields of disaster risk reduction and adaptation.
Mizutori stated that the UNISDR Office is also available to collaborate on initiatives on water and early warning system.