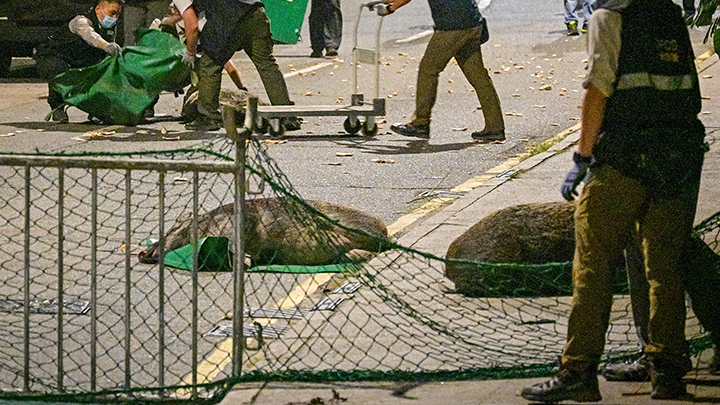 Environment secretary: As of Wednesday, 38 wild pigs were killed by local authorities for causing nuisances in and around urban areas.  
Wong Kam-sing, Secretary for the Environment, stated that wild pigs are more common in urban areas in recent years. Additionally, wild pigs have been responsible for increasing the number of injuries.   
Wong stated that 38 wild pigs have been killed since the announcement about the new measures.  
The Agriculture, Fisheries and Conservation Department began regularly capturing and killing boars in urban areas starting on November 12th last year. This was to reduce their numbers and the nuisance they cause.  
He stated that the rising trend clearly indicated that wild pigs were already a grave threat to public safety.   
He added that of the 45 injuries caused by wild pigs in the past 10 years there were more than 80 percent occurring between 2018 and 2021. 
He also indicated that the department was considering amending the Wild Animals Protection Ordinance. This would increase the area exclusion zone and tighten control on feeding to limit the pull factor that draws wild pigs into urban areas.  
Wong stated that the maximum penalty at present is a fine in the amount of HK$10,000. "Considering the relatively low fine – ranging in HK$200 to HK$2,000 – in precedent cases, Wong stated that the department will examine raising it to increase the deterrent power.  
The AFCD has launched a public education campaign via social media and posters at bus stops, MTR stations, and tram stops since November last year. This campaign teaches people not to feed wild boars.   
The campaign stressed the importance of feeding animals to change their behavior. This would make them more comfortable wandering around urban areas and collecting refuse for food. This behavior could lead to environmental hygiene problems, traffic accidents, transmitting diseases, and even make them more aggressive.   
It pointed out that wild pigs were responsible for over 40 deaths in 30 cases of injury.  
Authorities were also reported to be discussing improving the design of litter containers in order to prevent wild boars from eating outdoor refuse.   
Two new litter containers that can be attached to the ground and lampposts can effectively stop wild pigs from pushing them over and searching for food inside.   
Wong stated that the AFCD had submitted the results to the relevant departments for their consideration. They will then gradually install them at the appropriate locations based upon the actual circumstances.