The UK government has launched a new initiative. Sustainability and Climate Change StrategySchools. Our research shows that it doesn't go far enough to meet the needs of teachers and young people.
Last year, we conducted a joint research project with colleagues. ResearchThe workshop was attended by over 200 teachers and teacher educators (those who train teachers) as well as young people (16-18 years old) from the UK. It was designed to learn how schools can tackle climate change and sustainability. Participants were recruited via email or Twitter.
Our research allows us to assess how far the government's new strategy aligns with what teachers and young people want. Here are five key things that teachers, teacher educators and young people would like to see in schools – and how the government's sustainability and climate change strategy matches up.
1. Sustainability education for all
Many teachers offer opportunities for students to learn about sustainability through eco-clubs and recycling projects, as well as sustainable fashion shows. This work is not required and often happens outside of the curriculum. Therefore, not all students have the opportunity to participate.
Our research revealed that young people and teachers wanted environmental sustainability to be part of their curriculum. Not just geography (which not everyone studies after the age 14), or science.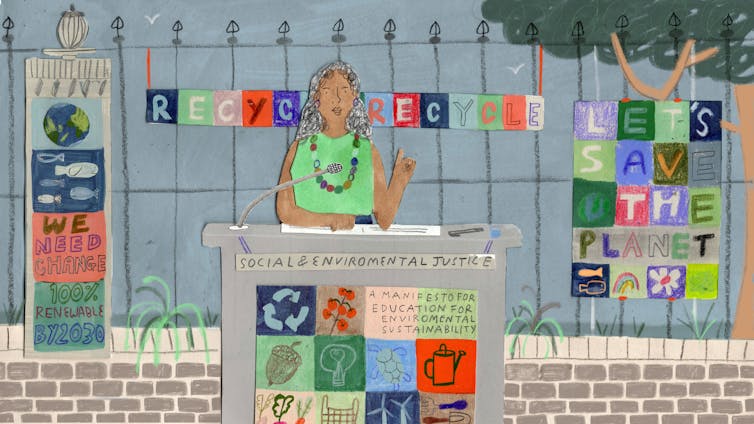 The government's strategy includes a new natural history GCSE, which will be taught from 2025. This will increase the opportunities for young people learn about the natural environment and sustainability. However, this subject is not mandatory and will not ensure that all young people have access to education on climate change and sustainability, regardless of their choice of subject.
The government's new strategy does include other ways to learn about the environment. Students can participate in a climate leaders program, which allows them to engage in extra-curricular activities that are connected with sustainability. This is an optional option. This means that it is unlikely that environmental sustainability will be given priority or included in the curriculum for all.
2. Teachers' training
Teachers who spoke to us wanted professional development opportunities that would allow them to feel more confident teaching sustainability in their classrooms. As one teacher said: "We can lack confidence because we are navigating this ourselves and do not feel like experts where we might in our subject."
The new strategy supports teachers through resources and training but there is no time guarantee and there is no fundamental alteration to existing teacher education curriculums in England.
3. Turn knowledge into action
Teachers and young people do not just want to pass on knowledge – they want to be able to make a difference. Teachers and students both wanted education to focus on critical thinking, data literacy and doing research. They also wanted to be able to take action and communicate with others. One young person said it best:
We need to be educated about corporations and big business – their true impact. A lot of greenwashing goes on with big companies making individuals feel as if they are solely responsible … Education should empower us to demand change and to demand the rights we should have.
The focus of the government's strategy is on learning more about sustainability, climate change and the natural world, not empowering young people to act for the environment or challenging the root causes of climate change.
4. Schools that are sustainable
Teachers and students wished for more attention to environmental sustainability in school operation, including the handling of food and energy. Schools in England are not required to be educated or take action on environmental sustainability.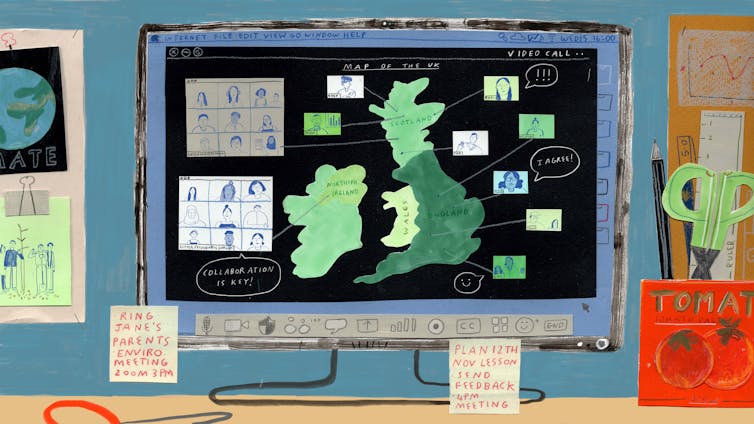 The government's strategy focuses on net zero targets and promises action on waste by requiring schools to increase recycling and reduce landfill. It promises at least four new, low-carbon schools and one college.
The strategy may also be applied to other aspects of school operations, such as food, transport, and energy.
5. Schools can be community hubs for climate action.
Teachers and young people saw schools as community hubs that allowed people of all ages to participate in sustainability-focused activities. They saw sustainability education as essential, and encouraged them to incorporate it into their lives.
The introduction of the climate leaders award is a way to recognize and value the contributions young people make to environmental sustainability in their schools and communities. It was a request made by the young people we worked alongside and they wanted it to be free. However, the description of the climate leaders award in the government's sustainability and climate change strategy references existing awards such as the Duke of Edinburgh's awardIt is the same as It is not free.
Teachers and young people shared with us that the current support for environmental sustainability in education is very limited. The government's new strategy does little to change this status quo.
Further changes are needed to place sustainability and climate change at school's core. This could be done by climate change and sustainability into the core curriculum, making it part of exam specifications and school inspections and part of the core framework for teacher training – in other words, the things that teachers must prioritise.