Moments after the official website for the National Tiger Conservation Authority (NTCA), on December 30, stated that there were 126 big cat deaths this year, multiple news reports pointed out that these deaths are the most severe ever recorded.
The Union Environment Ministry, however, reacted to the news reports and said that media coverage was biased. It also stated that media coverage hinders the process of dealing with the death of tigers in the country.
Also Read: Pilibhit Tiger Reserve daily wage workers strike indefinitely after delays of more than a decade in receiving their payments
Certain media reports have highlighted the death of tigers during 2021 in a manner which is a lopsided view of tiger conservation in the country, the ministry was quoted in a Twitter post by the state-owned radio broadcasting agency, the All India Radio.…the manner in which figures available on National Tiger Conservation Authoritys website have been used in reports causes alarm and does not take into account the gamut of processes that go into dealing with tiger death in the country, it added.
Also read: Here's how four orphaned Tiger cubs in Panna survived against all odds
In 2012, the NTCA began recording the deaths of Indian tigers. In 2016, the second-highest number of tigers died in India, at 121.
Contrary to the Union ministries statement, the NTCA mentions that no tiger fatalities are entered into its database unless a source from the State Government reports a tiger's death. Even if a tiger is killed by third party sources, the NTCA must confirm it with the State before it is recorded.
Madhya Pradesh is the state with the highest number of tigers dying this year. Maharashtra has 26 and Karnataka has 14.
Also Read: Should tigers found in forest reserves be treated or not for their wounds?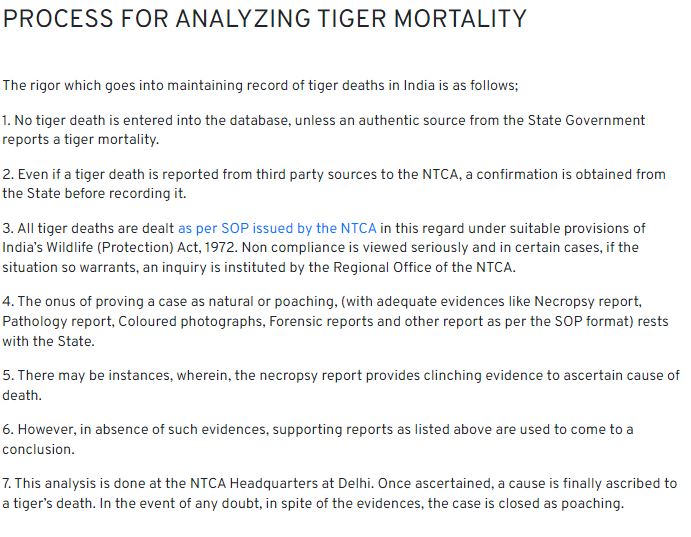 The ongoing protection of tigers is being carried out by patrolling, and many people have been arrested for poaching. Although we are doing everything possible to protect the tigers and the NTCA official was quoted in the press, it is important to remember that almost 30% of them live outside tiger reserve.