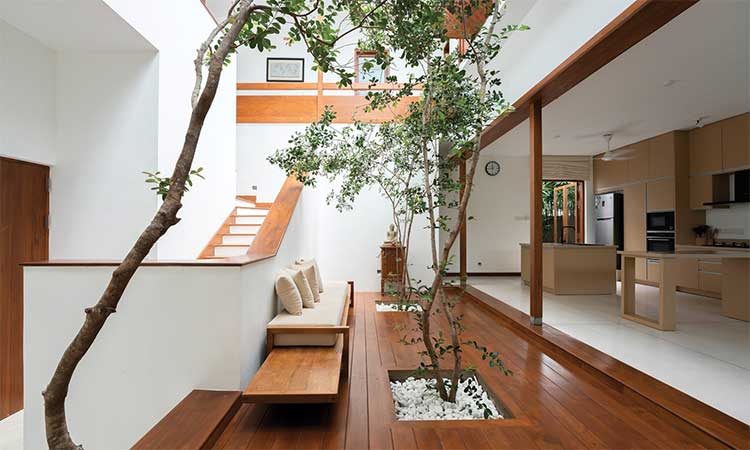 Illustrative image. (Twitter)
The Indian Green Building Certification Inc. (GBCI India), and Saint-Gobain Research India recently evaluated the health performance office buildings in India. The 'Healthy Workplaces for Healthier People' study focuses on understanding the status of the indoor environment in Indian offices and the impact on the people who work in these buildings. It assessed the indoor environment in Indian workspaces and the impact it has on building occupants, and highlights the correlation between indoor spaces and occupants' health and well-being. The study showed that Indian offices still have significant room for improvement in maintaining a healthy indoor environment.
The study was conducted in a pre-pandemic period and involved the evaluation of 30 offices located within nine Indian cities. These offices covered three major climatic zones and included a mix private and government-owned green certified and uncertified spaces. These offices were home to approximately 30,000 people. 1500 people also took part in an online survey.
A healthy building protects its occupants against external and internal contaminants, creates an indoor environment that is safe and comfortable, and encourages a healthy lifestyle. Workplaces that are well-designed, maintained, and productive improve productivity and health.
The study evaluated important parameters like indoor air quality, lighting, access and temperature, as well as access to outdoor views and thermal comfort. The study outlines design and operational strategies to maintain a healthy indoor environment. It also provides information about the current state of Indian workspaces. Correlations between indoor spaces and occupants' health and well-being highlighted in the study present opportunities to enhance occupants' quality of life via workplace design modifications. The study found that occupants' sleep quality and mood at the end of the night are directly affected by their lack of quality views. People who had a good view of the outdoors reported higher energy levels at night and reported less sleep-related issues than those with poor or no views. These findings show the importance of external views in determining space quality and improving health, especially mental health.
Only one of the 30 offices was found to have all indoor air contaminants within the limits set by standards. Due to their negative impact on occupant health, both indoor-generated contaminants (CO2) and those coming from the outdoors are a concern. Non-compliant indoor air contaminants were most prevalent in the form of carbon dioxide (CO2), nitrogen dioxide (NO2), particulate matter [PM] and formaldehyde ("CH2O") respectively. Other problems included poor lighting and limited access to outdoor views from workstations.
The purpose of the survey was to learn about how occupants feel about their workspaces and how it impacts them. Occupant surveys are often used to identify problem areas and evaluate the indoor environmental quality (IEQ). The study's findings revealed that important indoor parameters like lighting and quality were not often noticed by occupants. Despite poor lighting and air quality observed, 76% of people reported satisfaction with lighting and 68% with air quality, highlighting that occupants' perception does not accurately reflect IEQ performance. This highlights how important it is for occupants to regularly monitor IEQ performance, and to educate them on its impact on short- and long-term health.
Take IEQ as an example. Only one of the 30 offices examined maintained healthy indoor air quality. 75% of case studies had higher CO2 levels than the recommended threshold. Poor ventilation and contaminant buildup indoors can be caused by inadequate maintenance and operation. 67% of offices had NO2 levels above the recommended threshold. Only 10% of the offices had NO2 levels that could be removed from outdoor air. 63% of the space's PM concentration was higher than the threshold. 40% of the spaces didn't have filters to trap fine particulate matter, PM2.5. Poor indoor air quality is reported by 45%.
These findings are more relevant than ever as they bring to light critical indoor environmental issues that Indian offices must address. The study's findings will be useful for anyone who works, owns or manages an office. The study findings can be used by building managers, building owners, architects, and developers to improve the health performance of existing facilities as well as plan for new projects.