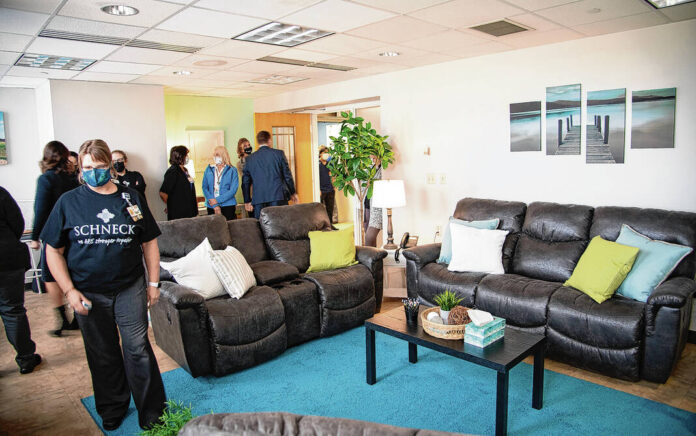 They might have had to tell a patient some difficult news.
Perhaps they had a difficult patient interaction.
Maybe they just need a calm, quiet place to go for a few minutes where it's only them in the room.
Schneck Medical Center employees now have this option.
On March 11, a ribbon-cutting ceremony occurred for the new recharge space at Seymour hospital.
On the right side of the door is a small cabinet that contains water, tea, coffee, and a diffuser. The right corner houses a high table and a few chairs that are close to the windows. A wooden rack with Bibles and devotionals, word search, journals, and adult coloring books is found on a nearby wall. The rest of this room is made up of two couches, a couch, a massage chair and lamps.
All those involved in the creation of the recharge room have received positive feedback since it was opened.
"The feedback has been 'It's just nice to know I have a place where I can go, even if it's just for my 15-minute break, to recollect myself, to clear my thoughts,'" said Julie Warren, director of human resources for the hospital.
"I had one team member that specifically said they had the start of a headache and felt like it was a tension stress headache. They went 10 minutes to the recharge room, sat in the massage chair, took a moment to refocus, came back down and finished their shift," she said.
Warren said that some people have also gone to the recharge area at the end their shift before getting in their car to go home with their family. They left with a positive, peaceful thought.
Amy Pettit (Vice President of Patient Care Services and Chief Nursing Officer) stated that recharge rooms have been a great help to staff members who have experienced something difficult at work or in personal life.
"Sometimes, those emotions come on very quickly in the form of grief and in the form of anxiety or stress," she said. "My directors and managers say there will be staff — all levels of staff, not just nurses — that will just say, 'I need to take a few moments.' This is where they come where they know it's quiet, no one will come in and say, 'Hey, can you do this?' It's separated from the unit, so it's a little bit more off the unit where they do have that quiet time."
Break rooms in work environments can be noisy, busy, or interrupted. The recharge room is a place where employees can be alone. However, coworkers may see them and they should leave.
Warren explained that the COVID-19 pandemic prompted Warren to create the room. He also stated that it was necessary to give team members as much support and guidance as possible.
"One thing that we heard from team members and then also a suggestion from Dr. (Joyce) Spurgeon from our mental health and wellness area was that sometimes, they just need a place where they can quickly go to reset and recharge, hence the name," she said. "The executive team was very supportive of finding a place."
The recharge room was built from the old ICU waiting room. Warren stated that all credit for the decorations and furnishings goes to Amy Cockerham, Volunteer Manager.
"We just really wanted to come up with an area that would help individuals take a step out of the health care environment and in something that's soothing and calming," Warren said.
Cockerham claimed that she got the idea from a magazine article about a similar room in another hospital. She kept in mind the five senses — sight, hearing, taste, touch and smell — when determining what to include.
"Those are things that help kind of ground you and relax you," she said.
In the article, Cockerham read that the hospital employees' family members noticed a difference if they had stopped by the recharge room before heading home.
"It was their time and they were in a better frame of mind once they got home, not bringing the work home so much, because they had time to decompress before they came home," she said.
The ribbon-cutting ceremony was conducted during Schneck's team member appreciation week and planned around the two-year anniversary of the start of the COVID-19 pandemic.
"We just felt like that was a good time to show more appreciation for our team members, and we had various things that week and had a ribbon cutting, as well," Warren said.
The room is meant for employees. However, a chapel and other rooms are available to patients and their families if they require a private space.