Practitioners must slow down when attempting to achieve environmental justice in land conservation. They need to consider the foundations that allow or hinder landownership. Three organizations are using conservation finance strategies in order to achieve environmental justice.
Each examines the history and context of land ownership, land use patterns, and wealth accumulation in the locations where these groups operate. Participants have asked the question: Why is it so? They spent time listening to tribal nations and community groups to understand their needs and then worked together to find creative solutions. These organizations work in the intersections of justice and land, taking into consideration the intertwined rights between natural and human communities.
Justice in these cases means expanding the definition of conservation in order to ensure that more people benefit, using conservation money in new ways to ensure co-benefits, and expanding the number of people who have the power to decide about land use.
The Swinomish Forest Bank's story illustrates how ecosystem market can be difficult to access for Indigenous peoples because of histories of land fragmentation. This strategy acknowledges and respects this history and creates new legal structures to allow that access.
Greenprint Partners' collaboration with the City of Peoria demonstrates how community organizing strategies may use public investments to green infrastructure to support community benefits.
The Doris Duke Charitable Foundation uses its philanthropic funds to increase the diversity of people working within conservation, encourage conservation organizations to better link with justice efforts, and fund organizing capacity at a grassroots level in BIPOC community.
Each effort expands the definition of what is a conservation organization.
Swinomish Forest Bank
The traditional territory of Swinomish Indian tribe spanned the Salish Sea Region of northwest Washington state and included the Skagit River Valleys, Padilla, Fidalgo bays, and the Fidalgo Camano and Whidbey islands.
Today, the area of land owned by the Swinomish has been reduced down to a 15-square-mile reservation on Fidalgo Island. There are a variety of private, tribal, and public lands within the boundaries of the designated reservation. Private lands can be owned by both Swinomish and non-Swinomish citizens. The Swinomish Tribal Government holds in trust and pays a small fee a small portion of the overall reservation land. This patchwork of small, non-contiguous parcels is called the Swinomish Tribal Government. Since the 1960s, the tribe has worked tirelessly to connect land and forestland within the reservation. It currently holds title over approximately 1,200 acres of forestland on the reservations. Because of this fragmentation, the Swinomish face significant barriers in implementing landscape-level management strategies for forest management.
The Swinomish posed the question in 2014 EcotrustThe nonprofit, which works across the Pacific Northwest, to support equitable, climate resilient land stewardship, and economic development, can help with the development of a new forest management program. The Swinomish had worked previously with Ecotrust and valued its forestry expertise as well as willingness to work together to achieve their goals. The Swinomish wanted to unify land management practices across their scattered acreage and sought Ecotrust's technical assistance.
Today, the loss in tribal lands and the mixed ownership patterns within reservation borders pose serious challenges to Indian nations' sovereignty and self determination.
One strategy was to create the forest bank. This new legal entity allows landowners (which could include tribal members, non-tribal residents, and the Swinomish Tribal Government) to enroll in the bank. The forest bank manages and harvests the enrolled parcels in accordance with a unified forest management program, which allows landscape-scale management strategies that are not possible on small parcels.
Many climate-resilient management practices for forests, a priority of the Swinomish are only possible on such a large scale. As the Indian Land Tenure Foundation Says"Today, the loss and mixed ownership patterns within reservation boundaries pose serious challenges to the sovereignty and self-determination Indian nations." The Swinomishs' checkerboarded and fragmented landscape is a result of the imposition, on top of traditional, collective management systems, private property boundaries. The legacy of fractionation has hampered the tribes' ability to control their land.
Part of colonization was the practice of fractionation. The United States Government established private property ownership structures and oversight mechanisms on Native Americans' traditional territories. The government created a system called reservations that restricted Native Americans to areas that were often only a fraction of traditional territories. The government made it difficult for Native Americans to accept the U.S. private ownership frameworks. These actions were carried out by force, treaty, and allotment.
In 1855, the U.S. Government signed the agreement with the tribe of Swinomish. Treaty of Point ElliotThe Swinomish reservation was 15 square miles of Fidalgo Island. Despite this, the Swinomish fought to protect their treaty-defined lands base in 1873 when President Ulysses Grant attempted further to reduce their land base. The U.S. Supreme Court stopped the move. The 1887 General Allotment Act, also known as the Dawes Act, gave 40- to 160-acre parcels within the reservation to Native American and settlers. This was done in an effort to encourage the establishment of settled, agricultural societies. These parcels were divided and subdivided into smaller parcels over the years, resulting in fractionation.
These past management patterns have created barriers to landscape-level ecosystem services and market access for them. The potential for both climate resilient outcomes and financial benefits would be achieved by unifying land through a forest banking. The Swinomish hoped that a large carbon credit sale would help them "seed the forest bank". The proceeds from the sale would provide capital to purchase additional acreage and compensate landowners for ecosystem services.
Ecotrust and the Swinomish were awarded a USDA Conservation Innovation Grant in 2015 to help them revise their Swinomish Forest Management Plan. The partners formed a stakeholder committee of tribal members to give their input on the project. Ecotrust's Brent Davies said that the committee was not a co-management group. Instead, they wanted to place indigenous communities in control. This meant that the Swinomishes' wishes regarding how forest resources could best be managed with climate-smart practices were carefully considered. It also involved considering different governance models to establish the forest bank within the legal frameworks governing tribally managed lands.
A forest bank would unify land parcels, allowing for more climate-resilient and financially advantageous outcomes.
Ecotrust and Swinomish worked together in order to design a suitable structure and entity, as there are not many forest bank models. Ecotrust and Swinomish jointly completed their 2018 forest management plans, which include the intention to create a forest bank. Ecotrust and Swinomish will continue to work together towards this goal.
Peoria, Illinois and Greenprint Partners
Peoria, Illinois is home to one of the most impoverished zip codes in the nation and is a majority-minority area. Peoria was declared in violation of the Clean Water Act by the EPA in 2006 due to sewer and stormwater overflows. The EPA ordered that the city address these issues. Peoria's leaders have tried to use public and philanthropic capital to upgrade infrastructure, while also investing in community assets, despite the fact that underfunding has led to significant infrastructure failures.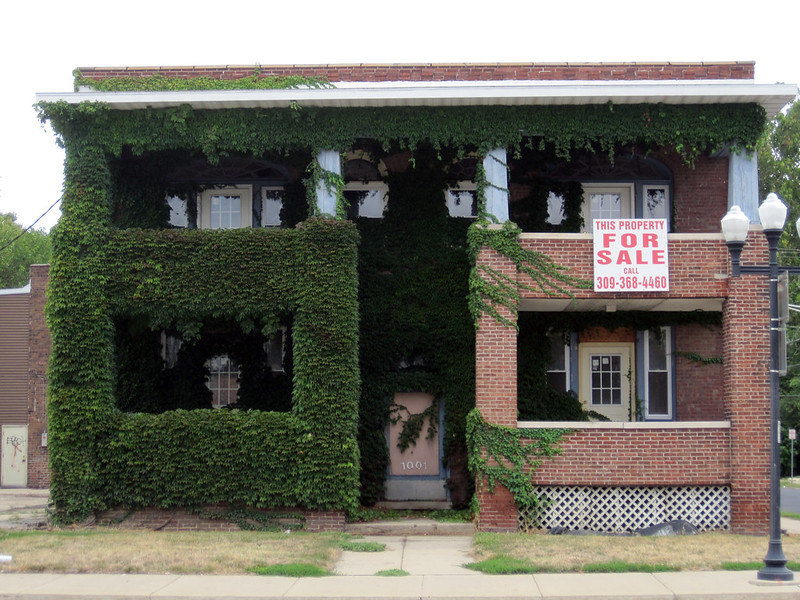 Peoria isn't the only one. Many urban areas have a poor and underfunded infrastructure due to history of redlining and disinvestment (racially discriminatory mortgage loans practices) Peoria received a Bloomberg Philanthropies Innovation award in 2014 to establish a Chief Innovation Officer position. The city sought out Greenprint Partners, a woman-run green stormwater design and engineering firm. The city needed large public investments to comply to the EPA mandate. They wanted to partner with a partner that could help them creatively use these funds to benefit the community.
Greenprint states on its website that it seeks to develop equitable, scalable and holistic stormwater solutions that not only revitalize neighborhoods but also increase safety and public health, and create new jobs in low- and moderate-income communities. Greenprints model focuses on strategically deploying large public infrastructure investments to simultaneously integrate community benefits and community goals. April Mendez, CEO and co-founder of Greenprints, said: "We believe infrastructure can be developed and designed with communities and it is possible to do so if the community centers the process from the beginning."
Greenprint decided to go against the traditional, expert-driven infrastructure model and asked the community what they wanted. Then, they figured out how to build infrastructure that would fulfill their needs.
Mendez stated that Peoria was an excellent partner because it was willing and able to "design green stormwater infrastructure from the perspective that the most needy parts of the community also needed other organizational support." Greenprint was able to establish a stakeholder advisory committee that was representative of the entire community with the help of a $940 800 grant from USDA's Conservation Innovation Grant program.
Greenprint asked the group what they wanted and needed. Greenprint consulted the community and asked them what they wanted. Then, instead of relying on expert-driven infrastructure project plans, Greenprint mapped out how to build infrastructure that would achieve those goals. The advisory group identified local job opportunities, access to healthy foods, and accessibility to urban green space as the top priorities.
Greenprint, Peoria, and the stakeholder group came together to create a 1.5-acre farm which can slow, sink, and store stormwater runoff. The farm will also offer job training and educational opportunities in the fields of farming and food production. Greenprint organized a placemaking visioning exercise that invited community members to share their ideas about the farm's potential design and the infrastructure they would need. The farm was strategically located in one the most impoverished areas of Peoria. This ensured that stormwater retention and job training benefits were retained in the most vulnerable communities. The farm was named The Well Farm in honor of the project team. It has absorbed 98 per cent of the rainfall in major rainstorms since its installation.
Greenprint aims to incorporate principles from its founders' community organizing backgrounds into its work. Mendez acknowledged that equity-centered design can be more costly in terms of time and staff, but she said: "Community involvement changes the end product. It's not about box-checking. It's about changing the design. It's important to have creativity to design things from an multi-benefit perspective and not just about putting the facility into the ground.
This multi-benefit perspective has had important ripple impacts. This project is a great opportunity for the community to benefit in many ways. It also opens up possibilities for public utilities and public funding programs to simultaneously finance equity and community development. Greenprint estimates that $1.50 in community benefits flows out for every $1 invested in the establishment of Well Farm.
Greenprint estimates that $1.50 in community benefits flows out for every $1 invested in the establishment of Well Farm.
The Well Farm cost $1.9million and received numerous accolades from industry groups, green infrastructure thought leaders, and foundations upon its completion in 2019. These include the U.S. Water Prize awarded by the U.S. Water Alliance. Other awards included the Illinois Green Alliance Emerald Award as well as the Sun Foundation Making Waves Award.
Peoria's stated goal to implement its clean water mandates through entirely green infrastructure was also informed by this project. Greenprint is collaborating with the National Green Stormwater Infrastructure Exchange in order to create an educational accelerator program that will train other municipal planning or finance entities interested in implementing similar "water-equity" projects. The Infrastructure Investment & Jobs Act, which has committed $55 billion to stormwater, wastewater, and drinking water infrastructure, provides an opportunity for public funds to be used to support community benefits as well as to help achieve water infrastructure goals.
The Doris Duke Charitable Organization
The Doris Duke Charitable Foundation ("Doris Duke" has rethought its objectives and processes to better ground its grantmaking in equitable decisionmaking and work under a expanded definition of conservation. This evolution is highlighted by four programs of the foundation.
According to Green2.0, approximately 30 percent of U.S. staff, 25 percent leadership and 32 percent board members of U.S. environmental nonprofits will be people of color by 2020. Since 2017, Green 2.0 began compiling these data. Doris Duke carefully considered who is in power and where they are located in the environmental movement. It has reoriented grantmaking to support a wider talent pool. The Doris Duke Conservation Scholars program was a support program for masters-level students studying environmental studies and land conservation for many decades. Doris Duke changed the Doris Duke Conservation Scholars Program in 2013 to support college-aged, BIPOC (Blacks Indigenous and People of Color) students to build conservation careers. Doris Duke is funding undergraduate students to give BIPOC youth earlier exposure to environmental work. This will make it more tangible for them. A diverse pool of young conservationists will allow for more diverse staff and leadership at environmental non profit organizations.
In 2020, Doris Duke's Diversity, Equity and Inclusion Capacity Building Program was established to support both BIPOC and white-led conservation organizations. Doris Duke granted two-year grants up to $60,000 to organizations with sizes ranging from The Conservation Fund (with hundreds to The Utah Din Bikyah (8 staff), to support staff engagement and diversity, equity and inclusion capacity building.
The development of a diverse workforce of young conservation professionals will allow for a greater diversity of staff and leadership at environmental non profits.
Doris Duke's "Inclusive Conservancy" grant program was launched in 2021. Doris Duke worked with an advisory group of conservation professionals who primarily represent and serve BIPOC community members to create this program. This program invests in community-centered conservation work that has more positive outcomes for biodiversity, nature, and people. Doris Duke now has a wider range to fund because of these expanded definitions of conservation. The advisory committee selected organizations that could then apply to grants.
This program gave grants of $300,000.00 to five organizations (Aina Momona. Ekvn.Yefolecv. McIntosh S.E.E.D.. Native Movement. Soul Fire Farm). The grants were given to each organization to "prioritize land justice and environmental justice" and to "recognize and contribute to the pivotal leadership roles they have" in doing inclusive, equity-centered conservation work.
Together with the Prevention Institute, Doris Duke and Robert Wood Johnson Foundation created the People, Parks, and Power Program to geographically redistribute conservation dollars. These partners formed this partnership in 2021 to support community organisations "working in urban, poor communities of color across the United States to increase parks equity through local policy change and system changes."
Today's cities are shaped by the history of racially excluded housing finance (redlining and restricted federal lending programs that are racially racially sensitive) and racial covenants that prohibit people of color and other ethnic groups from owning homes. Redlined areas are more likely to be populated by majority renters, have lower-quality schools, invest less in natural amenities, and often have higher percentages of BIPOC communities. Black, Latinx, Asian, and other minority communities are more likely live in historically and today's nature-deprived areas. These areas lack access to trees and streams, parks or park amenities, and therefore have less access to the many benefits that parkland has to offer such as exercise, mental health, clean air, cooling, and clean water.
Black, Latinx, Asian, and Latinx communities are more likely live in historically redlined areas that are now nature-deprived.
The rural bias in land conservation also causes urban access problems. This is due to factors such as the funding priorities for private, philanthropic, and public conservation funders. It also reflects the fact that traditional biodiversity conservation targets (presence or minimum acreage thresholds or large carnivores) are more easily found in large tracts of undeveloped rural land.
Conservation is dependent on philanthropic donations to support its work. It often occurs nearer to communities with well-resourced resources because it is more dependent on these gifts. Sawyer Cresap noted in her Recent article on equitable conservation financing"Low-income communities, and communities of color, are severely deprived of accessing privately conserved open spaces. They are also less likely to be associated with private land conservation as land donors or visitors, members, staff, or boards. Urban parks are not as often included in conservation dollars. This has led to conservation organizations focusing less on urban landscapes and achieving less success.
Doris Duke is interested in supporting the community members and organizations working on the ground to address why certain places are not served by park and other infrastructure.
It hopes to improve urban green spaces by bringing a portion of its grantmaking to urban areas. But it also hopes to increase the capacity and seed power of local groups. It aims to support these groups in creating new narratives, greater participation, access and authority over land-use decisions.
Philanthropy "holds the normative power of making things mainstream and rendering them visible," said Sean Thackurdeen from the Doris Duke Charitable Foundation, program associate for Environment. Doris Duke continues to examine how it invests in philanthropic funds. This allows the foundation to give both power and resources to BIPOC communities to enable them to create, implement, and share their visions of what land conservation could look like.
Conclusion
These case studies demonstrate how conservation practitioners can take responsibility and change the history, policies, stories, circumstances, and patterns that have created the wealth ownership and land ownership patterns we see today. These patterns are rooted primarily in discriminatory practices, such as redlining and fractionation, which have harmed many people of color and restricted their ability own and manage land. Another way to put it, traditional measures of conservation success will feed longstanding and systemically reinforced inequality in wealth, power, control and will continue to produce inequitable outcomes as to who the benefits land and resource conservation accrue.
Without justice-oriented recalibrations or directional shifts, those with historical access will be able gain conservation benefits predicated upon land ownership and accumulate additional compounding wealth. Those who have been systematically denied this right will not be able to do so.
How can these groups be models for listening, learning and changing?
These organizations have worked to ensure that the benefits and outcomes of their work don't just accrue to those with resources. They have broadened and extended conservation's reach and scope by defining conservation in place-based, historical-informed and community-based ways. They are open to working with new partners and granting power to them. How can these groups be models for listening, learning and embracing change? These examples can be used to inspire the next steps in the long journey towards conservation.
Practitioner reflections
How would your company answer the question, "Why is property ownership in our landscape the way it is?" How is inequality in wealth and land access evident in your current operating area? What historical responsibility might each of you, as an individual, or your organization, bear? What role could your firm or organization play in addressing these pasts?
How would you answer the questions "What conservation are we practicing?" and "Who is it for?"
Who is the authority and who has the decision-making power within your organization How do you collaborate with other groups in your local community? Who will be the driver of your partnership projects?
What are the particular histories of Native American communities within your region? What was the name of the Native American communities that once called your current area home (see nativeland.ca). What Native American communities still call this area home? If they're not here, where did the go? https://nativeland.info/)?
What are the lessons to be learned from Ecotrust, Doris Duke Charitable Foundation, and Greenprint? Are there any lessons in these three case studies that your company might want to adopt?