In the summer of 2019 — just months before the province was enveloped by the COVID-19 pandemic — Peter Marcelli knew he had a decision to make.
His mom was moving in to live with his family.
"We ended up doubling the size of the solar system because of my mom," he says. "She's a little old Italian lady who maybe doesn't understand what it means to conserve energy. So, we had to double our system just to make sure."
Marcelli's home is off the grid, tucked neatly away on Telecom Road, southwest of Peterborough.
The open-concept design features reclaimed barn beams that support the kitchen and dining area. The central feature of the design is a large stone stove. The kitchen is subtle but modern, and the loft office area — adorned with pieces from Peter's music interest — is finished with an aged wood ceiling and smart shelving.
But it is what's inside the interior that makes this house really stand out. The walls are 16 inches thick, and super-insulated. The wood stove also has a radiant heater and a cook oven that can heat 13,000 pounds. And the electricity is generated from four huge solar panels positioned strategically in the home's backyard.
"To say we're totally off the grid … technically we're not," says Marcelli, an independent filmmaker and photographer. "We have internet here. We have a propane backup boiler."
The solar panels provide electricity for the family in the summer. The family does heat their home with sunlight and wood in the winter. However, they do use propane to heat their hot water. It was a good investment that the family doesn't regret.
"And I guess selfishly, we were looking for a way to live more sustainably. It's less of a carbon footprint on the planet and we were inspired."
He says confidently it's the best decision they've ever made.
However, are climate change and other issues getting lost in the weeds, despite promises of more highways, new schools, health-care spending, and promises of larger highways before the June 2 provincial elections?
Marcelli believes it's the perfect time for parties, lining up to lead this province through the 2020s, to incentivize more people to go green.
"Absolutely … I think it's in the best interests of individual families to be able to make their own energy they can control … They can control their investment," he says.
Katie Gibbs has spent much time in the lead-up to the election trying make climate change a priority. She is a scientist, an organizer, and advocate for science and evidence-based policy. She is also a former Green Party volunteer, and currently a candidate for the Liberal party at Ottawa Centre.
This past February, she was the guest of Peterborough-Kawartha Liberal candidate Greg Dempsey, invited here to talk about the importance of climate change as an election issue.
"I went on maternity leave just before the pandemic started," she told her Peterborough audience. "And so I think like a lot of us, this was the time to reflect and think about what I wanted to do next … What can I do with my time that is going to push bold climate solutions? What can I put my time and energy into that is going to move the needle the most?"
She decided to run for the June election.
"Ontario is so well positioned to be a global leader in climate solution," she said. Gibbs feels the province was making progress under the former Liberal government, and while she feels much has stalled in recent years, it's not too late to build on that former legacy.
"We need bold change now," she said.
In terms of initiatives, the current Ford government has established a plan to reduce Ontario's greenhouse gas emissions to 30 per cent below 2005 levels by 2030, a target that aligns Ontario with Canada's 2030 target under the Paris Agreement.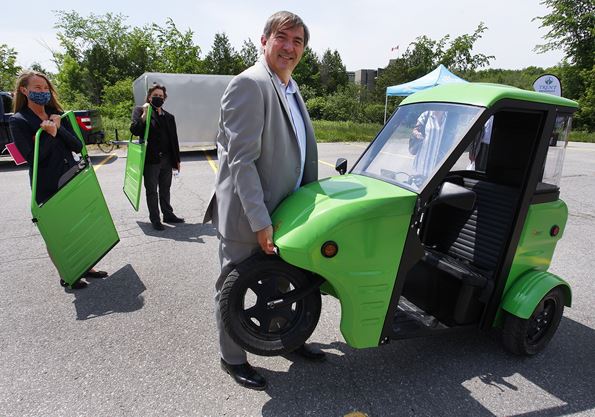 Locally, MPP Dave Smith is pushing for Peterborough's first test city for an electric mini-car.
"We have the opportunity to be a leader in Canada," said Smith, appointed by Ford as a special adviser for Ontario Parks, where he provides strategic advice to the minister of the environment.
"This is affordable and very environmentally friendly."
Liberals have stated that they will reduce greenhouse gas emissions by 50% below 2005 levels by 2030 and reach net-zero emissions in 2050. They have also announced plans to create 25,000 jobs in green, as well as training and support for workers.
According to the Ontario NDP, it will match the 50 percent reduction in emissions by 2005, electrify all municipal transit systems by 2040, and provide $600 for households to install electric vehicle charging stations.
The Green Party says it will "crush climate pollution" by adopting a net zero 2045 emissions policy, implement plans for retrofitting homes, reducing sprawl, and building smarter developments, while generating electricity from clean, renewable sources.
Gibbs stated that there is a correlation between an improved economy in Ontario, and an enhanced environmental effort.
"It's absolutely not a question of environment versus the economy. All the paths to sustainability and to bold climate action … they all invest in Ontario's economy, they bring jobs to people in Ontario … I just see so much potential at the provincial level for policies that can actually meet the level that we need to truly combat the climate crisis."
STORY BEHIND the STORYAs we head into the June 2 provincial election, our focus was on the key issues that could win voters. This article is about the climate crisis.
SHARE:
!function(f,b,e,v,n,t,s){if(f.fbq)return;n=f.fbq=function(){n.callMethod?n.callMethod.apply(n,arguments):n.queue.push(arguments)};if(!f._fbq)f._fbq=n;n.push=n;n.loaded=!0;n.version='2.0′;n.queue=[];t=b.createElement(e);t.async=!0;t.src=v;s=b.getElementsByTagName(e)[0];s.parentNode.insertBefore(t,s)}(window,document,'script','//connect.facebook.net/en_US/fbevents.js');