The war in Ukraine is the focus of all eyes these days. The invasion is far from the only conflict in the world — Yemen, anyone? — but Putin's actions could do a lot to destabilize much of Europe, if not the entire planet.
Much of the media coverage around Ukraine serves to examine what's happening in the moment — bombs falling, tanks rolling and so on — so we've collected some important environmental reads about Ukraine, which also show how we can move forward. We've included some other news you might have missed while the war dominates the news cycles.
---
Vladimir Putin's aggression and weapons of destruction would not be possible without Russia's abundant supplies of oil and natural gas. That's why, as Bill McKibben argues in The GuardianThis war should be an incentive for renewable energy sources to grow as quickly as possible.
It is a good time to recall that over the last decade, engineers, scientists, and others have managed to lower the cost of wind and solar power to the point that it is some the most affordable energy on Earth. It is best to deploy it immediately to prevent the existential crisis of climate change. The second best reason is to stop the nine million deaths each year from inhaling particulates from fossil fuel combustion. But the third best reason — and perhaps the most plausible for rousing our leaders to action — is that it dramatically reduces the power of autocrats, dictators, and thugs.
This is a crucial moment in Europe and it is overdue. The Energy MixRecently, this was highlighted (quoting energy analysts at IEEFA).
"Instead of diversifying the EU's sources of energy to replace gas, Europe has spent a great deal of time diversifying gas supply routes, particularly pipelines from Russia."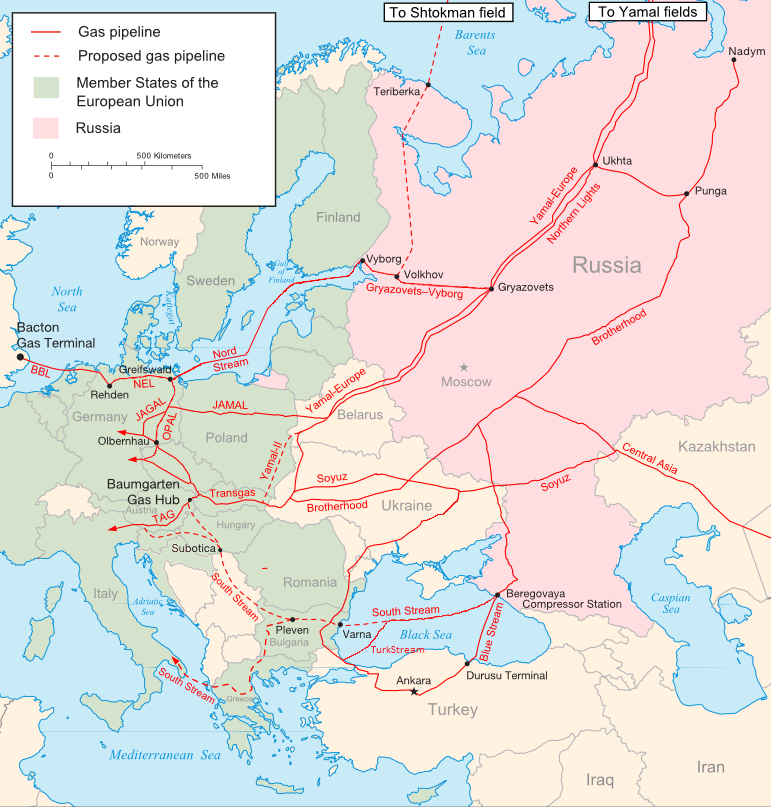 Sammy Roth writes that we must move away from oil & gas quickly before new conflicts arise. Los Angeles Times:
It's also important to remember that climate change poses a major national security threat, with the Defense Department and other federal officials Warning last yearThe worsening climate-related hazards are likely to lead to a surge in global immigration and political instability. This is why the U.S. Army published its First ever climate strategyThis month, the company set a goal to reduce its planet-warming emissions by half and to power all bases with climate-friendly electricity until 2030.
---
Of course, most news reports about the Russian invasion don't mention the connection to oil and gas. Over at Neil Young's Times-Contrariannews site, activist Rev. Billy Talen (a RevelatorContributor): Media coverage of the war is poor and neglects its environmental impact.
The Earth is third in the Russian-Ukraine war. … How would the war's violence look in the context of the great extinction of life that is now ongoing everywhere on the planet?
As many experts say, "Every story is a climate story." Writing for Columbia Journalism ReviewMark Hertsgaard founder of Covering Climate Now encourages journalists put the Ukraine crisis into a climate context.
The U.S., Ukraine and other countries will continue to be affected by drought as heat-trapping emissions and global temperature rises. The consequences — for food production, social stability, and war and peace — are immense. They should be covered in news coverage.
Talen stated that we need to cover climate and extinction crises more than one war.
With what we know about the interconnectedness and high stakes of the great global extinction, we have an obligation to bring the natural world into the forefront. We can't afford to have any human drama that doesn't mention the Earth, not now. We will have to discover a whole new kind of language — to foreground the Earth in sporting events, fashion shows or when Paul McCartney emerges from a limo.
---
While we're calling out the media's failure to link this war to environmental issues, we should also point out how badly last week's latest United Nations climate report got buried in the "if it bleeds, it leads" news cycle.
CNN is one example. On Monday morning, the climate report was prominently featured on its website. However, it quickly became less important news.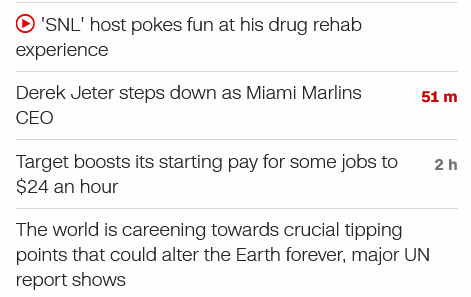 That "crucial tipping points" headline deserved at least equal prominence as the network's Ukraine coverage. But, what about the Derek Jeter news?
---
Want to learn more about Intergovernmental Panel on Climate Change? Here are some must-read links.
And if you want to dive even deeper, here's the 3,500-page IPCC report by itself. (Don't worry, there's a summary, too.)
---
Check out the latest news on stories that have been published previously:
Remember our recent Op-Ed about the importance of an International treaty on plastic pollution? Well, the world listened and one could soon be On the way.
You know how plastic and other are Chemical manufacturers pose a threat for the climate? It turns out that climate-driven storms, wildfires, and sea-level rising will all bring about These same hazardous chemical facilities are also at risk.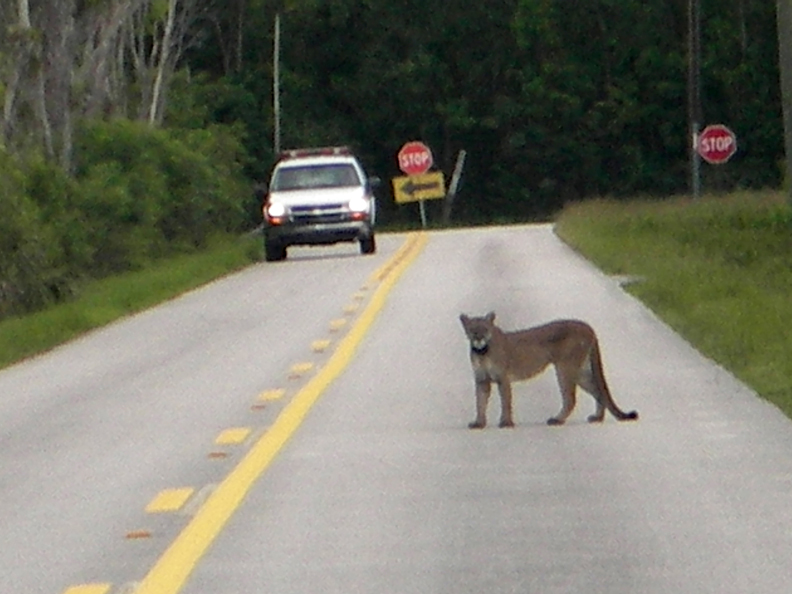 The latest wildlife news Eight Florida panthers are dead so far this year— compared to 27 in all of 2021. This year's mortalities to date were all caused by motorists. At this rate, How long can Florida panthers continue to survive??
What's in a name? The spongy mothThis is the answer. The gypsy moth was once known as the "gypsy moth", a name that was derived from a derogatory name given to the Romani people. The change in moniker is just one of two steps in the new move. Remove the colonization of place names and species. The other is an initiative by Interior Secretary Deb Haaland to remove the offensive term "squaw" from an astonishing There are 660 locations in the United States — a welcome change, indeed.
---
Last thing: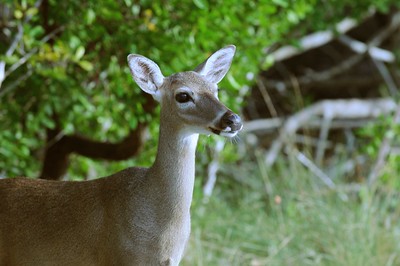 Could climate change kill off Florida's beloved Key deer? Hurricane Irma wiped out 30% of the species in 2017, and although they've rebounded since then, the threat of more intense storms loom over both the tiny deer and the low-lying islands they call home. Noted conservationist Stuart Pimm told Florida Insider that warmer temperatures, extreme weather events and sea-level rise "may not be quite as direct as someone going out with a shotgun and killing a bald eagle, but they are every bit as potent a factor in causing species extinctions."
This is something to keep in mind as we celebrate Key Deer Awareness Day, March 11.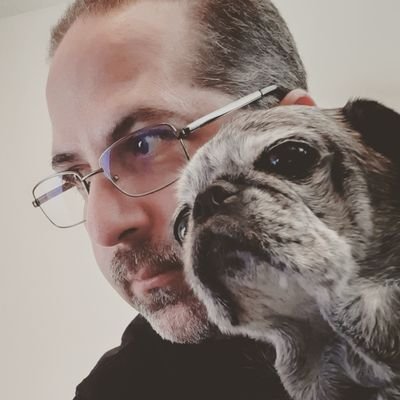 The editor of The Revelator. His work has appeared in the prestigious environmental journal, which he was awarded. Scientific American, Audubon, Motherboard, and many other magazines and publications. His "Extinction Countdown" column has run continuously since 2004 and has covered news and science related to more than 1,000 endangered species. He is a member of National Association of Science Writers and the Society of Environmental Journalists. John lives in Portland, Oregon, near cartoonists and animals.