New York State passed an historic law to reduce greenhouse gas emissions in every sector of its economy in 2019. The legislation's focus on environmental justice, equity, and equity was the most significant. The Climate Leadership and Community Protection Act required that 35-40% of the future benefits of state investments into clean energy, energy efficiency housing, workforce development, transport, and pollution reductions be used to benefit disadvantaged communities.
This provision was modeled after a Similar program in CaliforniaLater, it was the template for a national goal. Justice40This was the promise made by President Joe Biden when he assumed office one year ago. New York and federal government cannot be held responsible for that promise until they determine how the benefits of investments are measured and define what a disadvantaged neighborhood is. 
While New York state officials worked on clarifying the benefits question, a Climate Justice Working Group, which was made up of leaders in environmental justice and community groups from across the state, was charged with deciding what criteria should be used to identify disadvantaged areas. After 18 months of deliberation they finally have some answers. 
Chris Coll, director of energy affordability and equity at the New York State Energy Research and Development Authority, told the Climate Justice Working Group in December how state agencies had decided to measure the benefits. The announcement was made during the last meeting of the year of the Climate Justice Group. It confirmed the hope of many in the climate justice community: While agencies will track non-monetary climate-related benefits, they will only count direct investment dollars toward compliance with the 35-40% goal. 
This is fantastic news, said Elizabeth Yeampierre who is the executive director at UPROSE in New York City and was also a member of the working group. Environmental justice advocates had struggled with the phrase "benefits of investments" and were skeptical of it. It opened up the possibility for the state to use creative accounting methods to meet the mandate of 35 to 40 percent. Yeampierre described this as rockstar stuff.
At the same meeting, the group voted unanimously for its proposal on how to identify disadvantaged communities (or DACs). It will be available for public comment this month, and finalized later in 2014. Members questioned their proposal just before voting, illustrating the many tradeoffs involved in converting an abstract concept into a practical policy. The stakes of labeling communities as disadvantaged go beyond monetary. The state's priority in reducing greenhouse gas emissions and pollution will be determined by the outcome. 
The workgroups created a new mapping software that aggregates data from every census tract in the state. Although the legislation identified broad categories of communities, it was clear that areas affected by pollution, high concentrations of low income residents or people from historically marginalized communities, and areas most vulnerable to climate change should be included in the definition. The group still had to decide which data to use to identify these communities. They settled upon 45 different indicators or data sets that measure things such as income, race and unemployment, home ownership, asthma prevalence, polluting facility proximity, climate risk, flooding and extreme heat. Each census tract is assigned a score based on these data.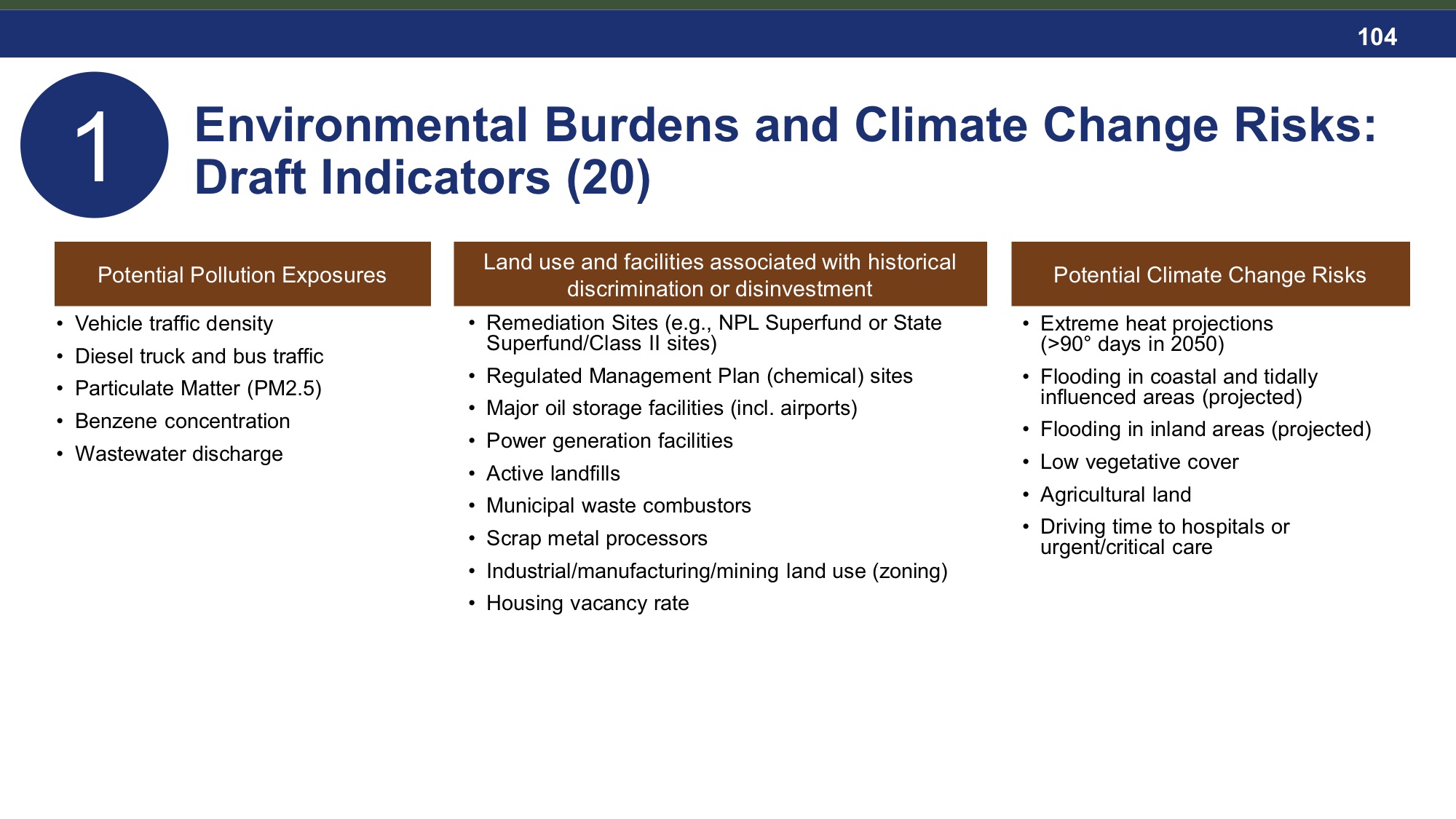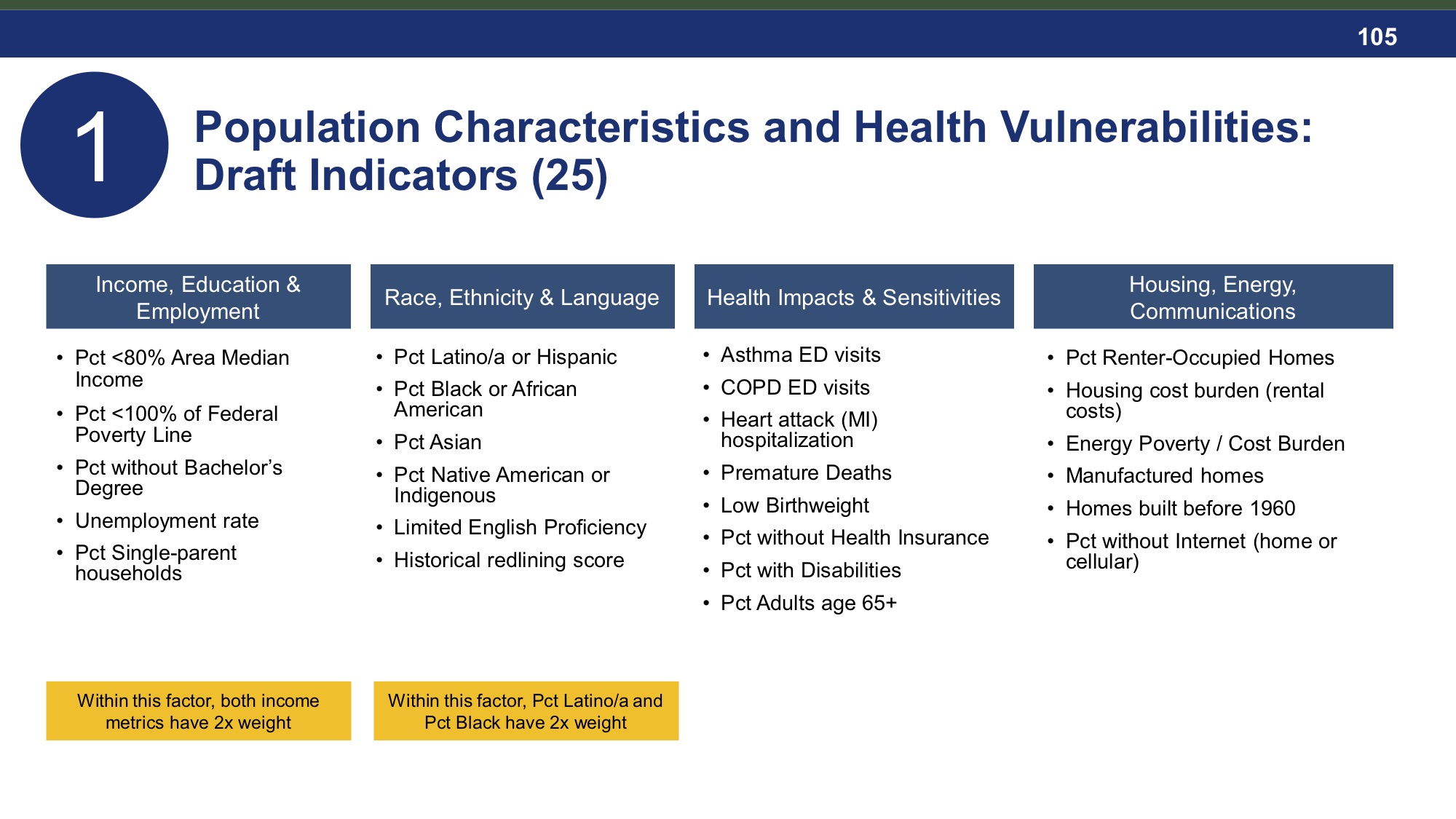 The proposed method would designate DACs the census tracts that score in both the top 27 per cent statewide and the top 27 per cent of non-New York City Census tracts. This two-part system was designed to ensure a fair distribution of benefits across the state. Otherwise, DACs could be concentrated in New York City. The Department of Environmental Conservation and the New York State Energy Research and Development Authority have also proposed including Indigenous populations by automatically identifying 19 additional census tracts that either belong to reservations or are tribally owned. This would mean that approximately 35 percent to all households in New York would be DAC-tagged.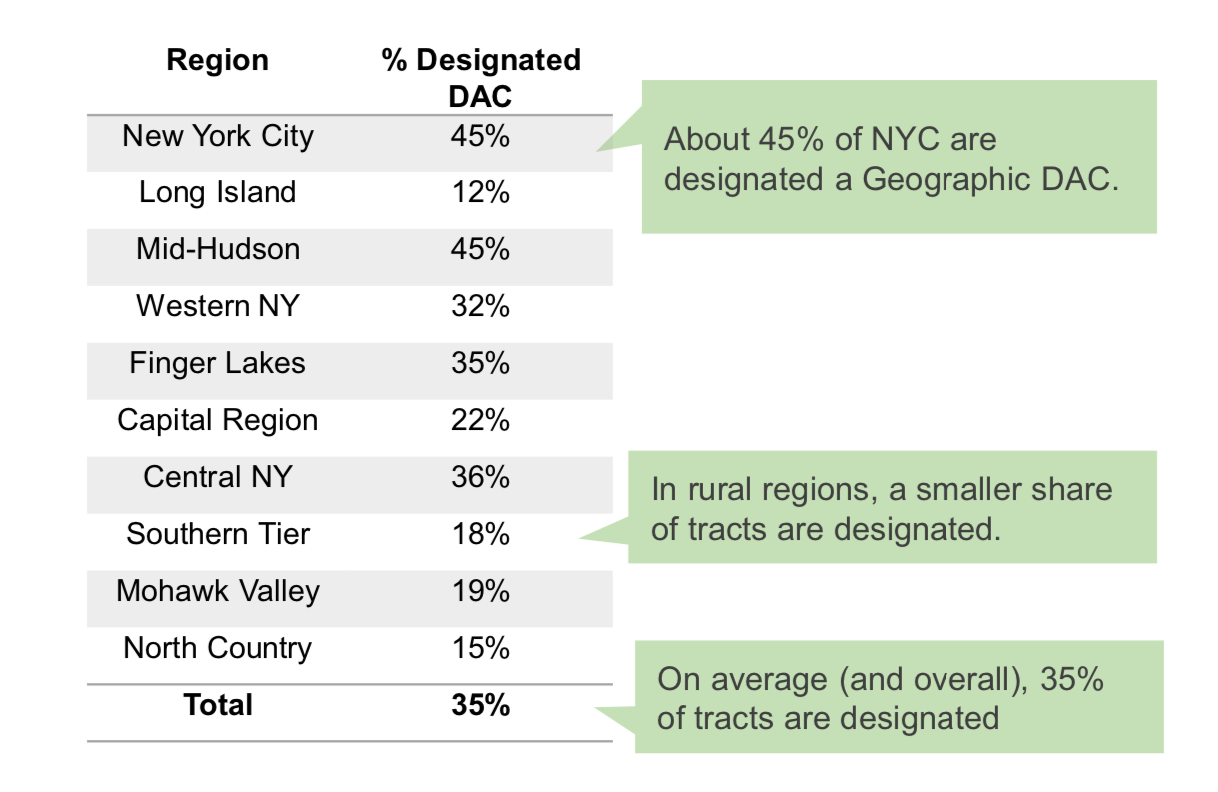 However, as the Climate Justice Working Group was about to vote in December to approve the method, some members still feared that the system would not capture all the right populations. 
Yeampierre was shocked to see that the final list did not include the rates of people with diabetes. These people are known to be at greater risk than other people of color and to be particularly vulnerable during storms. We saw what happened both in the Gulf South and in Puerto Rico when there were these massive hurricanes, and what happened to people who didn't have access to the food that they needed and to insulin, she said at the December meeting. 
Neil Muscatiello, an epidemiological chief from the Department of Health explained that diabetes was difficult to capture in existing Department of Health data, which mainly tracks hospitalizations and emergency room visits. Muscatiellos team felt the data was incomplete as some diabetes patients are seen in primary care offices. 
These limitations have been a challenge for the Climate Justice Working Group throughout the process. Many other indicators, such as childhood lead exposure, COVID-19 and heat-related deaths, had to be dropped due to insufficient data. 
This is still a draft. We need to get something out there," Alex Dunn, the consultant hired by the state for the process and much of the behind the scenes data wizardry, told members. It is very possible to be imperfect here.
Another issue that made many Climate Justice Working Group members feel uneasy is the existence of communities that are still attempting to evade climate justice. felt Although they seemed to have met all the criteria required to be designated DACs, they somehow weren't. Abigail McHugh-Grifa (executive director of Climate Solutions Accelerator of Genesee-Finger Lakes Region) was confused when she looked at a map of DAC census tracks in Rochester. Some communities that were in the 90th%ile for socioeconomic vulnerability or health risks were not lit up. She said that just looking at these maps and knowing these communities doesn't feel right at all at the December meeting.
This was not an unexpected problem, as the Climate Leadership and Community Protection Act directs that the group consider socioeconomic and health characteristics in addition to environmental burdens. A community may have a high number of people of color, low-income residents, or unemployment. However, if it isn't in close enough proximity of sources of pollution or climate-related hazards, it may not be awarded a sufficient score to be designated. 
Eddie Bautista, executive director of the New York City Environmental Justice Alliance encouraged his colleagues to step back and think about what their task was. He stated that even if we had hoped that the law would apply to all New York State residents of color, it was never going to do that. It wasn't meant to do that. This was done to address the climate and environmental vulnerabilities of these communities.
The group did however decide to work in a partial solution to ensure that investments were made to address the clean-energy needs of low-income residents, especially in rural areas. The draft methodology stipulates that, in addition to the highest-scoring census tracts and individual households whose income is below 60 percent of the state median will fall under the DAC umbrella. DACs will be designated to approximately half of all households in the state when this amendment is taken into consideration.
The state could have a lot of problems defining DACs. For example, if 35-40% of all clean energy investments are allocated to half the households of the state, it could seriously reduce the program's benefits. However, if both programs that benefit communities and individual citizens are required to meet the spending goals individually, then the benefits from the investments could be distributed as intended.
Grists had asked for clarification on the risks of defining DACs too broadly. The spokesperson for New York Department of Environmental Conservation responded that, "As the reporting structure is still being constructed, we anticipate being able disaggregate spending on each household." We will soon post the DACs definitions and criteria publicly. This will allow us to provide additional information to clarify some of these issues.
It is only the first step to begin a process of identifying disadvantaged communities. The state agencies must still create systems to track investments and benefits. The New York State Energy Research and Development Agency did a preliminary estimate to illustrate the point. It found that the state has issued approximately $3.2 billion in place-based clean and energy efficiency investments for 2021. The total amount going to DACs at this level of funding could be as low as $1.12 billion annually.
New York will soon open a 120-day public consultation period on the criteria and methodology for identifying communities as DACs. Officials in New York will also release an interactive map which will allow people to see which communities will be designated DACs according to the draft criteria. They will also show where they rank according different indicators. Before the working group meets to finalize the process, the state will host six public hearings and public information sessions. The working group will review the DAC criteria annually and consider any modifications. 
Federally, the questions about the benefits of investments and the designation of DACs remain unanswered. The Office of Management and Budget currently reviews proposals from 20 agencies. How they would implement Justice40The development of a map tool to identify disadvantaged communities has been stalled. 
Brenda Mallory (chair of the Council on Environmental Quality) assured the White House Environmental Justice Advisory Council that updates would be forthcoming. This federal analogue to New York's working groups, was made last week by the Council on Environmental Quality.
She stated that the first annual environmental justice scorecard will be published to provide accountability for Justice40 and other key engagements.
---