Apr. 8The Palouse -Clearwater Environmental Institute is hosting an Earth Month Watershed Fest from 11 a.m. until 2 p.m. on Saturday on preserved land outside Pullman.
The event will be held at Rose Creek Nature Preserve in Pullman, which is 7.5 miles north of Pullman. According to its website the preserve covers 22 acres and is managed by Palouse-Clearwater Environmental Institute. It is known for its lush bunchgrass species, and Fendler's waterleaf in Palouse meadow-steppe ecosystem.
Saturday's festival is free and open to all community members. The event will include outdoor activities like native tree planting, aqua insect exploration, ecosystem hikings, and wildlife eco art.
According to its website, The Palouse Clearwater Environmental Institute's mission promotes community involvement in decision-making that affects the Palouse's environment. The nature center promotes sustainable living, ecological health, restoration of Palouse landscapes, and educates community members. It aims to provide an opportunity for people to live in harmony with the environment.
See Also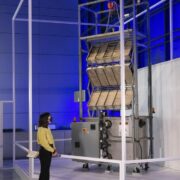 If you are looking for more information, you can visit the Palouse-Clearwater Environmental Institute's website at pcei.org.