"Our goal is to capture the imagination of the children who spend time here, and to motivate them to take action."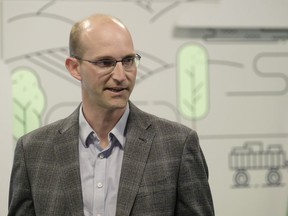 Article content
The walls come alive when the lights dim and projections animate the inanimate.
Advertisement 2
This advertisement is still not loading, but you can continue your article below.
Article content
The projections on one wall are guided by black lines stencilled on vertical surfaces. They fill a fridge full of cartoony food, drinks, and more.
The viewer is asked to look in the refrigerator and identify items that could be replaced by something that produces less waste. The projection changes as soon as the viewer touches the item. A pack of six water bottles becomes a pitcher. A disposable grocery bag becomes a reusable bag. And the plastic produce bag that contained lettuce disappears.
This interactive game shows you how small, yet concrete, actions can reduce waste in your home. It is just one of many activities that the City of Reginas Waste Management Centre has unveiled Monday.
Our goal is to capture the imaginations of the children who visit the city, to inspire them to take action, bring it home to their parents, and have a discussion, Kurtis Donney, director of waste water and environment, stated during the unveiling. We believe that kids can be the catalyst of positive change in their families, and in their communities.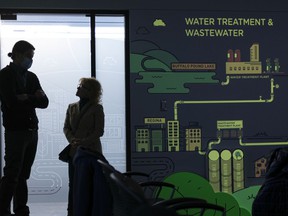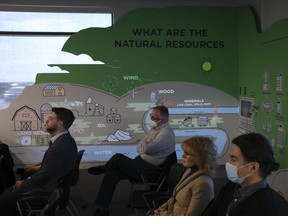 The room is designed with play-based learning in mind. Schools and community groups can book the room for their children to learn about everything, from natural resources and water conservation to waste reduction strategies and what should be flushed down the toilet.
Advertisement 3
This advertisement is not yet loaded, but you can continue reading the article below.
Article content
One wall even asks visitors to answer questions about what to do with broken items such as a phone screen or a bicycle. It can be thrown in the trash, recycled, or repaired. Each choice allows the projections to move and change, allowing visitors to see how the items can change and what the best outcome is for the environment.
A commissioned art piece by Regina artist Bruno Hernani will greet visitors to the centre. It includes single-use plastics and other recyclable materials.
The multi-media work features images of grain elevators, and his engineering skills to create magnetic fields to move small wheat fields.
Monday's Hernani stated that when you see all the plastic on the fields and in different pictures around the world, it is kind of inspiring to see how that can be transformed and how we have power in ourselves to make a difference.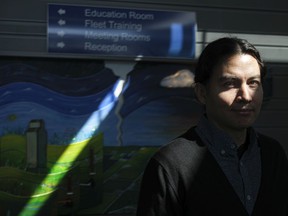 Construction of the Waste Management Centre finished in the fall of 2021. Work on the education room is ongoing. Graphics eMotion, a Montreal-based company, was hired to design the room. This was based on the information that the city wanted for kids. The project cost about $300,000.
Kim Onrait (executive director of citizen services for the City) stated that it is true that adults can learn from children. Even the youngest people who pass through these rooms will be able help us achieve that vision.
Advertisement 4
This advertisement is not yet loaded, but you can continue reading the article below.
Article content
Online bookings are possible Regina.ca.
Advocate for Regina's net Zero Plan: This is the beginning of a culture shift

Council unanimously approves sustainability plan with net-zero emissions goal for 2050
jackerman@postmedia.com
It seems that the news is moving faster than ever. It can be difficult to keep up with the news, from COVID-19 updates to crime and politics to everything in between. The Regina Leader-Post created this website to help you keep up. Afternoon HeadlinesYou can receive a newsletter every day to your inbox. This will keep you up-to-date with the most important news of the day. Click here to subscribe.
This article should be shared on your social media networks
Advertisement 1
This advertisement has not loaded yet. However, your article continues below.
Regina Leader Post Headline News
Register now to receive the daily headline news from Regina Leader-Post (a division of Postmedia Network Inc.).
Clicking on the sign up button will consent to receive the Postmedia Network Inc newsletter. You can unsubscribe at any time by clicking the unsubscribe link located at the bottom of all emails. Postmedia Network Inc. 365 Bloor Street East Toronto, Ontario M4W 3L4 | 365 Bloor Street East, Toronto, Ontario, M4W 3L4 | 416-383-2300
We appreciate you signing up!
We are sending you a welcome email. If you don't see it, please check your junk mail.
Regina Leader Post Headline News is coming soon to your inbox.
We experienced an error signing you up. Please try again