December 23, 2021

MS-1 – Credit:Paul/MarineTraffic.com
Western Gas, an Australian oil and gas company, has announced that NOPSEMA has approved its Environment Plan to manage activities at the Sasanof-1 exploration well located on the North West Shelf of Australia.
Drilling will begin in March/April 2022, using the Valaris MS-1 semisubmersible drilling rig. Relocation from nearby activities on North West Shelf. The drilling costs are estimated to be between US$20-25 Million. 
The exploration well Sasanof-1 is located in permit WA-519 P in Commonwealth waters approximately 207km northwest of Onslow (West Australia). Sasanof-1 will consist of a vertical well, drilled to a depth of approximately 2500m in 1070m water. It is intended to provide a low cost, high-impact exploration well in an established hydrocarbon province.
"The Sasanof Prospect is uptrending and updip of the liquids-rich and low CO2 Mentorc Gas Field and Condensate Field, as well as the Giant Gas Fields at Scarborough and Io-Jansz within the Carnarvon Basin. ERC Equipoise Ltd. (ERCE), has determined that Sasanof's 2U Prospective Resources is 7.2 Tcf of gas and 176 M bbls of condensate (P50), with a 32% Success Rate. Western Gas added that the highest case 3U Prospective Resource estimate was for 17.8 Tcfgas and 449 M bbls of condensate.
"Regulator acceptance of the Environment Plan for Sasanof is a major achievement for the Western Gas team and our service providers, XODUS and AGR. It reflects a collaborative and focused effort and gives us the confidence to progress through the final stages of Regulatory approvals and detailed planning for the well," said Will Barker, Executive Director.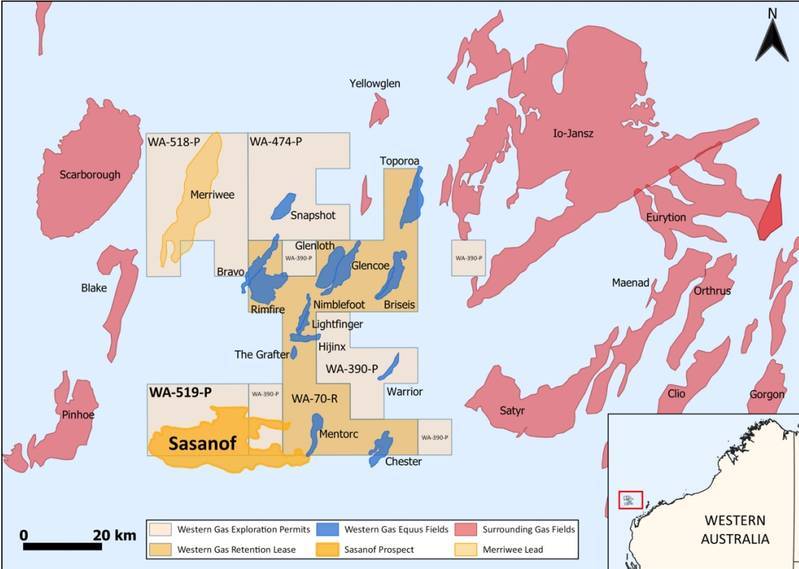 Credit: Western Gas