| | |
| --- | --- |
| | 29.12.2021: Shanghai Electric ("Shanghai Electric") (601727.SS or 02727. HK) plays a crucial role in the Belt and Road Initiative (BRI), helping countries to build low-carbon and green energy infrastructures. |
Shanghai Electric ("Shanghai Electric", or "the Company") (601727.SS. and 02727. HK) plays a critical role in helping Belt and Road Initiative(BRI) countries to build low-carbon and cleaner energy infrastructure. It also employs green construction practices in its efforts towards minimizing the impact of animal habitats and protecting local ecology systems.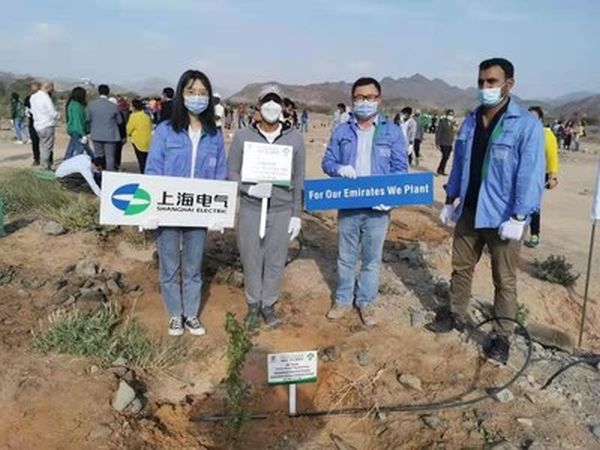 Shanghai Electric's commitment to environmental protection has seen its engineers work with ecologists to protect local wildlife. It also supports the United Arab Emirates in reaching net-zero carbon goals by helping them build the largest solar thermal power plant in the world for their residents.
 
Shanghai Electric, as the official partner of Dubai World Expo 2020's China Pavilion, participated in the construction phase 4 of the Mohammed bin Rashid Al Maktoum Solar Park.
The project includes a 700MW concentrated sun power (CSP), and a 250MW photovoltaics (PV) plant. It covers 44 square kilometers. That's equivalent to 6,162 football fields.
Standing in the center of the CSP plant is the 100MW solar power tower, which measures 262 meters in height – the tallest of its kind in the world – and is expected to deliver clean energy to over 320,000 Dubai households and abate 1.6 million tons of CO2 emissions upon completion.
 
When Shanghai Electric planned and executed construction work, it was a key focus. The Company implemented a series of measures with the assistance of ecology and conservation experts to improve its environmental management, and ensure the safety and well-being of the flora/fauna ecosystem.
Shanghai Electric conducted extensive research and surveys on local animals and plants during the planning stage. This helped to prepare for the wildlife relocation project.
 
Shanghai Electric, in collaboration with local animal protection agencies, created a specialist team that studied animal behavior and found a way to get wild animals out of the construction area.
The team decided to fence the area and place food and water at 200 meter intervals to lure the animals. This would allow them to safely move them to other areas. Shanghai Electric was able to protect a wide range of species, including camels, sword-antelopes, and even foxes, that are native to Dubai.
Emirates Environmental Group, the largest NGO in the UAE dedicated to environmental conservation, recognized Shanghai Electric's contribution to the protection of the environment during construction of the Dubai CSP projects. They invited Shanghai Electric, the largest NGO to be involved in the "For Our Emirates we Plant" event in 2020-2021. Eight Sidra trees were planted by Shanghai Electric in the Emirate Ras Al Khaimah.
"The Dubai project covers a large area of land that is home to many wild plants and animals. This complicates the environmental management measures necessary to preserve the local biodiversity intactness. Zhao Hui, manager of the Dubai project, said that the team considered all factors that could pose a threat to wildlife. This helped to protect the local ecological system and help the Dubai government achieve carbon neutrality by 2050.
Shanghai Electric looked into ways to conserve resources, reduce environmental pollution and reduce the impact of waste materials from construction work in order to meet its responsibility towards the environment.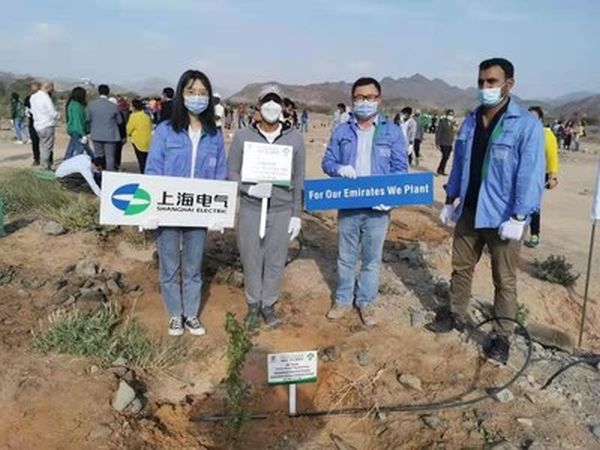 Shanghai Electric's team collected plastic and glass bottles, as well as print cartridges for central recycling. The volume of recycled items recorded in 2021 was three times higher than the previous year.
Shanghai Electric is a global leader for renewable energy. It has been reshaping global energy by promoting green growth, unlocking the wind, and using photovoltaic technology to address global climate issues. Shanghai Electric will push for innovation in green technologies and leverage its high quality clean products to support the global transition towards a sustainable economy.
 Jocelyn Zhou, Shanghai Electric photos
Honda releases the 2021 North American Environmental Report

07.12.2021
Honda has today released its North American environmental activities data covering the fiscal year ending March 31, 2021 (FY2021). Honda has now released detailed environmental impact data on its North American operations for 17 consecutive years. Continue reading
Volvo Cars signs zero-emission road transport declaration at COP26

13.11.2021
… reveals groundbreaking internal carbon-pricing Volvo Cars Chief Executive Håkan Samuelsson  joined industry and government leaders to sign the Glasgow Declaration on Zero Emission Cars and Vans at the UN cli more >>
Kia promises to be a Sustainable Mobility Solutions Provider

11.11.2021
…and unveils roadmap to achieve carbon neutrality by 2045    Kia commits to achieving carbon neutrality throughout the company's value chain by 2045    Kia model range to go fully electric in Europe by 2035, with key global markets to follow by 2040    Pioneering more >>
UN : Fossil fuels production dangerously out-of-sync with climate change goals

20.10.2021
Despite increased climate ambition and net-zero commitments, governments still plan to produce more than double the amount of energy from fossil fuels in 2030, than the amount that would limit global warming to the Paris Agreement level of 1.5°C. More >>
Automobili Lamborghini accelerates decarbonization

15.10.2021
From 2023 the Sant'Agata facility will be powered by biomethane, alongside arrival of the much-anticipated hybrid rangeAutomobili Lamborghini has announced the implementation of a biomethane installation to power its Sant'Agata more >>
Goodyear chooses to use renewable energy in European, Turkish and Turkish plants

22.09.2021
Company achieves 25% reduction in carbon emissions intensity by 2023. This shift will reduce the company's carbon footprint by as much as 260,000 tons. Goodyear Tire & Rubber Company today announced that it will adopt 100% renewable energy more >>
Global warming is 'unambiguously' caused by humans at an unprecedented rate: IPCC

11.08.2021
Climate change is widespread and rapid. It is intensifying.
Enlight signs an agreement to acquire a portfolio solar energy projects currently in development in Spain

03.08.2021
The potential capacity of these projects is approximately 490MWdc. The consideration will be paid according milestones based upon the progress in development of projects. It is estimated at EUR 49 million Zafrir Yoeli SVP Busine more >>
GES acquires Aqwise in a strategic move to form a leading global water & waste treatment technology group.

02.08.2021
Michael Dayan, CEO of GES, stated that Aqwise has made GES a dominant player in Israel's Water, Industrial & Municipal Wastewater Markets.

GES operates in the desalination sector, water treatment, and wastewater sector.
Climate change affects all of us – What Audi Neckarsulm has done to protect the environment

27.07.2021
Mission:Zero at Neckarsulm site: Audi is shaping the future of production, consistently and sustainably    Interview with Plant Manager Fred Schulze and Head of Environmental Protection Achim Diehlmann    Neckarsulm site actively working to conserve nature and create a livable future in the region  & more >>
Mitsubishi Fuso announces its ambitions to achieve CO2-neutrality throughout its value chain

20.07.2021
    The Tramagal Plant in Portugal will become CO2-neutral by 2022    Plants in Japan to follow, to achieve CO2-neutrality by 2039 at latest    The Kawasaki and Nakatsu Plants have already achieved 17% reduction in CO2 emissions since 2015 more >>
Yamaha Motor Environmental Plan 2050

19.07.2021
Yamaha Motor Reviews Environmental Plan 2050 Targets – Aiming for carbon neutrality over the entire product life cycle by 2050Yamaha Motor Reviews Environmental Plan 2050 Targets
 
-Aiming for more >>
Alliances for climate protection: students develop strategies

08.07.2021
…for achieving the two-degree target during a climate conference simulation Setting emissions targets for fossil fuels, making political decisions about deforestation and land use, and establishing a climate fund – around 300 students grappled with th more >>
W3 Energy will manage Fu-Gen's first wind farms in Sweden

29.06.2021
W3 Energy has signed a contract with Fu-Gen for the full scope asset management of the Fjällboheden wind farm and the financial asset management of the Tormoseröd wind farm, both in Sweden.
 
"Signing an extensive contract with a visionary" >>
Shanghai Electric presents at SNEC 2021, with its new Battery Management System (BMS), taking center stage

28.06.2021
Shanghai Electric Guoxuan New Energy Technology Co., Ltd ("Shanghai Electric Guoxuan"), a subsidiary to Shanghai Electric (601727.SS and 2277.HK), displayed its energy solutions for a carbon-neutral future at SNEC 2021, the 15th International Photovoltaic Power Generation and Smart Energy Conference & Exhibition (SNEC 2021).
Continue reading
Audi CEO Duesmann in Berlin Climate Conference: Accelerated transition to emobility

22.06.2021
Audi will launch all-electric models worldwide starting in 2026        
Audi will phase out production of the last internal combustion engines by 2033        Audi more >>
Audi Partnership with energy providers

17.06.2021
Audi funding expansion of renewable energy to increase the number of charging stations in Europe that use green power    Next step towards the vision of carbon-neutral mobility: Audi funding the expansion of wind and solar farms in Europe more >>
New global renewables report highlights alarming gap in actions and targets. Read the full report here

15.06.2021
Make renewables a key performance indicator in all economic activities •    Fifteen G20 countries lack a 2020 target for renewable energy covering all sectors•    Fossil fuel share in energy consumption has not decreased for 10th consecutive year•    Renewab more >>
Audi is moving at a rapid pace with green technology

14.06.2021
What is Audi doing for the environment? This was the topic of TechTalk: Green Technology. Audi presented some complex and innovative topics on June 9-10. It also marked the start of the GREENTECH FESTIVAL corporate events on June 17-18.
Packaging Machine Solutions Take a leap with CoreTigo's IO-Link Wireless Communication

14.06.2021
CoreTigo unlocks the potential of packaging machinery by overcoming traditional limitations using high-performance wireless control technology
Continue reading
Venturi Antarctica: The first zero-emission polar exploration vehicle

02.06.2021
Venturi, a Monegasque high performance electric vehicle manufacturer, is set to unveil the next generation Antarctica during World Environment Day (5/6).

 
The world's first ever zer more >>
Clean Air Zones: Are you ready for them?

29.05.2021
Road users are reminded to evaluate the impact of Birmingham's Clean Air Zone (CAZ), and explore alternatives for upgrading non-compliant vehicles. Birmingha does not ban vehicles.
CNH Industrial's 2020 Highlights: A Sustainable Year

28.05.2021
CNH Industrial published the companion guide for its 2020 Sustainability Report. This interactive online magazine, A Sustainable Year, is being published for the first time. Learn more
Volvo Cars Torslanda becomes the first climate-neutral vehicle plant for the company

28.05.2021
Volvo Cars today announced that the Torslanda, Sweden site of its car manufacturing plant has achieved full climate neutrality. This is a significant milestone in Volvo Cars' goal to make its global manufacturing network carbon neutral by 2025. Continue reading
Jaguar Land Rover and Google test Dublin's air quality using all-electric I–PACE

28.05.2021
    Jaguar I-PACE becomes Google Street View's first all-electric vehicle

 
    Jaguar Land Rover engineers have integrated Google Street View and air quality technology into the award more >>
Biodiversity.EU Commission progress report about EU action to protect pollinators highlights urgent need for action

28.05.2021
Today, the Commission publishes a report on implementation of the EU Pollinators Initiative. This initiative was adopted by the Commission in 2018 to combat the decline of wild pollinating bugs. More information about pollinating insects is available >>
The second life cycle of batteries reduces their carbon footprint

27.05.2021
– Used batteries from ŠKODA iV vehicles provide sustainable energy for charging stations- ŠKODA AUTO collaborates with IBG Česko to create an innovative system to store up to 328 kWh of power.- Clever idea offers ŠKODA dealers a more flexible supply of energy
Continue reading
Mercedes-Benz to use green-steel in 2025 vehicles, reducing its carbon footprint

26.05.2021
Equity stake H2 Green SteelMercedes Benz AG was the first car manufacturer in Sweden to take an equity share in the Swedish start-up H2 Green Steel. This is a way to introduce carbon-free steel into series production. The company, along with its steel suppliers is r more >>
The Road to Tomorrow: SYNETIQ shares information about the CO2 impact on integrated vehicle recycling

25.05.2021
    SYNETIQ announce the 'The Road to Tomorrow' – their sustainability roadmap    Company has avoided 5.5 million KGs of CO2 by supplying 'Green Parts' to Britain's fleets and insurers    CO2 saving large enough to power 1000 homes for one year&nbs more >>
Peatland ecosystems are long-term carbon stores: Launching the regional CO2-Regio feasibility report

22.05.2021
   The Audi Environmental Foundation and the "Energie Effizient Einsetzen" ("use energy efficiently") association are investigating the impact of peatland conservation, humus formation and reforestation on the regional climate        Peatland is a highly efficient carbon store offering greater storage cap more >>
International Day for Biological Diversity – SKODA AUTO highlights its biodiversity preservation programs

22.05.2021
› ŠKODA AUTO's production sites around the globe are working hard to promote biodiversity› Measurable sustainability targets are an essential part of the brand's corporate strategy› ŠKODA develops its 'Green Future' sustainability strategy in close alignment with Volkswagen Group's &lsqu more >>
BMW X5 Plug in Hybrid: Sustainable tires

19.05.2021
BMW Group is the first automotive manufacturer to use Pirelli tires that contain FSC-certified natural rubber, rayon.    22-inch tires made from certified sustainable natural rubber and rayon (a wood-based material that is used to make more >>
What are the EU's benefits from hydrogen energy?

17.05.2021
Learn more about the benefits of hydrogen energy and how the EU plans to make use of it to support the green transformation.
BMW Group sets ambitious goal for reducing CO2 emissions by 2030

13.05.2021
The BMW Group is underpinning its mission for sustainable mobility with ambitious goals for the reduction of greenhouse gases: At today's Annual General Meeting, the company announced that it will avoid emission of over 200 million tonnes of CO2 by 2030. This is 20 times more than the annual CO2 emissions for a city of more than a thousand inhabitants.
EU Zero Pollution Action Plan – Targets by 2030

12.05.2021
– Air: Reduce premature deaths from air pollution by more that 55 %
More information about soil
Audi will be the first car manufacturer to offer second-generation prelube oils

05.05.2021
New basic lubrication for steel coils in the press shop saves 40 metric tonnes of oil every year        Volkswagen Group set to roll out this Audi-initiated product development        Board Member for Production, Peter Kössler: "Every contribution to increasing resource efficiency helps&rdqu more >>
Volkswagen presents a roadmap for climate-neutral mobility

30.04.2021
– Extensive package of measures aimed at accelerating the sustainable production and use of electric cars  – The company aims to cut CO2 emissions in Europe by an average of some 17 tons per vehicle by 2030, 40 percent less than in 2018  – Investment of 14 billion euros in decarbonization by 2025  – Green electricity f more >>
Renault Group signs partnership agreement with Iberdrola

29.04.2021
…to achieve a zero carbon footprint in its factories, Spain and PortugalRenault group and Iberdrola today signed an agreement for strategic partnership that will launch projects aimed to reduce CO2 emissions in Renault's energy sector.
Ford Accelerates Battery R&D With Dedicated Team, New Global Battery Center of Excellence – Ford Ion Park

29.04.2021
•    Building on nearly two decades of battery expertise, Ford creates new global battery center of excellence – called Ford Ion Park – in southeast Michigan; cross-functional team in place to drive high-volume battery cell delivery, better range and lower costs for customers •    Ford Ion Park will use state-of more >>