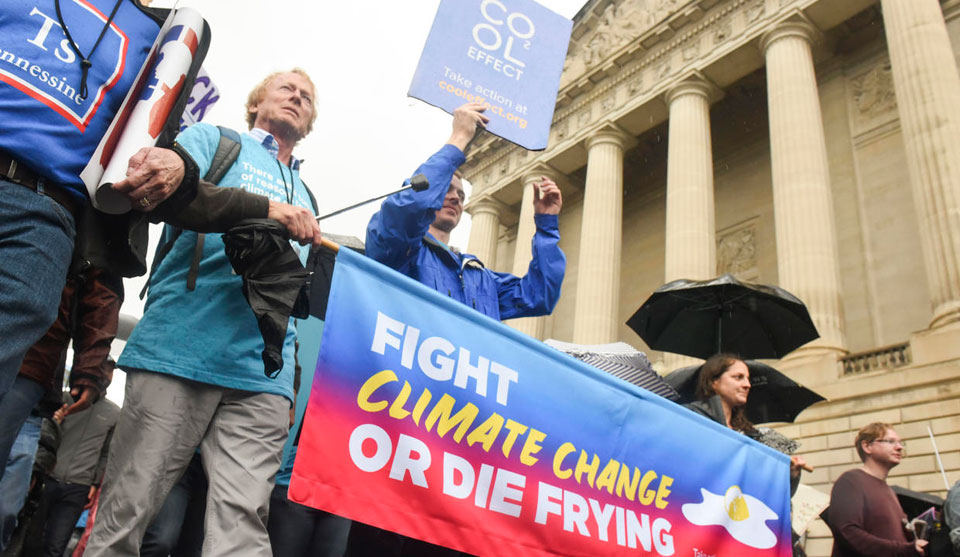 AP| AP
WASHINGTON—Unionists and climate activists are sending a blunt message to Democratic President Joe Biden and the Democratic-run Congress: Stop stalling and attack climate change, now.
One typical and succinct hand-crafted sign at the march in front of the White House: The warning "There is no Planet B," with the "o" replaced by a globe.
And, while you're at it, tackle a few other key domestic priorities, too, notably child care, raising wages and the enhancing and strengthening the right to organize, they declared.
The #FightForOurFuture coalition included activists and unionists who marched in mass demonstrations for two days in D.C. on April 22-23. There were also demonstrations across the country, from D.C. to Chicago, New York, California, North Carolina, and New Hampshire.
Their aim: To get lawmakers, who returned to the Nation's Capital on April 24 after a two-week recess, to enact Biden's $550 billion plan to combat climate change.
It is unclear whether the solons or Biden will listen, even though events spanned from Earth Day (April 22nd) through May 5, and even as they drew bipartisan support – at least in New Hampshire where Republican Gov. Chris Sununu spoke.
But both Congress and Biden appear more interested in funding weapons to fight Russians in Ukraine, and Biden's own Interior Department—pleading that it had to follow a ruling from a federal judge in oil-state Louisiana—reopened fossil fuel leasing on federal lands, the week before. That's the wrong move, many chants, speeches and signs implied.
"Those who have sat back for many years are campaigning to build a powerful coalition to battle the climate crisis now!" Service Employees Secretary-Treasurer Gerry Hudson told the D.C. crowd of almost 1,000 in Lafayette Square. "Climate action is not just an environmental issue. It's a labor issue."
He also tied combating climate change to the nation's ugly racial history, noting that environmental harms—including fossil fuel plants, waste sites, refineries and rampant pollution—disproportionally are set in and harm communities of color.
Unionists "are going to help build a clean energy future," said AFL-CIO President Liz Shuler, an Electrical Worker (IBEW) and one of the headliners at the D.C. rally. She specifically declared Biden's plan calls for unionists to build such climate-combating devices as solar panels and wind turbines. Shuler also stated that public transit, and not cars, is part the solution.
"Labor issues and climate issues are two sides of the same coin—and the solution to the climate crisis runs through the union movement."
It also runs through workers' lives, she noted. Workers such her IBEW colleagues, farm workers, warehouse workers and other workers who toil outdoors, such as "essential" workers" like truck drivers, are more exposed to the perils of pollution and climate change.
Shuler remembered Sebastian Francisco Perez's fate as a farm worker in Oregon. He was working in 104-degree heat—a record—last June when his colleagues noticed he hadn't returned from a break. They searched for him and found him unconscious. He was working in the Williamette Valley and he died.
"He died on the job from heat exposure," Shuler said. "That cannot happen. That must not happen," Shuler declared. She cited Perez's death days before Workers Memorial Day, April 28. This day is dedicated to remembering and honoring victims like Perez.
"We rallied today because we deserve a better future. A future with clean air for communities, with clean energy jobs for working people, and with a livable planet for ALL living things," the League of Conservation Voters tweeted. "Congress and @POTUS: It's time to pass a $550B+ climate bill and #FightForOurFuture."
"My state has singly seen the effects of climate change," said Deborah McCallister, a home care worker from the Service Employees' North Carolina statewide union. She was one of at least two dozen SEIU members who traveled by bus to D.C. "Hurricane Flora devastated everything."
But she had another part of the campaign's agenda to push: More federal funding and a $15 hourly minimum wage for home care workers. Both proposals are in Biden's Build Back Better plan.
That legislation is marooned in the evenly split Senate due to a GOP filibuster threat and opposition from two renegade Democrats, Arizona's Kyrsten Sinema and West Virginian Joe Manchin. Corporate interests, refusing to pay decent wages, are behind the opposition of home care funds.
Home care workers, who were deliberately omitted, due to racism in the 1930s, from minimum wage and overtime pay coverage, are "also not offered basic benefits like quasi-health care coverage and paid time off," said McCallister, of Burgaw, N.C. "I already have difficulty providing for my 80-year-old mother, who has dementia and Alzheimer's, because the home care companies give us no support."
"We come from Puerto Rico hit by hurricanes. We are from the West Coast, which was devastated by wildfires. How can we not be aware of #ClimateCrisis? How can we ignore racial injustice? We are for #ClimateAction. We stand for good jobs," said Hudson, tying everything together.