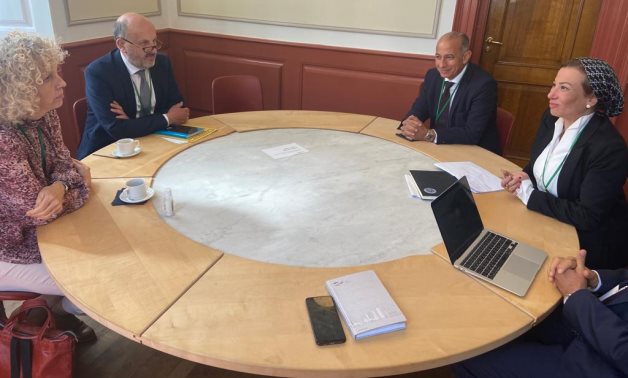 Yasmine Fouad, Egyptian Minister of Environment, met with Jennifer Morgan, German State Secretary and Special Envoy to International Climate Action at The Federal Foreign Office in Copenhagen-press photo
CAIRO – 13 May 2022:  On the sidelines of the ministerial meeting on climate in Denmark's capital of Copenhagen, Egyptian Minister of Environment Yasmine Fouad met with German State Secretary and Special Envoy for International Climate Action at the Federal Foreign Office Jennifer Morgan to discuss ways help farmers adapt climate change impacts on agricultural crops.
According to an Egyptian Ministry of Environment statement, both sides discussed the use of an early alarming system in agriculture to help farmers predict climate fluctuations to avoid any climate change impacts on their crops.
Fouad reviewed Egypt's climate change actions and said that the ministry prepared the National Climate Change Strategy 2050. It aims to build resilience and adaptability, as well as improve governance and infrastructure to finance climate activities.
Morgan expressed her appreciation to Egypt for its climate action efforts and its willingness to discuss the details of cooperation between the two countries, the statement said.
Faoud also met Mariam Bint Mohammed Saeed Hareb almheiri, the UAE Minister for Climate Change and Environment, while he was attending the ministerial meeting.
Both Ministers discussed ongoing preparations for hosting COP27 Conference Egypt in which the UAE (COP28) would host it in 2023. The UAE expressed its desire to cooperate in this field.
Fuad stressed Egypt's full coordination with the UAE side in transferring the entire Egyptian experience of hosting the COP27 Conference.