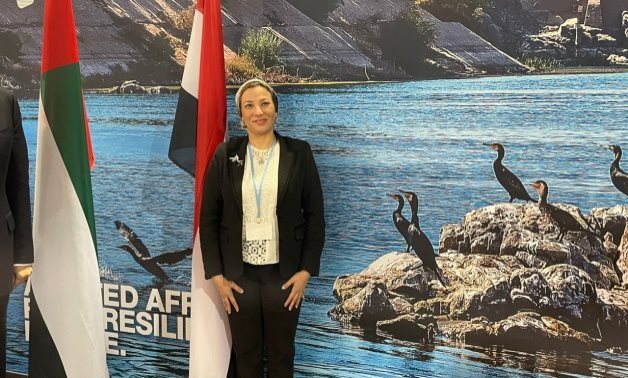 File- Egyptian Minister for Environment Dr. Yasmine Fouad – FILE
CAIRO-  1 January 2022: Egypt's Minister of Environment Yassmine Fouad announced on Saturday that the ministry has a four-axis plan for hosting the upcoming UN Climate Change Conference 2022 (COP 27) next November in Sharm El Sheikh.
The Minister stated that the first is to increase the efficiency of hotels and diving centers in Sharm El Sheikh. This was in collaboration with the Ministry of Tourism.
The second axis concerns eco-friendly transportation. While the third axis deals with increasing the electrical power of the conference hall, the fourth axis is concerned about improving the efficiency and collection, treatment, recycling, and transportation of waste.
This plan was announced by the Minister during a meeting with Mahmoud Shaarawy (Minister of Local Development), at the headquarters of Ministry of Local Development. They also discussed projects to convert waste into energy and a draft contract between the governorates and the investors through the Waste Management Regulatory Agency.
Prime Minister Mostafa Mabouli and Foreign Minister Sameh Shoukry reviewed on November 16, 2021 the mechanism for executing President Abdel FattahEl Sisi's directives to begin preparations for the COP 27.
According to presidential directives, a Supreme Committee will be created under the chairmanship and representation of the prime Minister. It will include relevant ministers as well as representatives of the concerned bodies. The members of this committee will take all the necessary measures to make the global event a success.
After years of intensive work to combat climate change, Egypt was officially selected to host UN Climate Change Conference in November 2022 (UNFCCC-COP 27). 
Several countries around the world had welcomed Egypt's proposal prior to the decision. The Red Sea resort of Sharm el-Sheikh will host COP27 "on behalf of African nations," President Abdel Fattah el-Sisi said in a speech at the COP26 in Glasgow earlier in November.
Egypt's proposal to host COP27 was titled "Road to COP27…A United Africa for a Resilient Future." 
Minister of Environment Yasmine Fouad thanked African states and NGOs at COP26 in Glasgow on Thursday for endorsing Egypt's offer, stating that it will be "a real African conference." She thanked the UK for its efforts and initiative in COP26, promising to continue the hard work and to build bridges of cooperation, remove differences and find common ground.
"Egypt takes it upon itself to make every effort to achieve success in COP27 in facing this challenge that threatens the whole world, and will spare no effort to make COP27 hospitable and constructive for all," Fouad said.
She stated that COP27 would help African countries as well as the most affected nations to rapidly begin their efforts to adapt to climate change.