Timber Development UK University Design Challenge invites students to address the climate crisis. Experts come together to share their knowledge in an online event.
The Timber Development UK University Design Challenge is now open. This competition is for students in the built environment and graduates from 2021 across the UK.
In a virtual event on 14 December 2021, Timber Development UK's University and Regional Engagement Manager Tabitha Binding welcomed more than 50 students and graduates who had expressed interest in joining the competition.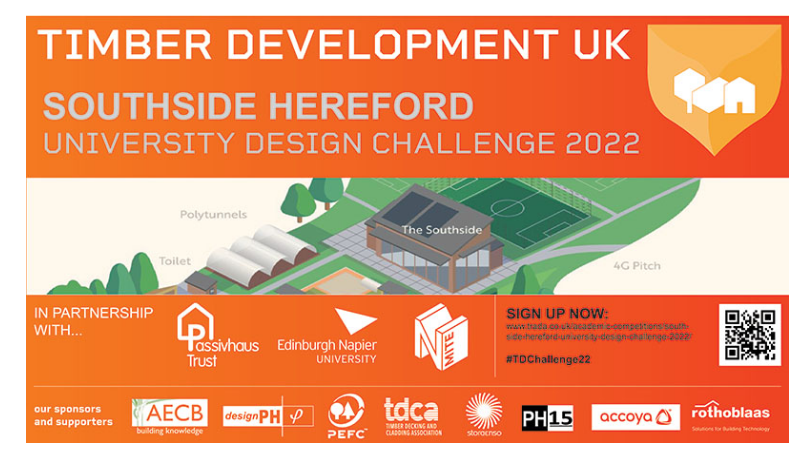 This webinar was the first in a series that will offer interactive webinars, where participants can learn and get advice from experts in modern construction. Then they are challenged to design the new Southside community centres building in Hereford.
All designs must ensure the community centre building fits within its local landscape and places the client's and community's interests first at all times. It is important that all designs are net zero, and use sustainable building materials, and construction methods to minimize the impact on the environment. The building must meet Passivhaus standards, exceed the RIBA 2030 climate challenge targets, and prioritize the health and well-being of the local community as well as the people who will be using it.
This first launch event featured 12 speakers. They were all leaders in their fields and passionate about taking positive action in construction to address the climate crisis. They were Anthony Thistleton, Waugh Thistleton Architects Dr Gemma JeromeBuilding with Nature Mark FarmerCast Consultancy, Sarah Lewis, Passivhaus Trust Paula McMahon, starting at SRM Kelly HarrisonWhitby Wood Associate Director Kat Scott Architects Declare and dRMM Architects Sarah Broadstock, Studio Bark Seb Laan Lomas, Architype Allyson McDuffie, Trimble Dave EdwardsFrom designPH; and Tim MartelAECB.
Timber Development UK will be presenting the University Challenge in partnership to New Model Institute of Technology and Engineering, Edinburgh Napier University and the Passivhaus Trust.
Learn more about the Southside Hereford University Design Challenge. https://www.trada.co.uk/academic-competitions/southside-hereford-university-design-challenge-2022/