21 April 2022
The US Department of Energy (DOE), awarded nearly USD5million to two separate cost-shared research projects that study direct air capture technology at nuclear power plant. Constellation led one of the studies at its Byron facility, while Battelle Memorial Institute Southern Company's Farley site led the other. The goal of both studies is to use the plants' non-carbon-intensive energy to remove CO2 in ambient air.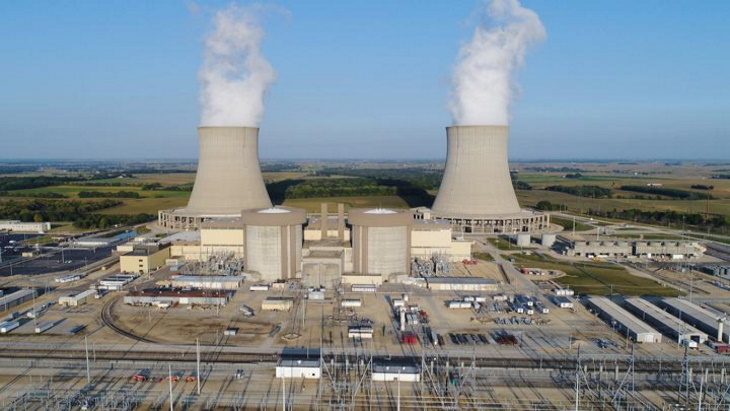 Byron's cooling Towers could also help sequester atmospheric Carbon (Image: Constellation).
Constellation and its partners were selected to receive USD2.5 Million of DOE funding. Non-DOE funding was USD625,000. This funding will be used to evaluate the technical and commercial viability a DAC/sequestration system that Carbon Engineering has developed, which is co-located with the two unit Byron pressurised-water reactor plant in Illinois. 1PointFive Inc. Worley Group Inc. Carbon Engineering Ltd., the University of Illinois Urbana-Champaign and Pacific Northwest National Laboratory are Constellation's project partners.
The study will use Carbon Engineering's DAC technology (licensed to 1PointFive) within plant operations at Byron. Water flowing through the main condenser of the non-nuclear plant side would be treated with a chemical solution. After passing through the condenser the water would travel to the cooling towers where the chemical solution will attach to the air. This will allow CO2 in the atmosphere to be captured and sequestered.
The project could capture 250,000 tons annually of CO2. It will also use waste heat from a nuclear power plant to improve the overall energy efficiency of the CO2 extraction process. According to DOE, the CO2 collected during the study will be transported via pipeline to an underground geological formation located in Illinois for permanent and dedicated storage. The CO2 that is sequestered this way could be used in net zero-emission industrial processes. These include creating sustainable aviation fuel and supplying CO2 to the beverage sector. The study will also examine the potential for a nuclear power plant to become the center of a carbon capture hub. This would partner the DAC technology with the storage of CO2.
Constellation CEO Joseph Dominguez explained that the collaboration leverages nuclear plant clean energy expertise to further accelerate climate-saving projects. "We need many innovative solutions to address climate crisis, and exploring this technology in one of our clean-energy centres is a positive move driving us toward a future without carbon," he said.
Constellation Chief Nuclear Officer Dave Rhoades stated that "a project like this will give nuke power, which already produces the most carbon-free electricity in the country, an even larger role in helping America accelerate its transition to a clean future."
The study is expected end in 2023.
The Byron plant was scheduled to close for economic reasons in 2021. However, Exelon – which since separated its competitive energie businesses to form Constellation – reversed its decision last September to retire the plant after Illinois Governor JB Pritzker signed into state law the new energy legislation package.
Alabama NuDACCS
The Battelle-led Nuclear Direct Air Capture with Carbon Storage(NuDACCS), project has been awarded USD2.499million with non-DOE financing of USD864,446. This total value is USD3.364. It will conduct a FEED study to design a technically advanced DAC systems developed by AirCapture LLC at the Farley pressurised drinking water reactor plant in Alabama. The project will provide information on system costs, performance, and business case options for leveraging the thermal energy of the nuclear plant to seperate CO2 from ambient air. This will be used to support eventual system construction.
Battelle will participate in the study along with AirCapture Inc, Carbonvert Inc and Sargent & Lundy.
The DOE's announced the awards on 14 April Office of Fossil Energy and Carbon Management.
Researched by World Nuclear News and written by them
---
---