Whether you've got a free weekend or you'replaying hooky with your high school friends, a visit to the museum is a great way to spend an idle afternoon. Art, history,aviation, mental health:Oregon's got museums for just about everything.
But if you're looking for an entertaining education on fascinating snow science and Oregon history, look no further than these new exhibits.
Through April 10, OMSI
Snow is one of those things we take for granted. We admire its delicate complexity when it powders our world into a winter wonderland, and then curse its existence when its turns to ice and then slush. But snow plays a large role in our global climate, from keeping the planet cool by reflecting the suns heat to providing the western United States with water as snowpacks melt. A warming planet, of course, affectsall of this. Snow: Tiny Crystals, Global Impact, an exhibit three years in the making now on display at OMSI, explores the white stuff with tons of interactive exhibits aimed at exploring snows impact on the global environment. The exhibit will be on display in Portland throughout the spring, then travel across the country to San Diego, Buffalo, New York, Grand Rapids, and elsewhere.
Through May 15, Oregon Jewish Museum and Center for Holocaust Education
Many have found a home in Oregon,having traveled across the country or the world in search of community, climate, or craft beer (sometimes all three), and have planted roots here. For folks who have left their homelands seeking refuge from violence, war, and genocides, Oregon means something a little differenta safe haven. The Oregon Jewish Memorial and Center for Holocaust Educations new exhibit To Bear Witness Extraordinary Lives examines 14 lives who have found refuge in Oregon. In collaboration with The Immigrant Story, Jim Lommasson, and NW Documentary, To Bear Witness tells their moving stories with photographs, journal excerpts, profiles, and short films.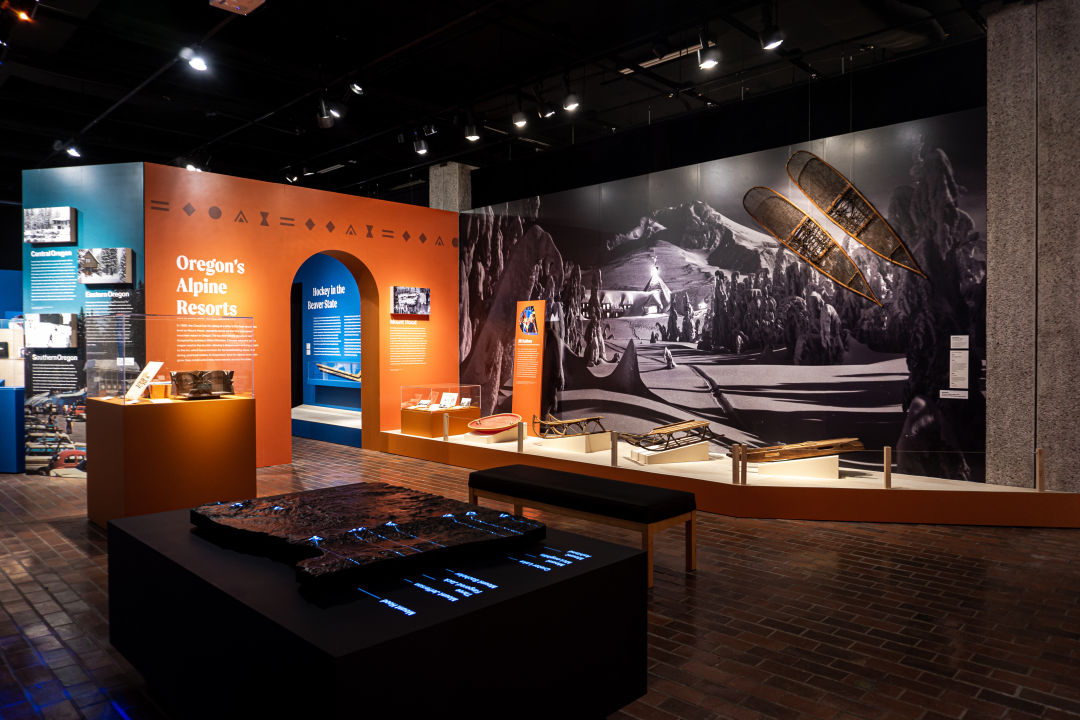 Through July 17, Oregon Historical Society
On the topic of snow, we Oregonians especially love our winter sports. Snowboarding, skiing, showshoeing, sledding, luging: You name it, weve got some contraption for it. And our immense love for snow-filled adventure has a history, which is explored in the Oregon Historical Societys exhibit Freeze the Day! A History of Winter Sports in Oregon, from early indigenous practices, to Euro-Americans exploring new ways to recreate in the snow, to developing the many alpine resorts and recreational facilities across the state. The exhibit also profiles 13 championship winter sport athletesincludingOlympic snowboarders Ben Ferguson and Chris Klug, and figure skater Tonya Harding.
Through September 25, High Desert Museum
What does the ideal society look like to you? A city without crime? Borders? Money? Religion? OK, slow down, John Lennon. Before you go imagining all the people, check out the High Desert Museums latest exhibit Imagine a World, which delves into several instances where philosophy, imagination, and ambition led to the creation of small communities of folk looking for utopia, and the outcome of those pursuits.The exhibittakes a closer look at the ecological laboratory of Biosphere 2 in Arizona, a once-flourishing commune called Drop City in Colorado, and, of course, the spiritual sanctuary of Rajneeshpuram in Wasco County, Oregon. The exhibit also features contemporary works of Indigenous futurism.