CULTURE
Canada's Climate 'Atlas of Hope'
When the Intergovernmental Panel on Climate Change Released a report in February showing that global warming is spinning out of control with waning options for adaptation, United Nations Secretary General António Guterres called it an "atlas of human suffering." 
But a new interactive map of Canada offers an "atlas of hope" in contrast. This interactive map of Canada was created with the blessings from Indigenous peoples.Climate Atlas of Canada is an interactive portal that shows nearly 700 different communities of First Nations, Inuit and Métis and includes community level data on expected temperature rise, expected changes in precipitation and changes to agriculture like the lengthening frost-free season.
The atlas was originally launched by the University of Winnipeg's Prairie Climate Centre in collaboration with Indigenous organizations. However, it was recently reworked and now focuses on Indigenous experiences. 
"When we launched it, we knew it was groundbreaking, and we simultaneously knew it was wholly inadequate," said Ian Mauro, executive director at the Prairie Climate Centre. "It was a settler colonial map. It reinforced the boundaries, it reinforced the division and reinforced the settler place names."
Now, the map has been "decolonized" and "indigenized," Mauro said. The map also contains several video profiles of members from Indigenous communities who share their knowledge about adapting to climate change, and protecting the environment. 
Hetxw'ms Gyetxw, who grew up in the Gitxsan community and was also involved in creating the atlas, said Indigenous knowledge built over thousands of years can be combined with Western knowledge to fully understand and come up with holistic solutions to climate change and environmental issues.
"To be able to show the extreme resilience that we have as peoples to adapt to the harshities of life," Hetxw'ms Gyetxw said, "that's what we hope we can bring for people who are going to be going through drastic change in this world because of climate change."
CULTURE
Bridging the Christian Climate Divide
Most young Australian Christians are concerned about climate change and believe that caring for the environment should be a part of the church's mission, A survey of Australian Christians aged 18-40 was conducted. 
However, many church leaders, who were also surveyed and questioned by Tearfund Australia, don't see climate change as an issue that fits into their mission. Ministers and pastors reported that they don't often preach on environmental topics. 
Tearfund sees the issue of climate change fitting clearly into the Christian faith, the organization's advocacy strategy and project manager Emma Wyndham Chalmers said, because the world's poorest people will be disproportionately impacted by the effects of global warming. 
"This is an issue that we really need to grapple with within the context of our faith and connect the dots between those core fundamentals of loving our neighbor and stewarding and caring for this Earth," said Wyndham Chalmers. "We see this as kind of our responsibility as humans."
She stated that climate change is a topic of contention in the church and that some members are unwilling to take action on it. But, she added, these findings signal a generational shift toward more engagement and action on climate change, creating opportunities for churches to end their "climate silence" and connect with younger believers. 
"We want this to open up a conversation and dialogue that is really about not exacerbating divides, but healing divides," Wyndham Chalmers said, "and finding the common ground for a constructive, hopeful and positive conversation that then leads to constructive action."
CULTURE
Everything You Need to Know About Climate Change and Farming
The complex story of modern agriculture is connected to climate change. Industrial farming is both a contributor to climate change with its diesel-powered equipment, fertilizers, and other greenhouse gas emitting devices, and a victim. This is because floods, droughts, and heat waves bring uncertainty to this system.
A new podcast called "Hot Farm" The Food and Environment Reporting Network explores all these complexities in a series of four parts that focuses on Midwestern farmers. Inside Climate News recently had a conversation with Eve Abrams, the podcast's producer. This conversation has been slightly edited to improve clarity and length. 
What will you explore in this new podcast episode?
Hot Farm is all about climate change and farming, and it's looking at how we are going to eat, basically. It's looking at underlying issues that currently exist and are not being addressed in terms of how farming has impacted our environment and how the changes in our climate will impact farming, and therefore the ability to eat. 
Farmers are the main characters in our stories. These stories are about people. So yes, it's about climate. These stories are about people and you can step into their shoes. I think this is an exciting opportunity for many people. We rely on food. We eat food every day. Yet, most people are not aware of how their food is made or where it came from. This allows you to become more in touch with the process and those involved.
What are the effects of climate change in the Midwestern agricultural world?
Some people are like, 'Yeah, climate change has completely destroyed our crops this year. We experienced flooding. We were having these crazy temperatures.' Some people are very explicit about calling it climate change, and many people are not, but they're seeing the same weather. So as one of our characters said, 'We don't talk about climate change, that becomes a political term.' You know, 'I think that term has been politicized.' But whether that term is being used or not explicitly, farmers are dealing with the weather, so they're seeing massive change. 
The Russian invasion of Ukraine caused severe disruptions in food supply chains. This instability makes it more urgent to consider the role of the Midwest in our food safety.
Many people had conversations about Covid with my. They spoke about our supply chains, and they showed us how weak they were. We saw the weaknesses in Covid. Many of the people I spoke to advocated for greater resilience in our supply chain and more local eating. The farmer that I profiled in Episode 1, that's a huge thrust of his work is, 'Let's eat locally, let's support our local farms. Let's make more resilient supply chains.' So I concluded my reporting last summer, so I haven't touched base with anybody about Ukraine specifically. But resilience of supply chains is a major issue.
SCIENCE
Another Climate Impact: The Speed of Sound
Sound could travel up to 45 miles per hour faster in certain regions of the ocean if the ocean is heated by climate change.A new study has been publishedThis could have potential implications for marine mammals that depend on sound to communicate, in particular in increasingly noisy environments. 
Researchers from Canada and Italy created a global dataset that shows the projected future changes in sound speed for marine waters under worst-case scenarios. Because warmer waters have more energy, sound can travel faster. According to Alice Affatati, a bioacoustics researcher from the Memorial University of Newfoundland, sound travels faster in warmer waters.
Keep Environmental Journalism Alive
ICN provides award-winning coverage of climate free of charge and without advertising. We are dependent on donations from readers like yours to continue our work.
See Also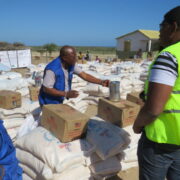 You will be redirected to ICN's donation partner.
Affatati stated that many marine animals depend on sound to communicate, hunt prey, and navigate their environment. Since light is limited in the ocean, Affatati suggested that animals may be able to communicate better if they hear more clearly. These sounds can be affected by noises from humans, such as ships. 
Human-caused sound can result in problems "not just for the animal itself but also for the food chain," Affatati said, because it can interfere with hunting for top predators. 
Chiara Scaini is an environmental engineer from the National Institute of Oceanography and Applied Geophysics of Italy. She co-authored the study and said that the data set was open access. More research is needed to better understand the impacts of varying sound speed in the warming oceans and how they will affect ecosystems.
"We know that everything sounds very theoretical, like we are computing and mapping," Scaini said. "But at some point, this needs to be to go towards some action that we consider taking as human beings."
St. Paul, Web Producer
Katelyn Weisbrod, a Minnesota-based reporter and web producer for Inside Climate News, is Katelyn Weisbrod. She writes ICN's weekly Warming TrendsColumn that highlights climate-related books, innovations, cultural events, as well as other developments in the global warming frontier. She joined the team in January 2020 after graduating from the University of Iowa with Bachelor's degrees in journalism and environmental science. Katelyn previously reported from Kerala, India, as a Pulitzer Center student fellow, and worked for over four years at the University of Iowa's student newspaper, The Daily Iowan.