Group PolicyIt is a powerful tool that allows IT administrators to set policy across Windows PCs in an enterprise environment. Each time a new Windows setting is introduced, the development team makes an update. ADMX templateThere are many options that can be configured. ADMX, also known as the Group Policy Settings, was a great feature. It was backward-compatible, so even if you had different versions of Windows, it still worked. With Windows 10 and Windows 11, things have changed. This post will briefly address which GPO ADMX should be used for Windows 11/10 in a mixed setting.
Which GPO ADMX should you use for Windows 11/10 Mixed Environment?
The problem with the current approach or the scenario is that you can't have multiple templates. Windows 11 has taken a different route, while Windows 10 will continue to be supported for several years. Active Directory Central Store can only support one set ADMX files.
Which one should I choose? Windows 10 ADMX, or Windows 11 ADMX It all depends on your strategy. Microsoft recommends that you use the Windows 10 ADMX file if you plan to stay on Windows 10 for a long time. If you are ready to upgrade and Windows 11 will be on a greater number of machines than Windows 10, then the Windows 11 ADMX is for you.
How to configure Windows 10 policies while using Windows 11 ADMX file?
If you decide to upgrade all of your PCs to Windows 11, but still want to keep Windows 10 PCs around for backup, it is possible to set up Windows 10 policies even though Active Directory's Central Store uses Windows 11 ADMX files. Follow the steps below:
Make sure Windows 10 PC runs version 201H2 of Windows 10 and you have joined it on your domain
Next, log in to your PC using an administrator account.
Use Win +X to open the Power MenuClick hereApps and Features menu
Click on the Optional Features button and then click Add a feature.
Search for and install the RSAT Group Policy Management Tool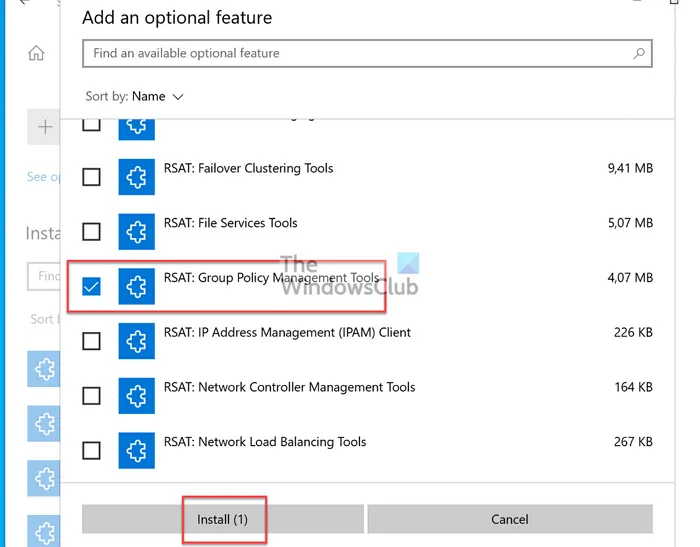 Next, open Registry Editor and add the following.
Key:
HKEY_LOCAL_MACHINESOFTWAREPoliciesMicrosoftWindowsGroup Policy
Value: EnableLocalStoreOverride
Type: REG_DWORD
Data: 1
Restart your computer and log in to a user account with the right to edit domain Group Policy items.
Once you have done that, you will be able to find the Group Policy Management editor under Windows Administrative Tools. The GPO you want to edit can be opened.
Now, the Administrative Templates should be taken to the client's local store and not the central store.
Check out the list of templates and other details. microsoft.com.
How do I add ADMX into GPO?
It is easy to add a new ADMX file into Group Policy Central Store. The new template can be downloaded. Extract the ADMX file and the ADML file and then copy it to Group Policy Central Store. You can then create a new GPO, review the changes and apply them.
What is the difference between ADMX & ADM?
ADMX is a text-based template, while ADMX can be used to create XML-based documents. However, both offer administrative templates. ADMX files can be temporarily loaded into your current session, but ADMX files will be stored in the central storage. Fun fact: Any changes you make to these templates are stored in the registry database.