According to a study, climate change is increasing tree death across the globe. Trees are being affected by extreme heat, fires, and insect damage.
In recent years, there has been a concerted effort to plant trees because they absorb carbon dioxide and offset some carbon emissions.
Researchers at the University of Utah School of Biological Sciences found that relying on forests could be dangerous as trees release carbon when they are burned and stop taking in carbon when they die from insect or drought damage.
The study projected how these threats might increase over the next century.
According to the amount of carbon that the world emits, it was found that forest fire risk in the United States could increase by four to fourteen times by 2099.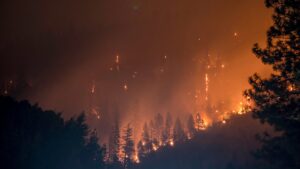 Researchers also found that the risk of climate stress-related tree deaths and insect mortality could double over time.
However, humans' response to the climate emergency had a huge impact on the models. As a result, there was a reduction of fires, droughts, and insect-induced forest deaths.
'U.S. forests could look dramatically different by the end of the century,' said William Anderegg, study lead author and associate professor at the University of Utah. 'More severe and frequent fires and disturbances have huge impacts on our landscapes. These disturbances are likely to cause some forest loss in the Western U.S., but much of this will depend on how quickly we address climate change.
'Climate change is going to supercharge these three big disturbances in the U.S We've seen devastating fire seasons with increasing severity in the past several years. All three of these are expected to hit the west U.S. most severely. And they're somewhat interconnected too.
'Really hot and dry years, driven by climate change, tend to drive lots of fires, climate-driven tree mortality and insect outbreaks. We have a chance here, too. Addressing climate change quickly can help keep our forests and landscapes healthy.'
Photo by Matt Howard
Subscribe to our newsletter