The Mountain Valley Pipeline (MVP), which is 2 Bcf/d in volume, received a West Virginia key water quality certification (WQC), but environmental groups have yet to file a lawsuit against the approval.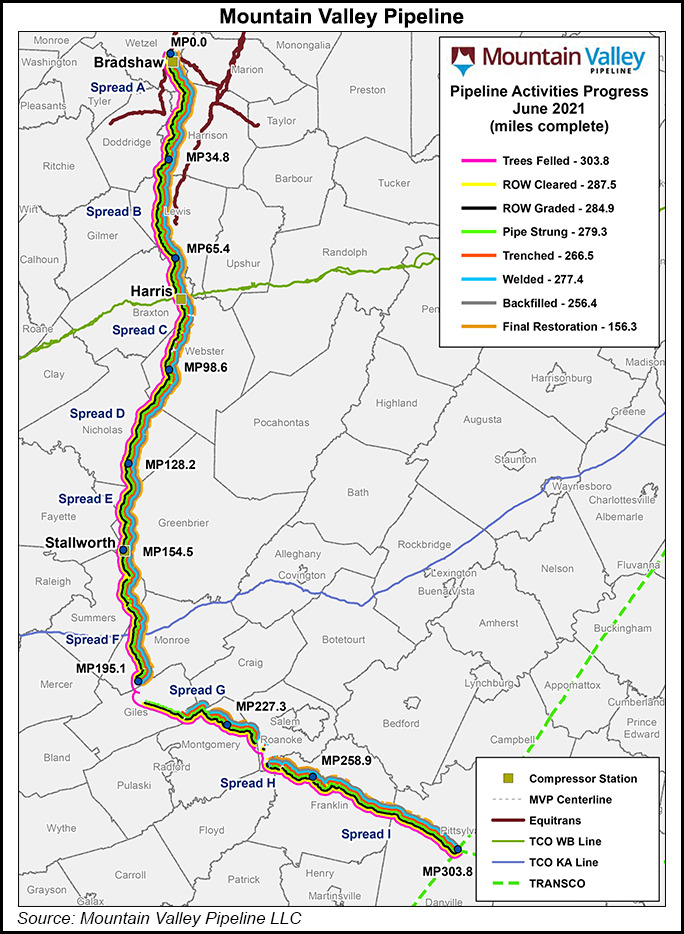 The pipeline would transport Appalachian natural gaz to the southeast via a route of 303 miles through West Virginia and Virginia. 
The Sierra Club and other environmental groups filed the lawsuit against West Virginia Department of Environmental Protections WQC under Section 401 of federal Clean Water Act (CWA). 
[Want to know how global LNG demand impacts North American fundamentals? To find out, subscribe to LNG Insight.]
The WQC will be a major step towards fulfilling MVP's revamped permitting plan and construction plan. This plan was developed in early 2021 as an alternative for previous waterbody crossing authorizations that were blocked by legal challenges. Virginia issued a pivotal WQC under the same plan last month. However, groups are challenging that authorization. 
The project delays have been largely caused by the absence of waterbody crossing authorizations. The U.S. Army Corps of Engineers would be able to proceed with the pending CWA Section 404 authorization if they received state-issued certificates. 
The Sierra Club Monday stated that West Virginia's WQC would permit construction to move despite widespread opposition, the threatening global climate crisis, and ongoing damage to Appalachia's streams. 
MVP stated Tuesday that they are still targeting an in-service date for the summer. The project is almost 94% complete, with 55% of the right -of-way fully restored. 
We cannot comment on the details or the apparent agenda of the opposition. However, we believe that agency regulators in Virginia (and West Virginia) performed a thorough analysis and thorough review Mountain Valleys 401 permit application, met all legal requirements, as well as authorized the appropriate permits under the law. Natalie Cox, MVP spokesperson, told NGI. 
We are proud to have developed MVP under strict oversight from federal and state regulators. We also remain committed to the safe, responsible completion of this critical infrastructure project that will satisfy public demand for reliable, affordable and lower-carbon energy.
Two other cases are pending before the U.S. Court of Appeals, Fourth Circuit. They challenge the approvals of the pipelines Endangered Species act and those of the U.S. Forest Service. 
MVP was closer to realizing the revised water-crossing plan in August 2017 when it received an Environmental Assessment from the Federal Energy Regulatory Commission. FERC issued a certificate for the pipeline in a split decision in 2017. However, a number of regulatory snags as well as legal setbacks have caused delays and cost overruns over the years.