The Oregon Department of Transportation must reevaluate the environmental impact of its planned expansion of Interstate 5 through Rose Quarter. This task could add up to five to six additional months to the project's timeline.
ODOT was informed this week by the Federal Highway Administration that it would not approve the environmental assessment it submitted in 2020 for a previous iteration. This assessment found no significant impact on the local environment.
After nearly two years of input from the community and stakeholder groups, Gov. Kate Brown, the Governor of Oregon, directed the Oregon Transportation Commission in August to pursue the project under Hybrid Option3.
This option would tunnel the freeway through the area, and allow for light development in the Albina District. It is a former city and once vibrant Black neighbourhood that was demolished when the road was built.
Tia Williams is the communications director for ODOT's urban mobility office. She said that the new environmental assessment requirement could delay the project by five to six more months.
Williams stated that ODOT still expects to break ground on the project in 2023, despite the delay.
Megan Channell, Rose Quarter project director, said that updating an environmental assessment is an important step towards advancing the community's preferred choice.
Channell stated that with guidance from and in partnership the FHWA, construction can still be started on time in 2023. This will create jobs we know are valuable to the community, and provide congestion relief that is crucial to commuters.
ODOT says that updating an environmental assessment means reviewing the scope and assessing its impact on the community and surrounding area.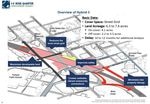 The federal government has given direction to city and state leaders to address the potential impact of the new option.
Transportation commissioners approved the project's advancement under the new option back September. ODOT staff responsible for financing the project was directed to present an updated cost estimate at the Jan. 20 meeting by ODOT staff. This estimate is expected to exceed $1.3B.
ODOT reports that the transportation commission will not receive an updated estimate until discussions with federal officials are concluded about Oregon's funding for this project and other projects under President Joe Biden's Infrastructure Investment and Jobs Act.
State transportation officials are also closely watching Congress as it tries to pass the Presidents Build Back Better initiative, which could also include significant dollars for road infrastructure projects that align to social equity goals.