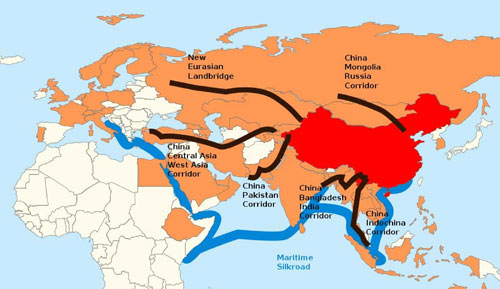 Green BRI & Protection of Ecological Environment
INCREASING global temperature, abrupt melting of glaciers, high carbon footprints, constant decreases in agriculture productivity, and last but certainly not least, depleting water level all indicate the urgent need to develop green economics, rise to renewables, and provide a fitting proposition for productive channels in the world.
The Chinese One Belt, One Road Initiative (BRI), the project of century, has been further transformed to green.
So, green is the way to human survival, safe production channels, and a fitting proposition for the protection the ecological environment in the future.
The majority of countries participating in the BRI are emerging and developing economies that require a comprehensive and holistic approach to sustainable economic development.
According to the latest data (December 2021), these countries account for 31 percent of the global GDP, but constitute about 62pc of the world's population due to which their ecological environments and biodiversity are very fragile.
Unfortunately, 58 percent are found in the BRI's connecting regions.
BRI is the modern version of the ancient Silk Road that was famed for its international transmission channels for dust and pollutants.
Even before BRI was included, the balance between economic development and environmental protection was a persistent problem for these countries.
So it is inevitable and necessary for China to transform the development model of "polluting first and then treating" to "developing while treating through various holistic policies to reduce levels of climate change in these countries.
This is how BRI has made environmental protection a key area. It provides the necessary resources and supports economic activities.
Since its inception, China has played a leading role of "Green Lead" from the perspective of the green industry.
It also allowed the BRI countries to communicate better to reach consensus on the goals of a sustainable environment.
BRI's environmental projects do not only include engineering projects and facilities. They also cover themes of economy and policy as well as platform construction and law.
China has made great strides in this area, including the establishment of concepts such as environmental pollution control, nuclear and radiation safety and climate change adaptation, mitigation, and tracking and evaluation of major projects; development and promotion of environmental awareness; green financial instruments; and development of an industry for environmental protection.
These countries were involved in the green BRI initiative.
These policies and measures, as well as those for environmental protection in BRI, are mainly related to urbanization.
Environmental protection measures directly relate to sites. The Lancang-Mekong environmental cooper project passes through six countries, and is an important economic growth corridor in Southeast Asia.
There are several important cities along the Lancang–Mekong River: Qamdo in China, Jinghong in China, Vientiane, Pakse, Laos, and Phnom Penh, Cambodia.
China took many measures, including the top-level design for sustainable water use, air and water pollution prevention, and the ecological well-being of the river basin can all be guaranteed. This is vital to the sustainable development and growth of the city cluster.
These are some of the most prominent examples of green BRI in these nations: the Yangtze River Delta Ecological and Green Development Strategy in China, the Bohai Rim Urban Agglomeration in China, and the Baikal Basin City Cluster Russia.
The BRI set stricter environmental standards for node cities.
In this connection, the "Park City" in Chengdu in China is one of the prime examples, which emphasizes the importance of "ecological value", which is an ideal city construction model that takes urban green space system and park system, park-oriented urban and rural ecological pattern and scene as the basic and pre-configuration elements of urban and rural development.
China also proposed a plan to afforestation, urban forest construction of one billion mu (164736.9 acres), in 2018, which is on a rise.
Internationally, BRI cooperation projects mainly focus on biodiversity conservation, ecosystem management, and corridors like the China-Laos crossborder biodiversity conservation corridor. This has a weak connection with improving the urban ecological environment.
Cooperation between countries along the BRI is focused on urbanization projects such as industrial parks, ecotourism areas, and new city districts.
BRI can also be used to create demonstration zones for green and ecological development. These zones may become urban construction templates.
China has begun construction of the first demonstration zone for green development, the China-Singapore Ecocity in Tianjin. This area is 30 kilometers in size and will house 350,000 people.
The eco-city will be located in coastal saline alkali land. It is required that the planning ratio for green buildings and clean energy use exceeds 100 percent.
This exploration path deserves to be recognized, despite the challenges of saline-alkali soil reconstruction.
The existence of green BRI is also evident in the Beijing Green Development Demonstration Area, Tianfu New District's Leading demonstration zone for ecological civilization, and others.
"The construction of eco-city and green demonstration areas are also gradually being promoted in typical cities such as the China-Belarus Industrial Park of Belarus in Minsk, and in Gwadar too.
China's BRI, which impacted around 60% of the world's population, has been described as the most significant infrastructure project in history.
While the project promotes connectivity and growth and win-win partnership, there have been opposing assessments about its wider impact, especially in the environmental domain. These concerns were now mitigated by the announcement and implementation of diversified, but integrated green policies in the BRI domain in all participating countries.
Despite Western propaganda, many international and regional research studies have confirmed that the BRI is an important part of meeting global CO2 emission targets.
Fortunately, the Chinese President Xi Jinping has committed to creating a green and sustainable BRI for 2016.
It came after the introduction of the concept of ecological civilisation in the Constitution for the Communist Party in 2012.
Xi therefore promised to pursue climate cooperation and oversee China's transformation of renewable energy in 2013.
Chinese banks (NDB/AIII, Silk Road Fund) that are involved in funding BRI projects have attempted to include this concept into their investments by creating their own environmentally-friendly policies.
Beijing launched green financing initiatives in order to encourage international and Chinese banks to finance the BRI.
The first green BRI Bond was issued by the Singapore branch of the Industrial and Commercial Bank of China in April 2019 at a value of 2.2 billion US Dollars.
Recent events have seen a significant financial crisis for many BRI countries. As a result, Chinese banks and private companies started a refinancing process in order to assist these countries in achieving their green BRI goals.