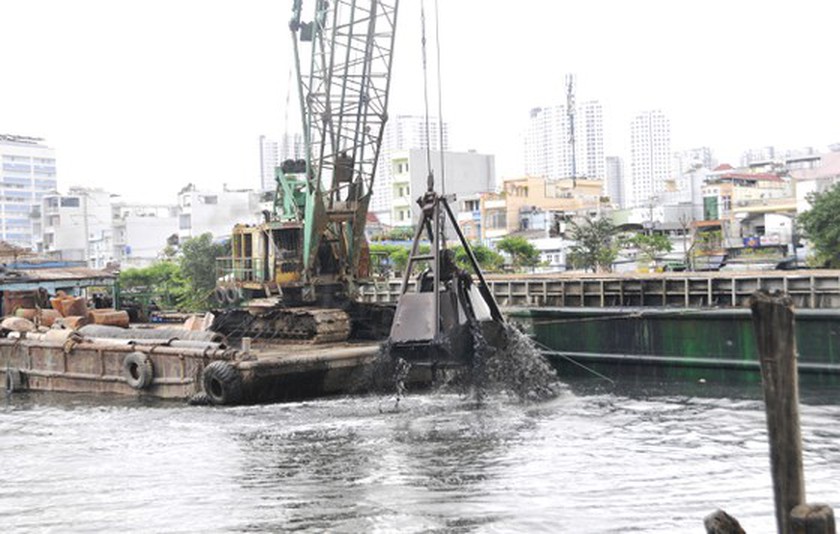 Dredging Te canal 
The Ho Chi Minh City Department of Natural Resources and Environment stated that in 2021 the department will continue to promote implementation of the Standing Committee of city Party Committees Directive 19. This directive outlines how to implement the campaign Dwellers don't litter on roads and canals to create a green city.
The Department and local administrations have held 316 additional dialogues with residents, encouraging 16,706 households and businesses to sign a pledge to keep their environment clean and not litter on roads or canals. There are also 942 trash cans available on City sidewalks and in public places that play a vital role in reducing litter.
For monitoring the quality and safety of urban sanitation in residential areas, more than 583 surveillance cameras were installed. Local administrations in the districts have also adopted new methods to classify domestic solid waste at its source.
Furthermore, household solid waste was collected and treated daily. This ensured that there was no garbage jam. Urban environmental sanitation is also possible with an average of 8,500 tons per day.
In order to deal with the Covid-19-related waste, the Department of Natural Resources and Environment worked in coordination with the Department of Health and City Command. The People's Committee of Thu Duc City and other districts to provide information on waste treatment plants. This will ensure that garbage in blockade and isolation areas and field hospitals is collected and processed promptly. Responsible agencies were also urged to evaluate the storage capacity for hazardous medical waste at waste treatment plants.
The department will aid investors in the treatment waste to remove administrative issues related to land allocation, lease and change of use purpose. The Department of Natural Resources and Environment will also closely collaborate with the People's Committee of Thu Duc City and districts, as well as the Management Board of industrial zones and export processing, and the Hi-Tech Park Management Board of the city to determine clean land funds near concentrated industrial parks that can be used for housing workers.
The Department of Natural Resources and Environment continues its oversight of localities for the implementation of solid waste classification at source.
The Department continued to implement solid waste treatment solutions with the goal of increasing domestic waste treatment through incineration and recycling technology. This will be achieved by 2025, which will reach at least 80 percent, and 2030, which will reach 100 percent. Finally, the Department will provide financial support through the capital of Environmental Protection Fund to environmental protection project according to regulations
All agencies and citizens must make an effort to maintain a clean and green environment in the city. Associate Professor Phung Chi Sy, Vietnam Association for the Protection of Nature and Environment says that departments and branches should collaborate in the execution of tasks.
Huynh Minh Nhut, Director of the HCMC Urban Environment Company, stated that the city should provide more information to increase awareness so that people can help to classify waste at their homes to ensure collection and transportation as well as reduce waste treatment costs.
By Minh Hai – Translated by Anh Qan