Industries producing environmentally friendly goods have a great chance to capitalize on climate change to improve their ability to meet both domestic as global market expectations.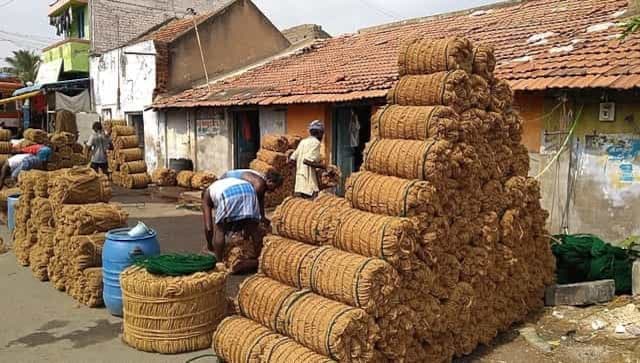 India highlighted the Panchamrits at COP26 Summit, Glasgow. This gives industries that produce environment-friendly products a great chance to grow their potential to satisfy both domestic and global market demands. This sector could grow if it reduces its total carbon emissions and carbon intensities, in conjunction with the goal of Net Zero 2070. It is largely dependent on traditional industries.
Promotion of environment-friendly products is both job creating and development-friendly, the best examples being investment in solar technology, traditional environment-friendly yarn, etc. Alternatives to synthetic yarn are being explored, including coir yarn. Coir geotextiles have many advantages, including the ability to prevent soil erosion while being more eco-friendly than synthetic geotextiles.
Geotextiles are commonly made from plastics and other non-degradable raw material. Coir Bhoovastra or Coir geotextiles have been in the limelight for their eco-friendly properties. This is the most recent development in this area and has been identified by many as a key product with enormous market potential in multidisciplinary Geotextile Engineering applications. They are being used to improve soil behaviour and prevent soil erosion.
Coir is a 100 percent organic, biodegradable fiber that is also very water-absorbing. It has an advantage over synthetic geotextiles in terms of the environment. Coir provides an ecological niche that allows for rapid establishment of vegetation. Coir geotextiles can be used for streambank protection, shoreline stabilisation and separation applications in rural roads and railways. They also have parking and storage areas and landscaping applications.
Due to its use as floor tiles and dust-controlling capabilities, the demand for eco-friendly carpets is on the rise. Coir and Jute are two major components of this trade. They are 100 percent eco-friendly due to India's supply of raw materials. The most important jute products exported from India are tarpaulin and sacks, as well as other types of products.
The coir, jute and other traditional industries are important in West Bengal, Assam and Kerala Tamil Nadu as well as adjacent states and UTs, like Andhra Pradesh. These industries are facing crisis because of the high prices for raw materials, compared to their synthetic counterparts. They were able to meet the challenges of the competition due to the hard work of the respective state governments, through the Jute Matting Development Council (Coir Board), and the serious efforts of the Central and the respective states.
The development of the handloom industry in Kerala and Tamil Nadu opened the doors to the production of jute products starting in the late 90s. These industries have also seen significant growth in terms of technological innovations, markets and marketing strategies. These exporting firms' professionals, particularly the designers, are constantly innovating in mats and mattings, in terms of its styles, textures, and colours. This allows them to exhibit these products at international trade fairs organized by the Government of India. This helps firms capture international markets.
Large numbers of workers are needed to produce the jute or coir industry. The wage rates of exporting firms reflect the amount of work involved in different production activities. These industries are important agro-based businesses in these states. But, there are also key problems that must be addressed immediately.
These workers can be directly or indirectly employed. The exporting firms employ the direct workers. This includes office staff, skilled and unskilled workers, as well as office staff. All benefits and allowances are available to workers directly employed by the firms, including dearness allowances, bonus, provident money, gratuity and festival allowance, according the government's rules. Indirect employees include thousands of workers who work in small-scale factories. These factories employ between 10 to 30 people on average. The workers can be skilled or unskilled. They get wages for the work they do each day, including bonuses. Small-scale producers subcontract orders to exporting firms at a fixed price.
Young men are increasingly interested in white-collar jobs and the information technology sector. This is a major problem in this sector, as there are few workers in the weaving industry. The manufacturing sector has many small-scale producers. Orders are distributed widely so workers only get work for a certain period. This creates a lack of continuity in the work process in small producers.
The inability to find skilled workers leads to a decrease in quality of handloom products. Exporting companies are seeing a shift towards innovative and high quality jute products. Preferably mattings. Because it is cheap, this leads to the need for skilled workers who specialize in jute matting. Handlooms are being replaced by semi-mechanised and mechanised machines in most exporting companies. Given the potential of these traditional industries, authorities may be required take effective steps to facilitate their growth.
Surjith Karthikeyan, an Indian Economic Service (2010) Officer. The views expressed are my own.