Israel-Palestine policies contribute to environmental degradation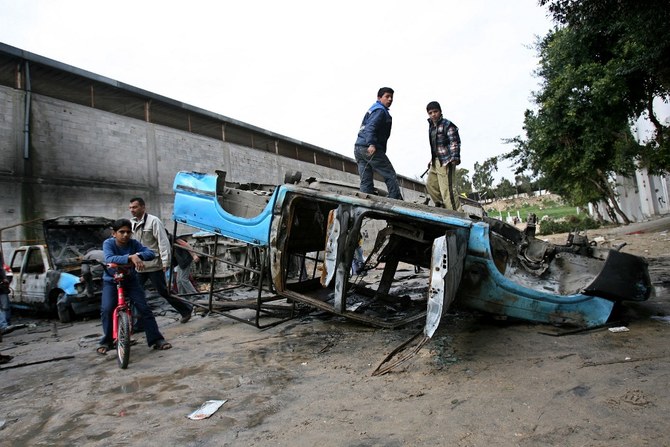 It is easy to forget about the conditions in the occupied West Bank or the blockaded Gaza. There are always more urgent issues to address. For anyone who visits the Occupied Territory, however, the immediate and alarming sight is the piles full of rusting cars, and other dumped rubbish. This shows the lack of ability to address environmental issues. These are being pushed down the priority lists in the current state.
The daily reality of Palestinians living under an impossible combination of Israeli occupation, blockade, and semi-functioning with different degrees by Hamas in Gaza and the Palestinian Authority in West Bank, means that they are often in severe poverty and have very limited access for basic necessities. They cannot afford to ignore environmental issues, but they also can't afford to damage the fragile ecology of the environment in which they live. Both issues are interrelated. It is not possible to ignore the current environmental state, including threats to biodiversity, water, soil, and soil degradation, depletion of its natural resource, and problems associated with urbanization and waste management. The environmental realities are hard to face, regardless of the peaceful resolution to the ongoing Israeli-Palestinian war. They will only get worse if there isn't a new political capacity and determination to meet the challenges.
All evidence shows that the Middle East/North Africa region of the world is most at risk from climate change. Already, global warming has already taken a severe toll on food production and water supplies. This has led to political instability and created breeding grounds for terroristism and violent extremism. It also threatens to increase the number of climate refugees.
Climate change is likely to increase the volatile political and social conditions in the Occupied Territories. The climate is hot and dry, and Palestine has suffered from water scarcity for many years. This has been exacerbated by rising temperatures in the last half-century. Forecasts indicate that precipitation will decrease as a result further warming. This will be accompanied with unpredictable rainfall patterns, floods and cyclones. This will all lead to greater aridity. This is not something other places don't experience, but the unique political, socioeconomic, and geopolitical conditions in Palestine are hindering, if not paralyzing, strategic thinking and any concrete policies that address these environmental hazards.
Realities are harsh and will only get worse unless new political capacity is developed and a determination to meet the challenges.

Yossi Mekelberg

UN Environment Programme released a report last year on the environmental state in Occupied Territories. It showed a grim picture of how it affects public health and ecological sustainability of Gaza and West Bank. Water is polluted both by illegal settlements in Israel and Palestinian towns. Every indicator relating to Palestinian lands suggests an unsustainable strain on their resources.
First, the rate at which the population is growing is 2.7 per cent. The current population of 5 million is expected increase to 7 millions by 2030. The increasing population density in these small areas is driving up the land's value and seeing it sold to urbanization. As a result, agricultural land disappears. The constant expansion of settlements, both in terms of land and people, is a major factor in this worrying development. These settlements are more resource-intensive than they are, which adds to existing ecological pressures. Israel's actions to protect these settlements only contribute to further environmental degradation. These actions include the removal of large numbers trees in order to make way for military bases or construction of new bypass roads or the separation barrier.
There is a legacy inequitable water share between Jews and Arabs in West Bank. It dates back to 1993 Oslo Accords and has been perpetuated since then by the inability to make peace. Gisha, an Israeli human rights organization, reports that Israel is preventing Gaza Strip's water and sewer systems from receiving spare parts. This is a result of Israel preventing supply of necessary parts to maintain desalination plants or sewage treatment facilities. Water leakage has increased, rainwater can't be drained, which poses a flooding risk, and the quality and quantity drinking water are deteriorating. The seawater contaminated with raw sewage is also a concern. The contamination of Gaza's aquifer has been a major concern. Meanwhile, water in the West Bank is also under serious strain due to the fact that half of all Palestinian wells have shut down over the past two decades.
It is not the only area that Israel is scoring its own goals in when it comes to the Palestinians. However, Israel's mistakes on environmental issues are remarkable because Israelis as well as Palestinians live so close to each other and share the same coastline and air. It is in Israel's national interest to work closely with the Palestinian administrations in Gaza and West Bank to improve the environment. Although it may seem wishful thinking, the overwhelming scientific evidence shows that cooperation is the only way for Israelis and Palestinians, regardless of their deep differences on other issues, to manage the environmental threats they face.
Joint development planning and environmental governance are essential for the protection of the environment. It is also necessary to change the discourse among all political actors. The effects of climate change and global heating cannot be delayed and the absence conducive political conditions are proving to be very detrimental to the environment in Gaza and West Bank.
Yossi is a professor of international relations and an associate member of the MENA Program at Chatham House. He is a regular contributor in international electronic and written media. Twitter: @YMekelberg
Disclaimer: The views expressed in this section are the authors' and do not necessarily reflect Arab News' point-of-view.