Friday's Lagos State Government called for citizens to fully participate in its efforts to create a cleaner environment.
The state government responded by launching the 2021 Sanitation Competition, which saw the winner of the cleanest local Council area be awarded a prize.
During the presentation prizes such as minivans to cleanest Local Councils in the metropolitan, urban, and suburban categories, Dr Ibijoke Sanwoo-Olu, First Lady Lagos State, said that it was not possible to leave this task to the government.
Represented again by Mrs Oyindamola Ogunsanwo. She reiterated that the failure to provide services to communities and people, and lack sustainable outcomes are direct results of people not participating.
She reminded that the State has been determined to save the environment from any form of abuse since the inception and declared zero tolerance for environmental nuisances.
She stated that the event was put together to encourage community participation and foster a good relationship between the two tiers of government – State and Local Government in terms of Environmental Sanitation and Community Cleanliness.
She stated that the poor sanitary conditions in certain communities within the State are a concern and need to be addressed.
Sanwo Olu said that the objective of the exercise is to assess environmental sanitation across communities in terms of waste management, streets cleansing, and tertiary drain maintenance.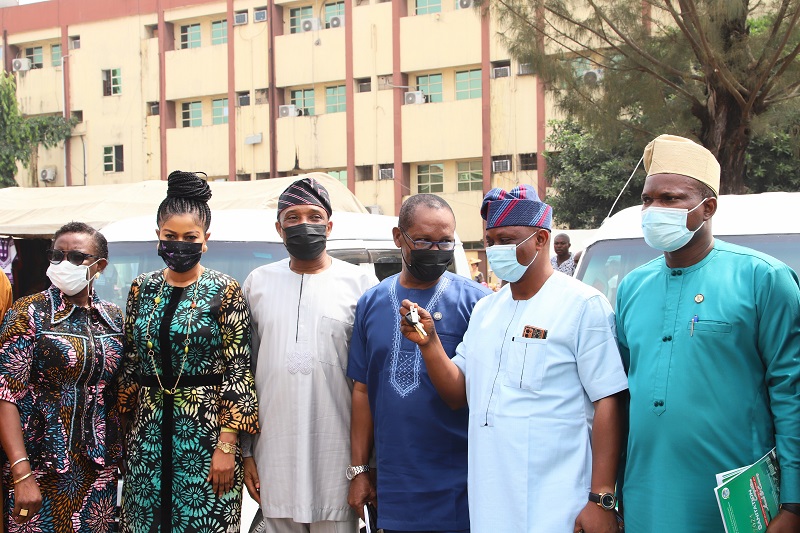 "When sanitation conditions are poor, diseases and other health-related problems will be prevalent; It has been established by experts that the state of health of a particular location can be linked with the state of the environment of the said location. They are intertwined," she said.
She also stated that, since 2016, the monthly environmental sanitation tour has been cancelled. Other than the market sanitation initiative of the Office of the Lagos State First Lady coordinated by the Committee of Wives of Lagos State Officials COWLSO and other important MDAs, there has been no opportunity for the State to tour all Local Governments/Local Council Development Areas.
"To close this gap, we have deemed it fit to organize an annual sanitation competition amongst all LGAs/LCDAs to assess the sanitation status of the entire State and reward the LGAs/LCDAs that are outstanding in areas of environmental management," she said.
In his remarks earlier, Mr. Tunji bello, Commissioner for Environment and Water Resources, stated that sustainable solid waste management is a key challenge in a rapidly-urbanizing society like Lagos. He also noted that poor waste management causes water pollution and air pollution and all of these contribute to climate change.
Bello stated that since 2003, the State has made interventions in waste management to build the necessary capacities and make it more business-friendly for all future investments.
He said it was sad that Local Government authorities had abdicated their constitutional responsibilities regarding solid waste management, as this is one of their most fundamental functions.
The Commissioner stressed that LGAs/LCDAs need to have a shift of orientation and be open to their constitutional responsibilities. They must work towards acquiring the necessary capacities.
He stressed that it was based upon the aforementioned that Mr Governor approved the Ministry to revive the annual environmental sanitation contest among LGAs and LCDAs to raise awareness about the need for sanitation and to be a vehicle for change in the larger society.
Bello stated that the criteria used for the assessments include solid waste management practice across the communities and roads/street cleanliness.
"While several strategies may be available for managing these challenges, monitoring and interventions at the level of the LGs/LCDAs would go a long way to achieve a cleaner and healthier environment. It would not only contribute to improved sanitation for communities but also improved socio-economic development" he stressed.
He stated that the LGAs/LCDAs Awards were divided into Urban, Sub-Urban and Metropolitan for ease of evaluation, while awards were given out to the Cleanest Market, Motor Park, Primary Health Centre, and MDAs in both the old and the new Secretariats.
Mrs. Belinda Odeneye, Permanent Secretary Office of Environmental Services, spoke as well. She stated that the 2021 Sanitation Competition Awards Ceremony was a testimony to the fact that it must continue for future generations.
She stated that it was the driving force behind environmental sanitation cleanliness in our local Government Areas/Local Council Development Areas.
Hon Sesan Daini was kind enough to send a goodwill message to the Chairman of Igbogbo Baiyeku LCDA. He expressed appreciation for the gesture and promised that next year would see more participation.
Also speaking, the LAWMA managing director Ibrahim Odumboni said that his agency was involved during the grading process. He can also testify that the outcome is fair.
The winners were chosen in different categories. Surulere LGA was the winner, Epe LGA was the winner, and Oriade LCDA took the award for the cleanest Local Governments in the Metropolitan, Urban, or Sub-Urban categories.
Each Council was awarded a plaque, as well as a Suzuki minibus with a brand name.
Prizes were also awarded to the cleanest market, motor park, local council headquarters, and primary health care centre.