Marine Corps Evolving Synthetic Training Environments, Live and Synthetic Training Environments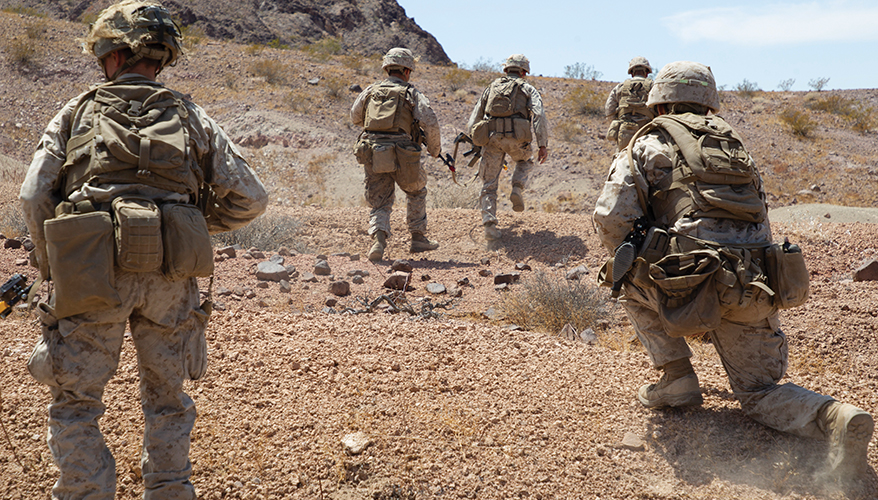 U.S. Marines provided security for MAGTF Warfighting Exercise MWX in 2021.
Marine Corps photo
ORLANDO, Fla. — As the Marine Corps evolves to meet new challenges posed by great power competitors, the service's leaders are pressing for upgrades to its training systems.
The Corps is syncing its live and synthetic training environments to match operational changes outlined by Marine Corps Commandant Gen. David Berger in his "Force Design 2030" strategy. This document gave the command to the service to abandon the tactics of the past two decades of war in Iraq and Afghanistan and to prepare for future battles against sophisticated adversaries like China and Russia.
"We have, I think unintentionally, put training third or fourth in sequence of our priorities," Berger said at the National Training and Simulation Association's annual Interservice/Industry Training, Simulation and Education Conference in Orlando, Florida. "We go after a capability, we figure out how we're going to structure the force, we buy platforms, and then we turn to the training guy and say: 'We need a way to train.' That's not going to work going forward."
Service leaders agreed that the Marine Corps must be able to adapt its training systems to meet evolving threats under less familiar operational conditions.
"We're going to have to be able to train like we fight," said Brig. Gen. Matthew Mowery, assistant deputy commandant for aviation. He explained that this means that training exercises can be matched to new strategies, such as expeditionary advanced base operations.
EABO is a form of expeditionary warfare that "involves the employment of mobile, low-signature, operationally relevant, and relatively easy to maintain and sustain naval expeditionary forces from a series of austere, temporary locations ashore or inshore within a contested or potentially contested maritime area in order to conduct sea denial, support sea control or enable fleet sustainment," according to the service.
Accurately replicating the operational environment a Marine could face in training will be key to achieving Berger's vision as laid out in Force Design 2030, said service leaders during a panel at the conference.
Upon taking the helm of Marine Corps Training Command last year, Maj. Gen. Julian Alford said he first tackled how to revamp the training of the service's infantry. The Corps has fielded three new infantry immersion trainers — two on the East Coast and another on the West Coast — that has troops complete tasks under stress, he said.
"The first time that a Marine goes into combat should not really be the first time they go to combat," Alford said. He said that pilots go through multiple flight and combat simulations when they attend flight school before being able to fly in a live aircraft.
"We owe that to our young frontline infantrymen to do the same thing — particularly if we're going to do EABO … with small teams, squads, platoons, companies that are spread out," he said. "That's a different Marine Corps than we have today."
To make training more realistic and immersive, Marine Corps Systems Command is working to close a number of gaps, said Jim Fraley, the command's branch head for range and training area management. The service is currently implementing interactive targets that move and show human behavior.
It is also adapting its training systems to replicate the scenarios Marines might experience in the Indo-Pacific, said Maj. Gen. Austin Renforth of Marine Air-Ground Task Force Training Command, and the Marine Corps Air-Ground Combat Center at Twentynine Palms in California.
Twentynine Palms developed a force on-force exercise called the MAGTF Warfighting Exercise (or MWX), which was first started in 2019. Designed to expand training focuses and address gaps, the live exercise invites international partners and Marines from different regiments to "adapt to a thinking enemy in a challenging environment where the adversary force is equipped with capabilities more consistent with a pacing threat," Renforth said.
Although Renforth called live exercises like MWX the "gold standard," he acknowledged that not all scenarios can be effectively replicated in a live training environment.
"We'll certainly rely on virtual constructive systems to supplement," he said.
Platforms that leverage synthetic capabilities like the live, virtual, constructive training environment, or LVC-TE, have been one of the command's foremost modernization priorities. LVC uses a combination computer-generated entities and virtual reality to replicate live training. Systems Command was granted authority to start planning stages for the platform in July.
Col. Luis Lara is the program manager for training systems at command. He said that the service was preparing to undergo a milestone decision review in order to enter the execution phase LVC-TE. The command says that an early version is available and will be fielded at Twentynine Palms once the next phase has been approved and funds are allocated.
Renforth stressed that the Corps can improve its ability to replicate real world threats.
"We're trying to create a pacing threat on a shoestring," he said. "We know what the pacing threat looks like. We know what effects they can put on our command-and-control systems."
Mowery explained that Force Design 2030 has caused the Corps to shift its focus away from platforms and instead onto the capabilities they represent.
He said that the Marine Corps used to be focused on ensuring the F/A-18 Hornet fighter jet was capable of keeping up with the technology for pacing threats. Now, the Marine Corps is paying more attention to the capabilities the platform brings to the table and evaluating it based on whether it meets the service's requirements.
"Once a program or a platform no longer meets the requirement or need, then we're moving on to something else," he said.
Mowery said that while the service was training pilots well before Berger released his Force Design 2030 planning guidance, he also realized "we were doing some things wrong." For example, better interoperability — particularly on the ground side of missions — is going to be a greater focus area for the service.
He stated that EABO training systems must be easy to deploy, shock-resistant, and small enough to be used year round, rather than just during large events.
Renforth's focus for force-on-force exercises is teaching future commanders how to make informed and competent decisions, he said. Some leaders are not able to use the new systems Force Design 2030 requires. They must rely on their previous training.
"We've got to get our commanders comfortable with these systems to where they have confidence in the systems to utilize all the information that comes from [them]," he said.
Equipping the vast training ranges at Twentynine Palms with better high-tech networks like 5G would be "a game changer," Renforth said, as it would give leaders a more comprehensive picture of larger exercises in real time. Renforth said that training commanders could also benefit from the ability to replay and record exercises for future review.
Fraley said that the Marine Corps is working together with the Naval Surface Warfare Center Dahlgren Division (Virginia) and industry partners in order to develop a device capable of replaying and providing feedback to commanders of fire teams or units.
"The ability to do that instead of having a green book in your hand and [another Marine]Slap tags on people and say,
'You're dead,' would be extremely important," Fraley said, referring to how live infantry training is traditionally executed.
Brig. Brig.
"That's at the peak of our attention as we develop these new weapons systems today, but also in a way that they harmonize with the gear that's ready for tonight's force and readiness," he said.
The aviation component of the Marine Corps is laser focused on technology that has an open architecture so the service won't need to procure entire new platforms as technology and adversaries evolve, Mowery said.
"We've got to be able to take a platform or system and be able to update that on the fly as needed," he said.
Renforth agreed that the service needs to be more agile in procuring new platforms to keep pace with rapidly changing technology. He noted that the long time it takes to get a system into service can lead to training gaps.
"We'll procure something and we'll say, 'OK, this is a good program. In 2025, we're going to have it.' Well, what do we do in the interim?" he asked. "By the time 2025 comes around and we get this thing, it's outdated."
A persistent challenge for the Marine Corps has been figuring out how to balance being prepared for today's challenges and future fights.
"One of the things we say about Force Design 2030 — that's not an end state. You've got to get 2030 out of your head," Renforth said.
"Really, it's a concept and we're in it now."
Topics: Marine Corps News, Training and Simulation