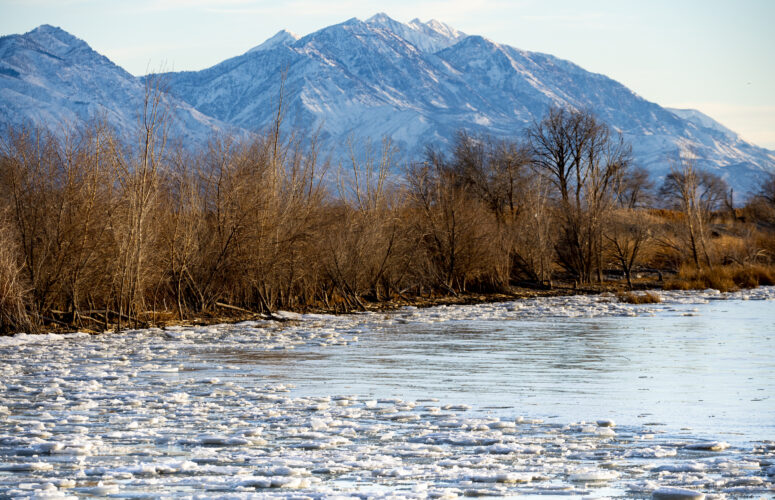 The debate about the fate of Utah Lake continued as an open letter was distributed Thursday by over 100 ecologists and environmental scientists, engineers, natural resources managers, recreational managers, environmental lawyers, and other environmental professionals.
The letter, signed publicly by 109 people, and eight anonymously by eight, detailed eight concerns the undersigned had regarding the overall implications of Utah Lake Restoration Project and concerns about the project design.
The lake is on the path to recovery. We hope that our message to policymakers and managers will encourage them to continue legitimate restoration efforts to protect Utah Lake.
The Utah Lake Restoration Project is a product by Lake Restorations Solutions LLC. It proposes to dredge Utah Lake to create islands that can be used for commercial and recreational purposes. LRS claims this project will make Utah Lake cleaner and more healthy.
LRS claimed in the open letter that it had deliberately ignored all available science on Utah Lake, strayed away from the principles and methods of ecological restoration, and made false claims about its endorsements and permitting, among other things.
LRS claimed that it had approval, financing, or permits from the EPA and Army Corps of Engineers. We have not heard from any of these entities.
Jeffrey Hartley, an LRS consultant, stated that the project has endorsements and support from members of Utah House of Representatives. However, he declined to name them. Hartley said that the Utah Lake Restoration Project has also received overwhelming public support.
Hartley stated that the vast majority of Utah County residents support what they are doing, once they have learned what it is based on our research. There are activists that denigrate the project or mischaracterize the project. People have concerns about the project when they are misinformed and scare people. The public will support the project overwhelmingly if they understand its true nature.
Open letter also mentioned Robert Scott's LRS employment as the director of planning & design for the Utah Lake Restoration Project. Scott was previously the general manager for design and planning for Palm Deira. This was originally planned to include four manmade islands off Deira's coast.
Robert Scott, LRS chief designer director, designed the Palm Deira in Dubai which failed. This project appears to have been inspired by that design. The open letter revealed that Nakheel, an island-developer, was unable to pay off the Sheikh in Dubai. He only completed 1 of the 4 archipelagos. Even the partial construction caused enormous ecological damage. This included algal blooms, degradation and erosion of coastlines, as well as asphyxiation of marine life. The proposed islands at Utah Lake would be 14 times larger than the Dubai Island Project (Palm Jumeirah).
Hartley claims that Scott's criticisms were unfounded.
He is an architect. Hartley stated that an architect could design your house and the engineer who builds it. Hartley also said that the engineer and builder are responsible for any failures. He designs like an architect. If a project he has worked on fails in the past, it doesn't go back to him. It goes back to the engineering company and those who built it.
LRS has begun the process of applying to federal and state permits in order for the Utah Lake Restoration project to be launched. According to Ryan Benson CEO of LRS the company must present scientific evidence that supports its claim that the project will significantly enhance the environment around the Utah Lake in accordance with National Environmental Policy Act.
Lake Restoration Solutions is applying federal and state permits. According to the National Environmental Policy Act, (NEPA), Benson wrote in an email that the Daily Herald that LRS must provide strong data, environmental modeling, and any other scientific evidence that will show that the proposed LRS project will lead to significant environmental improvements in Utah Lake. The NEPA process gives the public and any stakeholder concerned about the project multiple opportunities to provide feedback or counter evidence. We are confident that the NEPA process will identify the protections and enhancements needed for Utah Lake. We welcome the public's input and participation over the next year.
Hartley claims that Hartley's criticisms of Utah Lake Restoration were premature due to the lack of a complete NEPA analysis.
Hartley stated that it is difficult for me to understand why a group academics would sign a document before they see a NEPA application. Hartley also said that they will be criticizing a project that has had a full NEPA analysis. It's absurd, they havent seen it yet.
LRS and those who signed an open letter agree that they want Utah Lake to be the best, but it is clear that both groups are very divided.
We stand by the science of water conservation, clean drinking water remediation, and environmental restoration and enhancement for Utah Lake," wrote Benson.
Open letter: We need evidence-based management and legislation in this time of rapid change to protect this unique, beautiful and dynamic lake. Utah Lake has been sustaining our ancestors and predecessors for thousands of years. Now is our chance and responsibility to preserve Utah Lake for future generations.
Andrew Follett was one of the signers of the letter. He called the confusion over the state law in question, remarkable. Follett is currently a J.D. Follett is currently a candidate at Yale Law School. In an email, he stated that the 2018 Amendments to the Constitution (H.B. 272) doesn't affect the legal viability or any substantive public trust obligations. It only affects the economic considerations of would-be developers.
Visit this link to view the entire open letter https://pws.byu.edu/utahlakeislandsYou can find more information about the Utah Lake Restoration Project at their website. https://www.lakerestorationsolutions.com/.
Newsletter
Join thousands of others who already receive our daily newsletter.