Through a 15-Year Partnership for 1% For the Planet 
NAPA VALLEY (Calif.) February 3, 2022 Napa Valleys Spottswoode Estate, which is closing the 2021 fiscal year in 2020, is proud to announce that it has donated $1,244,000 to a variety of environmental groups through its partnership and 1% for Planet. Spottswoode joined 1% for Planet in 2007 and has donated at least 1% of its gross revenue to environmental causes every year since. Spottswoode has contributed more than $350K towards the Land Trust of Napa County to date, $84K to both Center for Biological Diversity (Napa Valley Vine Trail) and $50K to Natural Resources Defense Council to date. Spottswoode also has contributed more than 20K each to important organizations such as 350.orgAmerican Rivers, Bay Area Ridge Trail Council and Greenpeace are all part of the Greenpeace, National Forest Foundation, Save the Bay and the Sierra Club.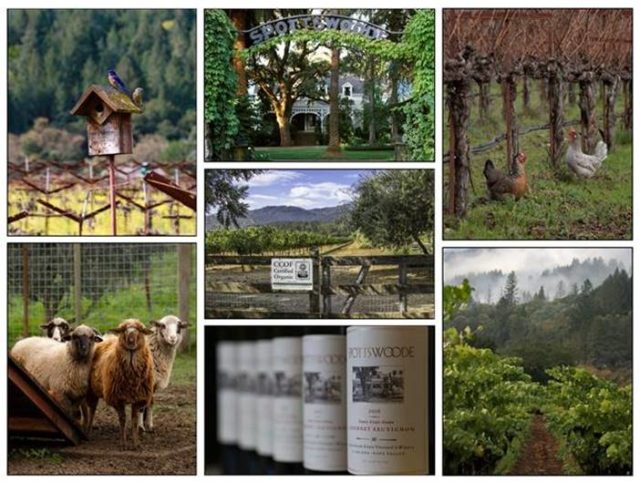 Spottswoodes 15 years partnership with 1%forthePlanet is a key component of the winerys commitment towards fighting climate change. 
We are grounded in Stewardship and actively encourage meaningful change. By caring for our vineyards, communities and planet.  
Beth Novak Milliken says that being good stewards for our land, people, and planet has been a part of who we have been since 1985 when we began organic farming. It is important to support worthy groups that address climate change and make our lands more accessible to more people. This helps to move the conversation forward and educates more people about the importance of open spaces and the fragility of Mother Nature. Lindy Novak states, "The results from our relationship with 1% For the Planet are also a reminder of how you can make real changes over time when you commit to changing year after year." 
Spottswoode's 42-acre estate vineyard is widely recognized as one the most environmentally conscious wineries in the world. It holds organic, biodynamic and Napa Green Land certifications. In 2019, it became the first Napa Valley winery certified B Corporation. Spottswoode is also an active member of International Wineries for Climate Action, a signatory of the PortoProtocol, a CarbonFund.orgPartner, and is actively in the process of earning LEED Platinum certification for the production and administrative buildings, mostly historic, on its winery property. In addition to these certifications and partnerships, Milliken helped to establish and is the founding chair of the Napa Valley Vintners Environmental StewardshipCommittee, which is actively advocating for environmental issues in the Napa Valley wine community. 
Spottswoode is a family-run winery that is widely regarded as one of Napa Valley's most respected small wineries. It is best known for its Spottswoode Estate Cabernet Sauvignon. Milliken adds that I hope that the California wine industry has seen that organic farming is compatible with making high-quality wines.   
About Spottswoode Estate 
After a decade of wine grape cultivation at their Napa Valley vineyards, the Novak family produced its first Spottswoode Estate Cabernet Sauvignon in 1982. Spottswoode has been a defining winery in Napa Valley over the years. Spottswoode is managed by Beth Novak Milliken. It has maintained an elegant, balanced, and age-worthy style that captures both the character of each vintage as well as the complexity of the Spottswoode Estate vineyard. The Spottswoode Estate Vineyard was planted in 1882. It has been organically farmed since 1985 and has been praised as one of the best places to grow Cabernet Sauvignon. Visit www.spottswoode.com to learn more. www.spottswoode.com.   
About 1% of the Planet's population: 
1% for the planet is a registered 501c3 nonprofit that was founded in 2002 by Yvon Chuinard, who is the founder of Patagonia and Craig Mathews who is the founder of Blue Ribbon Flies. 1% for Planet was established to inspire individuals and businesses to support sustainable environmental solutions through annual memberships, everyday actions, and other means. It brings together doers and dollars to accelerate smart environmental giving and provide credible third-party certification. 1% for Planet has 3,400+ members businesses and an expanding network of individual members. Since 2002, we have given back more than $265 millions to environmental non profit organizations. Visit www.environmental-nonprofits.org to learn more. www.onepercentfortheplanet.org.