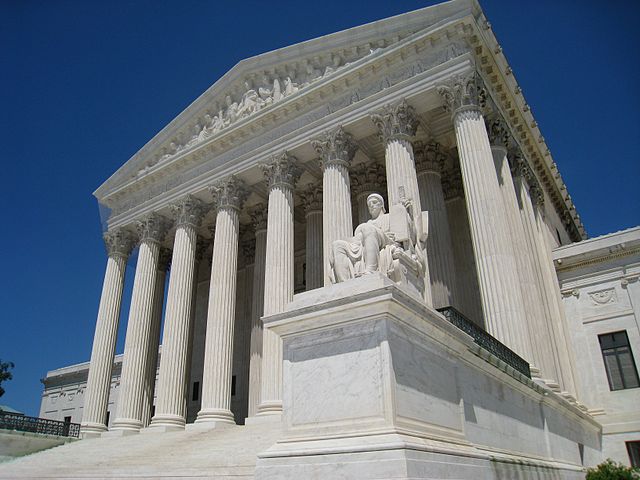 More than a dozen amicus curiae – or "friend of the court" – briefs were filed in support of EPA in West Virginia et al. v. EPA, a Supreme Court legal challenge brought by coal companies and their allies in an effort to undermine EPA's authority to safeguard human health and the environment from the climate pollution emitted by power plants.
AmicusBriefs are a common feature in Supreme Court cases. They can provide Justices with important information from entities that are not involved in the legal challenge. But the amici The expertise and breadth of the people who support EPA are exceptional. They represent a far-reaching set of interests and entities, including a large coalition of the nation's power companies, former power company leaders, major American businesses and manufacturers, power sector experts, climate scientists, legal scholars, medical and public health experts, almost 200 members of Congress, and the Edison Electric Institute – which represents numerous companies that would themselves be regulated under any Hypothetical EPA Rule filed in support of EPA's authority here.
This is a significant showing of amici underscores the significance of maintaining EPA's authority to regulate climate pollution and protect human health and the environment in the face of aggressive attacks from the coal petitioners and their allies.
Here's more about theAmicus briefs:
Major American Manufacturers and Companies – The coalition of more than a dozen major American companies Apple, Amazon, Cummins, and Levi Strauss among them, filed to express a shared "concern that the climate change crisis presents an urgent threat to our planet and economy." The brief makes clear that "EPA's authority to regulate greenhouse gas emissions is critical to combatting climate change" and that, as the Congressionally designated expert agency, EPA is "best suited to serve as primary regulator of greenhouse gas emissions."
192 Members of Congress –The Members' brief demonstrates that the portions of EPA's authority relevant to this case (Clean Air Act Section 111(d), to be precise) squarely applies to power plants' carbon pollution, highlighted by Congress's repeated rejection of proposals to repeal or weaken the authority. Contrary to this, Congress passed legislation in 2021 which explicitly affirmed the centrality of the authority in addressing greenhouse gas polluting.
Senators Whitehouse and Blumenthal, Sanders, and Warren – The Senators' brief highlights the lack of any actual, live dispute. Put simply, "petitioners are challenging a regulation that does not exist," and thus the challenges should be dismissed under "longstanding justiciability principles." The brief also urges the Court to reject the petitioners' effort to eviscerate EPA's ability to protect public health and the environment.
Former FERC Commissioners – The Federal Energy Regulatory Commission (FERC) oversees the smooth functioning of our nation's interstate power grid. Here, a bipartisan group of former Commissioners appointed by Republican and Democratic Presidents jointly expressed, in no uncertain terms, that EPA has clear authority to address climate pollution from power plants and protect public health and welfare – authority that is complementary and does not conflict with FERC's own authority to oversee the electric sector.
National League of Cities and U.S. Conference of Mayors – The brief, filed by Mayors and municipal government organizations, addresses the context of current climate impacts, highlighting the myriad ways that cities are actively grappling with the devastating consequences of climate change. The brief stresses how "local efforts to address climate change are highly sensitive to national policies," and limitations on EPA's authority to regulate greenhouse gas pollution would frustrate local efforts to address and adapt to climate change.
Power Grid Engineers – The brief filed by a group of leading power grid engineers made clear that addressing climate change and operating a well-functioning electric grid are compatible goals. The filing states that "regulating CO2 pollution from the power sector reduces harms to human health without significantly affecting grid operations or risking reliability."
Edison Electric Institute and National Association of Clean Water Agencies – Edison Electric Institute (EEI), as the national association of the vast majority of the U.S.'s electric power providers, represents numerous companies that would be most directly affected by any hypothetical EPA power sector rule centered on climate pollution. EEI's brief urges the Court to affirm "EPA's authority to regulate GHG emissions under the [Clean Air] Act, consistent with the Act's text and congressional intent." Doing so, they explain, would "minimize impacts on consumers and avoid harm to the U.S. industry and the economy."
Former Power Industry Leaders – A group of more than a dozen former executives who held positions across the electric power industry, from power generation to grid operation, submitted a brief emphasizing that EPA's authority to establish regulation relevant to the power sector isn't only well-established, it's commonplace: "environmental compliance is a routine planning and operational consideration."
Experts in Medical and Public Health, including the American Medical Association – Physician-member medical organizations and public health experts filed a brief emphasizing the tremendous danger climate change poses to human health and welfare "across every segment of American society and in every state." The brief underscored that "regulation and reduction of greenhouse gas emissions are necessary to mitigate the scale of and intensifying public health harms associated with climate change" and demonstrates that "[a]ny ruling that reduces the ability of EPA to discharge its public health mission under the Clean Air Act would harm the public welfare."
 Climate Scientists – A group of leading climate scientists filed a brief making explicit that the effects of climate change are already present, today, and causing harm to Americans, expressed through impacts that range from wildfires and heatwaves to flooding and more frequent and more intense storms. Without "significant coordination at the federal level," these impacts are only expected to worsen. The brief stresses that reducing the human and economic costs of climate change is still possible "if greenhouse gas emissions from existing power plants and other sources can be reduced" and that the EPA is "the entity with the scientific, economic, and technological resources necessary to cope with issues of this order."
National Parks Conservation Association – The Association's brief explains that EPA authority to regulate greenhouse gas pollution from power plants is "critical to protecting the vitality of the National Park system, which the text of the [Clean Air] Act identifies as one of its key objectives." The preservation of these iconic parklands is "considerably dependent on the EPA's exercise of delegated authority to regulate GHG emissions from power plants."
Thomas C. Jorling, Republican Legislative Staff, 1970 Clean Air Act – Mr. Jorling, Counsel for the Republican Minority in the Senate Committee on Public Works when the 1970 Clean Air Act was enacted, filed a brief stating that law establishes a "comprehensive framework to serve a broad public health and welfare mandate." His brief explains that Section 111(d) is an "integral component" of that framework, "specifically designed to empower EPA to address emissions" like those at issue.
Richard Revesz is a NYU Law Professor and Dean Emeritus. – A brief from legal scholar and NYU Law Dean Emeritus Richard Revesz identifies how petitioners' arguments for limiting EPA's Clean Air Act authority through an expanded "major questions" doctrine are unwarranted and unworkable, and would turn on illogical criteria such as the amount of legislative or public attention a relevant topic has received. The brief also explains that the Clean Air Act provisions at issue were intended to achieve significant changes in order to safeguard public health and the environment, and EPA's rules implementing the Clean Air Act should not be struck down on the basis that they have significant effects.
University of Michigan Law Professor Julian Mortenson – Legal scholar Julian Mortenson's brief explaining that core aspects of petitioners' arguments to confine EPA authority (particularly those premised upon novel theories of "nondelegation") are unsupported by the Constitution and by the historical understanding of the powers of Congress during the founding era and the early American republic.
Public Citizen – This brief rebuts petitioners' arguments that an agency's action should be of heightened concern merely because the subject matter of that action is highly important.
These are the most rigorous Amicus briefs follow merit briefs filed last week, including EDF's, which we submitted jointly with other leading environmental groups and trade associations. The U.S. Department of Justice filed merit briefs, as did the Environmental Protection Agency. This coalition includes nearly two dozen states, several cities, and power companies serving 40 million people in 49 US states.
You can find out more about the case here and the merit briefs there. All the files in the case have been posted Check out our website.
The Supreme Court will hear oral argument in the case at its February 28 hearing.
This post was co-authored with Jesse Hevia (EDF Legal Fellow).