"No matter the cause of this accident, we expect Alberta Environment & Parks will refocus on safety in the workplace."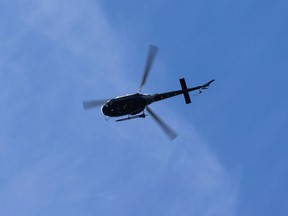 Article content
A helicopter crash east from Camrose caused injuries to three Environment and Parks workers, a provincial union stated Tuesday.
Article content
The three passengers were taken to the hospital along with one other person after the helicopter crashed in a wooded area near Viking on Sunday morning. This is approximately 140 km southeast Edmonton.
In a Tuesday release, the Alberta Union of Provincial Employees (AUPE), stated that three Environment and Parks workers were doing aerial surveys to count deer and moose at the time of the accident as part of a Wildlife Management Survey.
Killam-Forestburg RCMP received a report about a red Bell 206B helicopter colliding in a wooded area, near Range Road 161 or Township Road 462 in Flagstaff County, at around 10 a.m.
Mounties reported that three passengers of the aircraft were transported to an area hospital by ground ambulance. A third passenger was flown by STARS air ambulance to Edmonton.
Article content
According to the union, although it didn't have any details about the crash itself, the three employees were still in Edmonton on Monday.
Bonnie Gostola (AUPE vice president and chair of the unions occupational safety and health committee) offered support to the families and coworkers of the injured workers in the Tuesday release.
No matter the cause of this accident, we expect Alberta Environment & Parks (AEP) to refocus their attention on safety in the workplace. Gostola added that workers should know that their employer is doing all they can to prevent tragedies from happening.
Gostola stated that workers shouldn't have to worry about whether or not they will make it home at the end a shift.
The Transportation Safety Board is investigating the cause of this crash.
lijohnson@postmedia.com