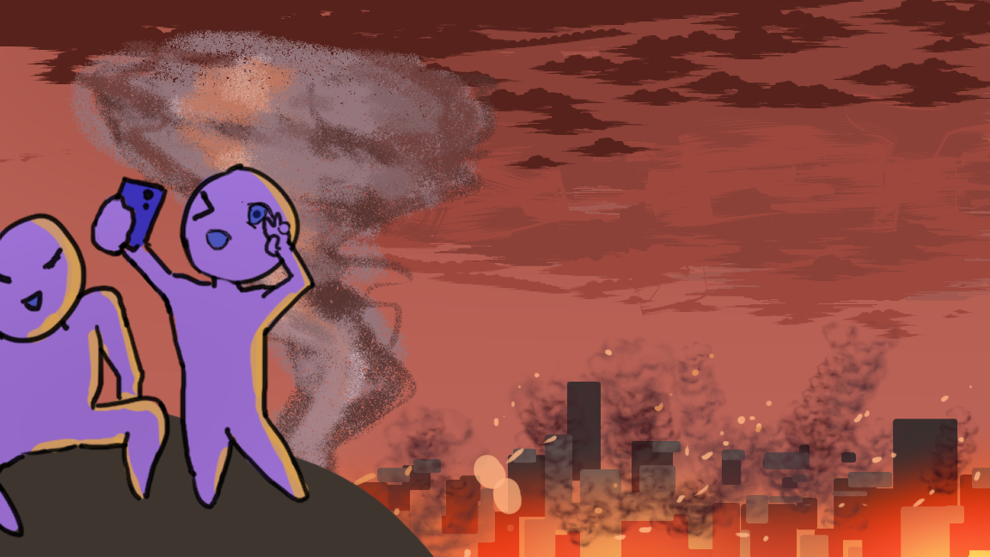 Climate change is becoming more visible in our community. Washington's fire season has been increasing in recent years. intensified and lengthenedThe air quality index has more than once reached hazardous levelsFor multiple days in succession, there was a record-breaking heat wave this past summer.
After a very hot summer, the Pacific Northwest has received enough rain to make this November one the five wettest Novembers ever recorded. according to CNN. Our community lives through a Category Five Atmospheric River. There has been and will continue be extreme rainfall, river flooding and damaging winds, as well as landslides.
These unusual weather conditions are becoming more frequent. Kitsap County and Snohomish County were both under wind advisories at the beginning of November. They escalated to tornado warnings shortly afterwards.
"[The] tornado scare comes days after a waterspout moved onto land and turned into a tornado on Saturday, Nov. 6 near Vancouver B.C.," KUOW reported. "Also, a tornado formed in Battle Ground, Wash. in September."
Survival for community members without housing — specifically the more than 11,700 community members without housing in King County (as of Jan. 2020) — will become exponentially more difficult, if not impossible, and the number of community members without housing will continue to increase. The rate at which natural disasters cause housing insecurity and displacement is already high, and this is projected to increase, especially if we don't take drastic climate justice action.
Much of the discussion about climate crisis on our campus centers around sustainability, Peter Fink, a student leader with the climate justice coalition. Institutional Climate Action (ICA) explained. UW's institutional actions and policy changes are drowned by composting, recycling and other initiatives.
"No more fossil fuel infrastructure put in on campus, no more funding for fossil fuels, and the University of Washington no longer supporting the fossil fuel industry in any capacity," Fink said regarding ICA's work on holding UW to the standard of institutional changes on climate issues.
However, this year, Board of Regents (BOR) began discussingThe proposal for fossil fuel divestment was developed by ICA. However, the BOR has not yet made a commitment to divesting from fossilfuels.
"Climate justice needs to be about solutions that work for people," Dargan Frierson, associate professor of atmospheric sciences, said. "It gets to the root causes of the problems … that can't often be solved by those who are in charge, and [it]It involves addressing power structure. I think it's embarrassing we still have investments in fossil fuels."
Frierson highlighted an organization that promotes climate justice and highlighted the Duwamish River Community Coalition.
"I think a lot of the Indigenous groups around the area have had these solutions for years," Frierson said. "There is no shortage of great people around who are thinking about these kinds of things. It is not often that academia actually listens. [and] there has been a bad history of folks not listening to environmental justice concerns even when there are problems right down the street."
The Pacific Northwest is in a unique position in the face of climate change, as compared to countries in the Global South. Many UW students in Seattle have the advantage of being part of a community that is wealthy. However, the sad reality is that homeless people and BIPoC will be most negatively impacted by climate change.
Subvert UDThis local collective provides mutual assistance to community members who don't have housing in the U-District. It has seen firsthand the extreme effects of climate change.
"There were a lot of issues with wildfire smoke and not enough shelters that Seattle was providing, not enough churches or other large buildings that were either able or willing to support [them]," a student leader of Subvert UD, who requested anonymity for personal safety, said. "And then on the other end, with freezing temperatures and snow, there's not enough heating stations. So whenever we're trying to serve people … it is very, very difficult for us to be able to supply things you need to survive in those extreme situations that are being worsened by climate change."
Climate grief or climate anxietyCommunity organizers are often faced with these issues, especially when they combine their activism work with community organizing. These organizers face barriers from the institutions that they depend on, and sometimes struggle with growing their involvement due to apathy towards climate change. Although our university has a student body that is larger than some cities in Washington, it is not enough to protect and improve the local community.
Collective and institutional change are needed to combat the climate crisis. This includes free or affordable housing, and divesting from fossil fuels.
Alena Alvarez Saldivar can be reached at opinion@dailyuw.com. Twitter: @alenaasaladbar
Like what you're reading? You can donate here to support student journalism of high quality.