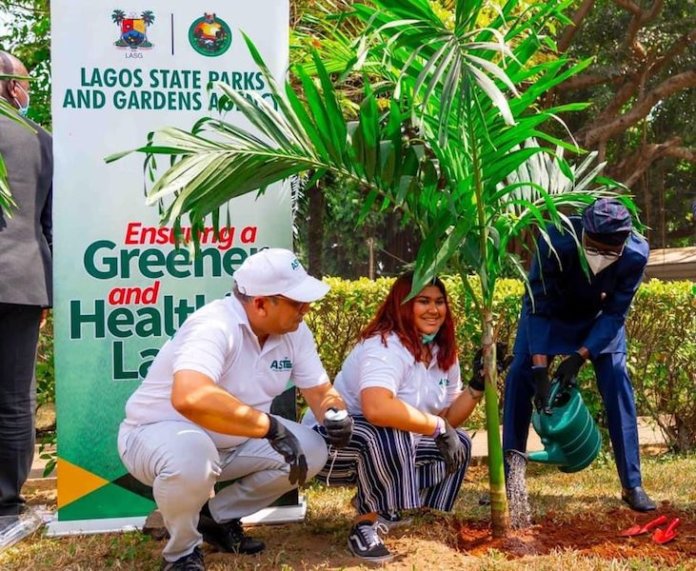 In Lagos State, over eight million trees were planted in the past 13 years. All of them are aimed at conserving the environment. Recently, "The Evergreen Project Lagos", a brainchild of Miss Mahika Anmol Gupta, kicked off the 1,000 Tree Planting Project in Lagos in support of the legacy drive, Chiemelie Ezeobi reports
"A greener Lagos is what I aim to achieve. The building of a better tomorrow should begin with me. And I decided to take the first step towards building a better Lagos," those were the words of Miss Mahika Anmol Gupta during the recent kick off the 1,000 Tree Planting Project in Lagos under "The Evergreen Project Lagos".
On why she chose to to veer that path she said: "Sitting in my geography class, researching Lagos as my case study, the thought dawned upon me, this is my city and it is my responsibility to help shape its future.
"I strongly believe, a sustainable future is the only future. ASTEP aims at planting at least 1000 trees this year. We aim to create Lagos for future generations with cleaner air and better air quality. We aim to give back to mother earth what we have taken from it."
You might wonder why Lagos? Gupta noted that "Lagos is the commercial capital of Nigeria, the giant of Africa", however, "as proud as we are of this, we cannot overlook the resultant pollution levels. It is not a secret that trees act like a carbon sponge in the atmosphere.
"By reducing the CO2 concentration and increasing the O2, we are creating a cleaner and less polluted atmosphere for ourselves and future generations. We are creating a Lagos that we can be proud of. This is my goal for the beautiful state I call my home".
While thanking "all the volunteers who have kindly offered their time and efforts to help me achieve this dream," she also expressed a special thank you to the state governor for honouring the event and encouraging today's youth.
"I sincerely urge each and every one of you to do all you can. Last but not least, thank you to LASEPA, LASPARK and African steel for supporting our cause. To today's youth: take initiative, come forward and plant a tree," she added.
At the Ikoyi kickoff,
Sanwo Olu gave Lagosians instructions on how to preserve the environment through tree planting. He also revealed that the state had planted 8 million trees in just 13 years.
He also reiterated Lagos State government's commitment through Lagos State Parks and Gardens (LASPARK) to reduce carbon footprint in order to preserve the environment for future generations.
He stated that the state government has been committed to tree planting since 2008. He also revealed that the state had planted over 8 million trees in the 13 years prior.
The governor who expressed his administration's commitment to preserving the environment for future generations said 60,000 trees had been planted across different locations in the state during his tenure.
He also commended Gupta's family for their tree planting initiative and encouraged other residents of the state, to join the effort to plant more trees in Lagos State.
Governor Sanwo-Olu, who planted a tree at the event, urged Lagosians not to forget about the environment and encouraged them to do the same for their children.
"I want to ask everyone to push and encourage laudable initiatives like this so that we can preserve our Lagos. We can preserve the place we call home and ensure that the future is secure for the teens who are here today. We should plant more trees to save the environment," he said.
Raj Gupta, chairman of African Steel Mills; Governor of Lagos State Mr Babajide Olusola Sanwoolu, Kayode Fasawe, Commissioner for Environment and Water Resources Mr Tunji Bello, GM LASEPA Dr Dolapo Fasawe, and Mr Joe Igbokwe, Special Adviser on Drainage and Water Resource. There were also several tree planting volunteers.
Get a Quote
We are creating a cleaner, more polluted environment for future generations by reducing the CO2 concentrations and increasing the O2. We are creating a Lagos that we can be proud of. This is my goal for the beautiful place I call home.