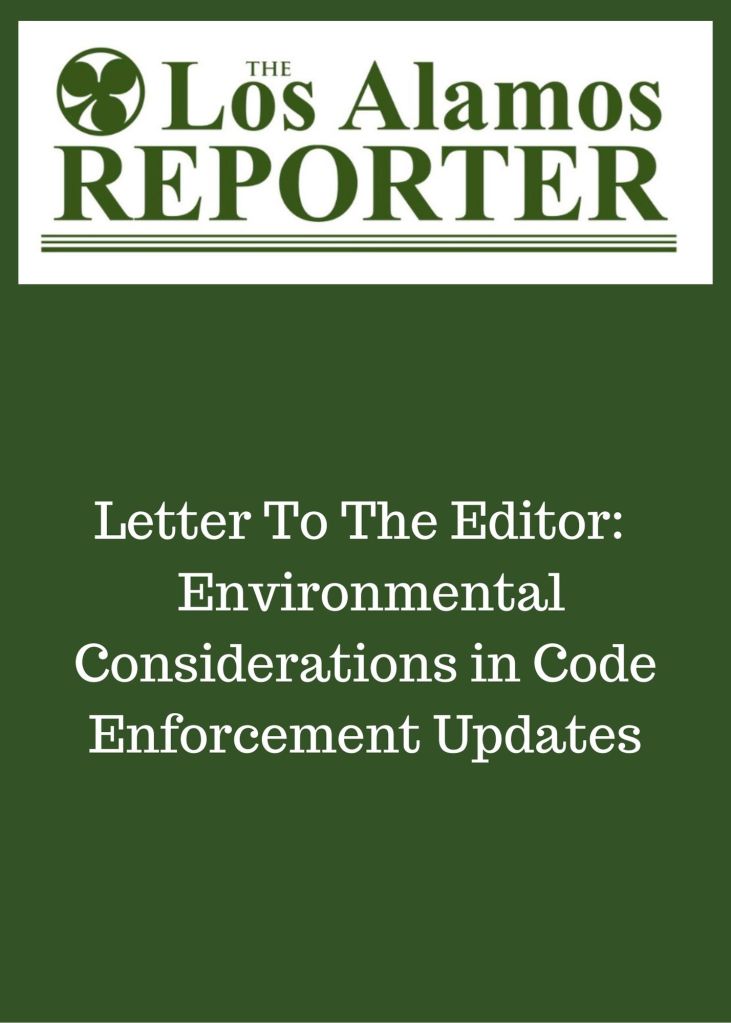 BY BRANDI ENGEMAN
White Rock
Editor,
The Los Alamos County Council recently heard a report from the Environmental Sustainability Board and Parks and Rec Board regarding eliminating certain herbicides from Los Alamos County properties. The community was pleased with the outcome and the public was encouraged to provide feedback during the council meeting.
Another topic under discussion, and the subject for much debate, are the upcoming updates Code 18 (commonly called the nuisance code, of the Los Alamos County Charter). To gather feedback from the public on the code overhaul, the County Council sent out a survey to staff and contractors.
Many people are now discussing the possibility of a more people-centered code, as a result of the recent survey. It is crucial to eliminate the subjective aspects of the code that end up defining what a property or yard should look like. Many agree that aesthetic codes that focus on increasing property value are not as important than objective codes that enforce safety and do not pit neighbor against neighbour in a fight over what a yard should look like. 
We need to look at how a code focusing on aesthetics can have a severe, negative environmental impact on our community for years to come. 
The lawn has been the American standard for homes for decades. Or, in some areas like ours manicured rockscapes. Science has shown us that these standards are increasingly unsustainable for the environment and have their roots in racist aesthetics. Lawns can be a monoculture and eliminate native plants, especially those that bees rely on for their health. The most well-known weed is the dandelion. They are the first to emerge in spring, and pollinators depend on them for food. Lawns and landscapes that are weed-free, such as some rockscapes, typically require a lot of water and herbicides.  They kill and usurp native plants, and reduce the number of resources for beneficial soil microbes and native pollinators. They can also cause additional heat and warming in areas without adequate shade, further harming the environment. They can reduce food resources for birds and other native wildlife. These issues should be of concern to our community, where water is scarce and we host many migrating bird species.
Codes that promote aesthetics may unintentionally penalize those who choose to use them. grow food, not lawns"If you aren't familiar with the movement away form manicured landscapes, plants grown for food may seem untidy or messy to someone who doesn't know how to care for them. Being able to grow food, in whatever limited space is available, is an important component in alleviating food insecurity and  contributing to a diverse ecosystem. In some cases, creating spaces for communities to gather and enjoy the fruits of several gardeners' labor is an important piece in the place making puzzle we hear about consistently from the County Council and their staff and contractors. Bathtub Row is a prime example of local businesses contributing in this manner. If you haven't seen the sunflowers at their peak or gotten to nibble on one of the fresh peas that are growing amongst the hops this summer, you missed out.
The current county code could ban such spaces from neighborhoods and commercial areas, in favor of less sustainable lawns and manicured landscaping that is more appealing to a few who still hold on to outdated ideas of what makes a good neighbourhood. We need to encourage people to change their outdated ideas and create systems that support them in diversifying their landscapes. This is a county that has a diverse population and a focus of environmental sustainability leadership.
I encourage everyone to reach out to County Leadership and Staff and request that they rewrite the Nuisance code based on the precedent set recently. They focus more on people care and environmental sustainability and place-making which is diverse and attainable by all our neighbors.