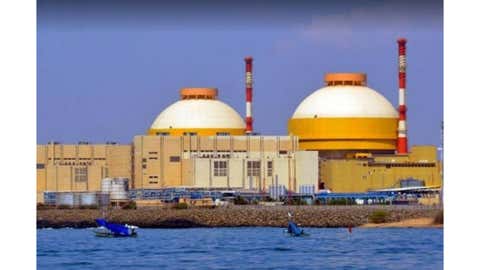 The Parliament was informed Thursday that the environmental clearance process for the "Away From Reactor" (AFR) facility to store spent nuclear fuel from Unit 1 and 2 of Tamil Nadu's Kudankulam's 1,000 MW atomic power stations is in progress.
In response to a question from P. Wilson, DMK member, Jitendra Singh, Union Science and Technology Minister, said that the process is underway to obtain environmental clearance for AFR storage of spent nuclear fuel.
He said that safety clearances must be obtained from the Atomic Energy Regulatory Board, in addition to all other required statutory approvals like environmental clearances, in order to construct nuclear fuel storage facilities in the country. This is done to ensure that the spent fuel poses no radiological danger to the environment and people living nearby.
The Nuclear Power Corporation of India Ltd. (NPCIL), has constructed four additional 1,000-MW reactors at Kudankulam. This brings the total number of power plant to six.
After compliance with safety and regulatory requirements, Units 1 through 4 of the AFR wet-storage facilities were granted clearance to build on Kundankulam. Currently, the AERB is conducting safety reviews.
Environmental Impact Assessment (EIA), studies on spent fuel storage facilities were done to assess the environmental impacts of Units 3 through 6. They then received the appropriate clearances. Singh also stated that the AERB granted consent to establish Unit 3 and 4 of the facility.
He also stated that spent nuclear fuel storage facilities have been installed at the Tarapur and Rawatbhata sites in Maharashtra and that they are safe and are not affecting personnel, the public or the environment.
**
The headline and text of the above article were published from a wire source.