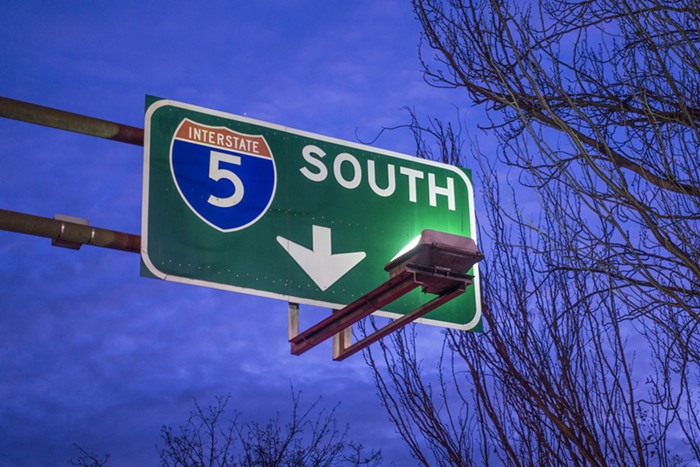 SEASTOCK/Getty Images
The Federal Highway Administration (FHWA), decided this week that the Oregon Department of Transportation (ODOT), must update its environmental evaluation for the proposed changes to Interstate-5 through the Rose Quarter. ODOT anticipated this federal ruling and is confident that it can still start project building by late 2023. Environmental advocates see the decision to be a step towards a more thorough environmental assessment of the project.
Federal approval is required for the I-5 Rose Quarter project to widen a 1.7 mile stretch of I-5 in Northeast Portland to reduce congestion and fender benders. It is a major freeway project. ODOT reviews how the project will affect the surrounding environment. The FHWA determines if that impact is substantial enough to warrant further study.
ODOT had already completed an environmental assessment of the I-5 project in 2019 The FHWA concluded that there would be no significant environmental impact on November 2020. Based on this assessment, ODOT moved forward with the project, much to the dismay of local environmental advocates.
Three Portland organizations remain: No More Freeways, Neighbors for Clean Air and the Eliot Neighborhood AssociationIn April 2021, ODOT filed a lawsuit against FHWA and the US Department of Transportation. ODOT claimed that ODOT used misleading and inaccurate data in its environmental assessment. This led to the creation of harmful environmental impacts of the freeway project. This lawsuit is still ongoing.
The I-5 project has seen significant changes since its initial approval by FHWA. The freeway now has a large dome-shaped cover that connects to the street grid. The Albina community is trying to restore land to its historically Black neighborhood of Portlands. It was partially destroyed and divided by the original constructions I-5 corridor in the late 50s and early 60s.
According to FHWA the changes are significant enough for a new environmental evaluation.
I hereby withdraw my approval of the application due to the findings of the reevaluation. [assessment]Phillip Ditzler (FHWAs Oregon representative) wrote in a January 18th, letterTo ODOT. I ask that ODOT complete the additional analysis outlined in the re-evaluation. This will allow the Federal Highway Administration to make an informed decision about the significance of the impacts.
ODOT states that updating the environmental assessment of a project won't cause delays in the project's timeline.
Megan Channell, Rose Quarter project director, stated that updating the Environmental Assessment is an important step in advance of the community's preferred highway design. She also said that it was a step she anticipated and is excited to take. We can still start construction on time in 2023. This will create jobs that are important to the community, and provide congestion relief that is crucial to commuters as well as our economy.
Tia Williams, spokesperson for ODOT, stated that ODOT hopes to complete the updated environmental evaluation by December 2022. Williams stated that if the environmental assessment finds a significant environmental impact that cannot be avoided or mitigated the FHWA will require ODOT to complete an Environmental Impact Statement, a more thorough environmental study of the project. This would delay the project timeline.
Environmental groups such as Sunrise PDX, Neighbors for Clean Air and No More Freeways want the project to undergo an Environmental Assessment Statement. They repeatedly asked Governor Kate Brown for a mandate for a more thorough study.
Aaron Brown, an organizer for No More Freeways, stated that ODOT has not properly studied the devastating effects this freeway expansion would have on our community. We look forward to continuing to urge Governor Kate Brown to request that ODOT complete an Environmental Assessment Statement that will examine alternatives to freeway expansion.
No More Freeways has advocated for ODOT's introduction of congestion pricingtolling during peak traffic hours to encourage carpooling and alternate travel times to the I-5 corridor. Environmental advocates argue that more lanes will lead to induced demand. This is the phenomenon where more cars use the space. ODOT has Plans to toll the I-5 corridorConstruction to widen the freeway will start in 2025.
"This decision gives ODOT (the Oregon Transportation Commission), the City of Portland and Metro Council yet another opportunity to abandon the project, and take a new approach to transportation for the better future," said Allan Rudwick. Rudwick is co-chair of Eliot Neighborhood Association. "We remain concerned about the project disrupting our streets, discouraging construction for years, before increasing traffic congestion and pollution for future generation."