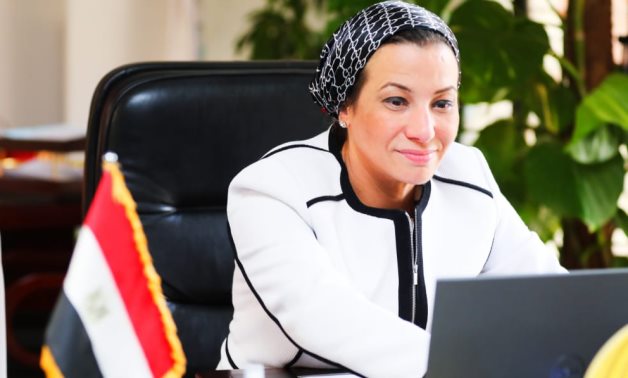 Yasmine Fouad (Egyptian Minister of Environment) during the virtual meeting. Press photo
CAIRO – 26 January 2022: Yasmine Fouad, Minister of Environment, stated that the government had already discussed a plan for Sharm El Sheikh to become a green city.
Fouad, who was closing the forum hosted by the American Chamber of Commerce Egypt, stated that the plan included several points. These include the effective implementation of new national waste management systems that are based on renewable energy as well as reducing plastic bag consumption.
She pointed out that further steps had been taken in collaboration with the Ministry of Tourism and Antiquities in order to implement the first sustainable tourism strategy for Egypt.
Fouad emphasized the importance of the Egyptian-US Partnership for strengthening climate change efforts and pursuing ambitious policies through building relevant public-private partnerships to ensure a greener and better future.
The forum was held under the theme "Building Momentum for UN COP27; Strengthening Public-Private Sector Collaboration on the Climate Challenge" as part of ongoing preparations for UN Climate Change Summit Egypt, which will be held in the Red Sea resort city of Red Sea in November.
The two-day event featured prominent speakers, including Prime Minister Mostafa Mabouli and John Kerry, the US Special Presidential Envoy for Climate Change. They both participated via videoconferencing. Foreign Minister Sameh Shoukry, Rania el Mashat and Tarek el Molla, Minister of Petroleum and Mineral Resources.
The forum discussed how governments and private sector can work together to harness technology and innovation in order to address the climate crisis across the economy.
It sought to generate momentum for the global discussion that would lead to the Egypt-hosted Summit, 2022. With a focus on the role of the business community in climate mitigation and adaptation in a leading emerging market economic economy, it emphasized the importance of the business community.