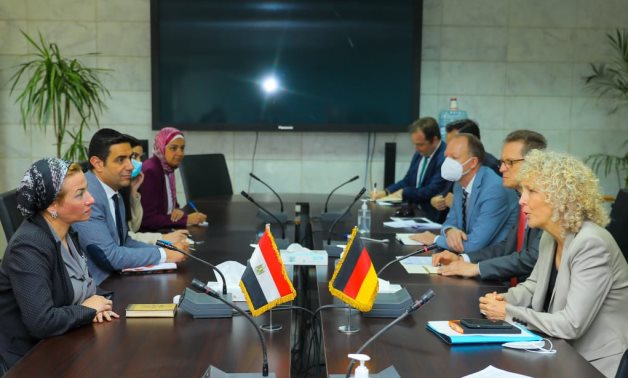 Meeting between Yasmine Fouad (Egyptian Minister of Environment), Jennifer Morgan, German Special Envoy to International Climate Action, and officials from both parties-press photo
CAIRO – 24 April 2022: Egyptian Minister of Environment Yasmine Fouad met on Sunday with German Special Envoy to International Climate Action Jennifer Morgan, discussing the preparation for the UN Climate Change Conference 2022 (COP 27) due to convene in Sharm El Sheikh city in November this year.
"Egypt is keen, during its presidency of the [COP 27] conference, to build on the successes of the Glasgow Climate Conference," said Fouad in a statement issued by the Ministry.
She stated that Egypt is working towards achieving a balance among all tracks such as climate mitigation and adaptation and climate financing.
Fouad discussed how all segments of society can play a role in accelerating climate action. Fouad began with local communities such as housewives, farmers, and fishermen, and went on to include politicians, decision-makers and technicians, economists, social workers, and private sector representatives across different project models.
Morgan said that Germany, the G7 president, is open to working with Egypt on the climate action agenda. They also want to have a dialogue about adaptation and its initiatives, and climate finance in light the commitments of seven countries.
Fouad said that Sharm el-Sheikh Climate Conference would address the issue of low-cost tech and its importance to developing nations, given their inability and inability to finance technology and education.
The Egyptian Minister stated that Cairo had made it clear that Sharm El-Sheikh would become a greener city. This included converting all transport vehicles to use electricity or natural gases, developing a waste management program, supporting hotels in obtaining a green star, and using solar energy. She said that the country would offer incentives to companies, youth, and civil society to help this transformation.